Boyles busy at Triple B Guns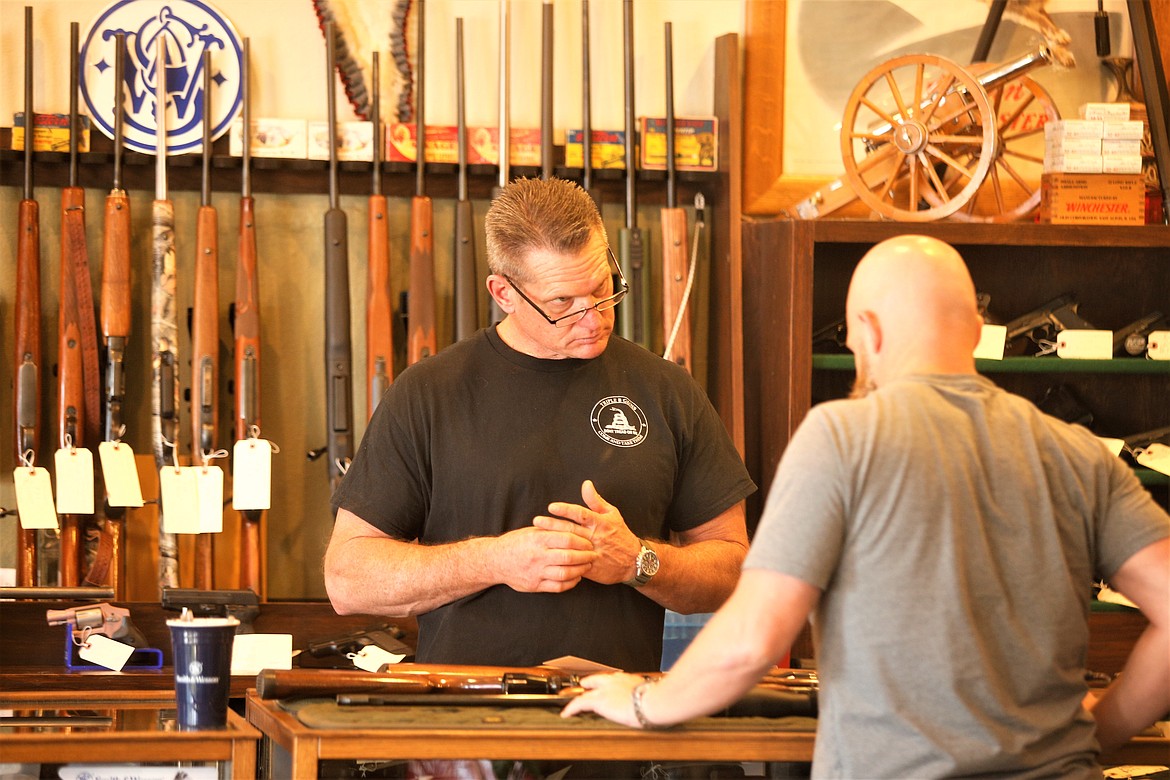 Marcus Boyle helps a customer at Triple B Guns on Friday.
BILL BULEY/Press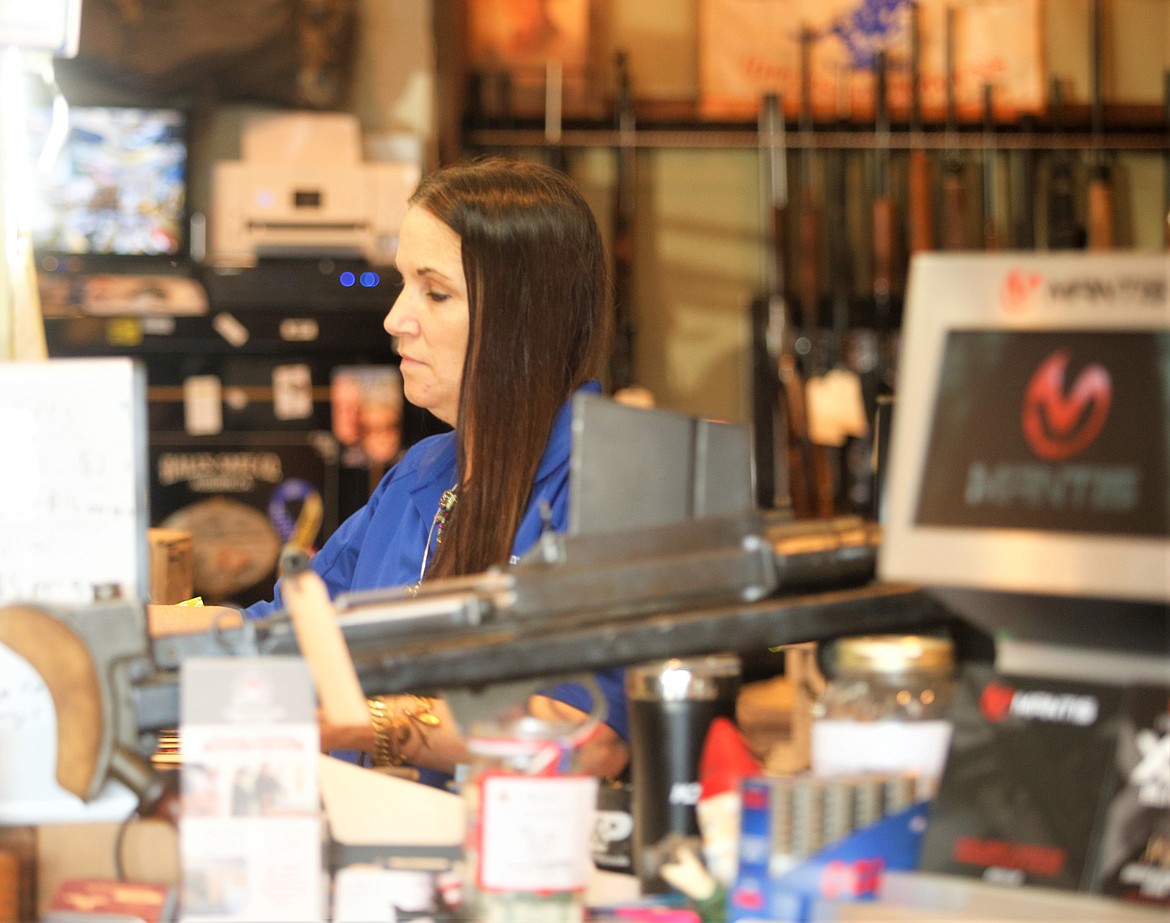 Kinsey Boyle rings up a sale at Triple B Guns on Friday.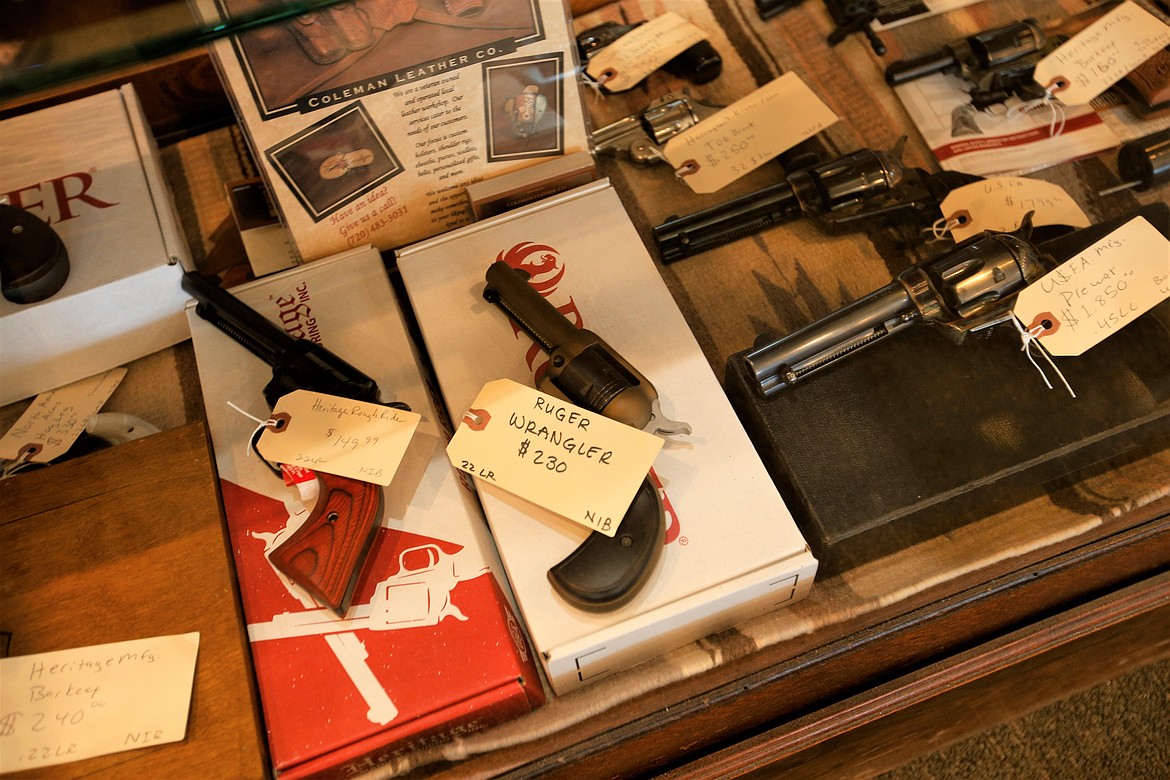 Some of the handguns for sale at Triple B Guns in Coeur d'Alene.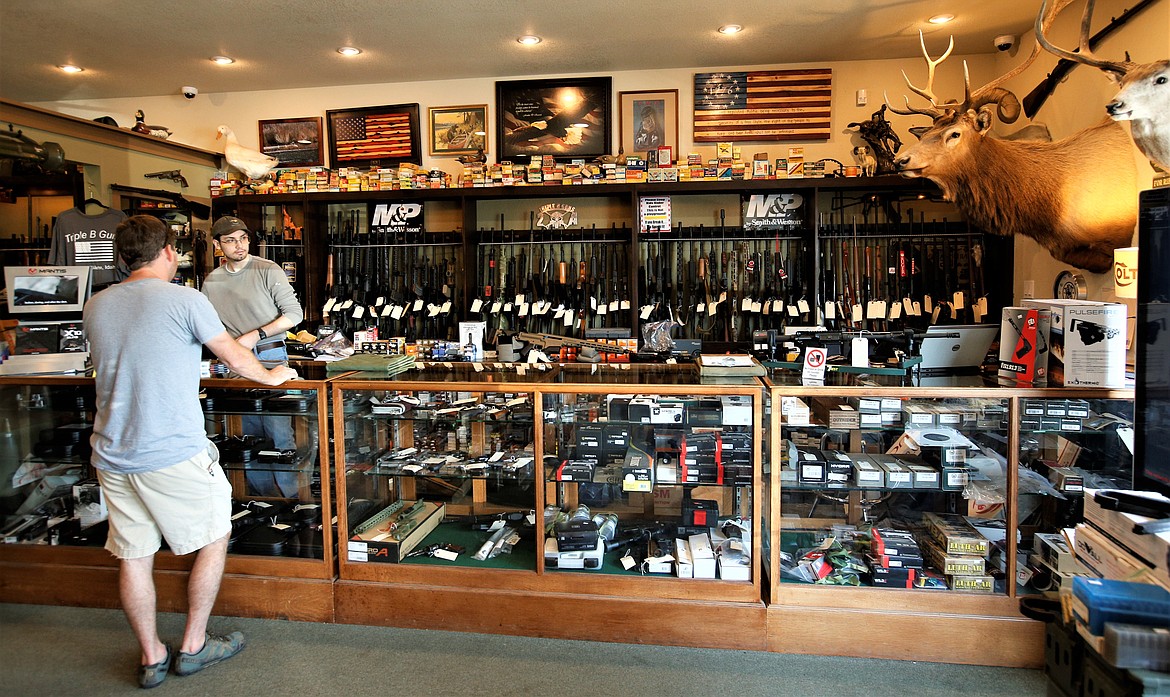 Logan Boyle waits on a customer at Triple B Guns on Friday.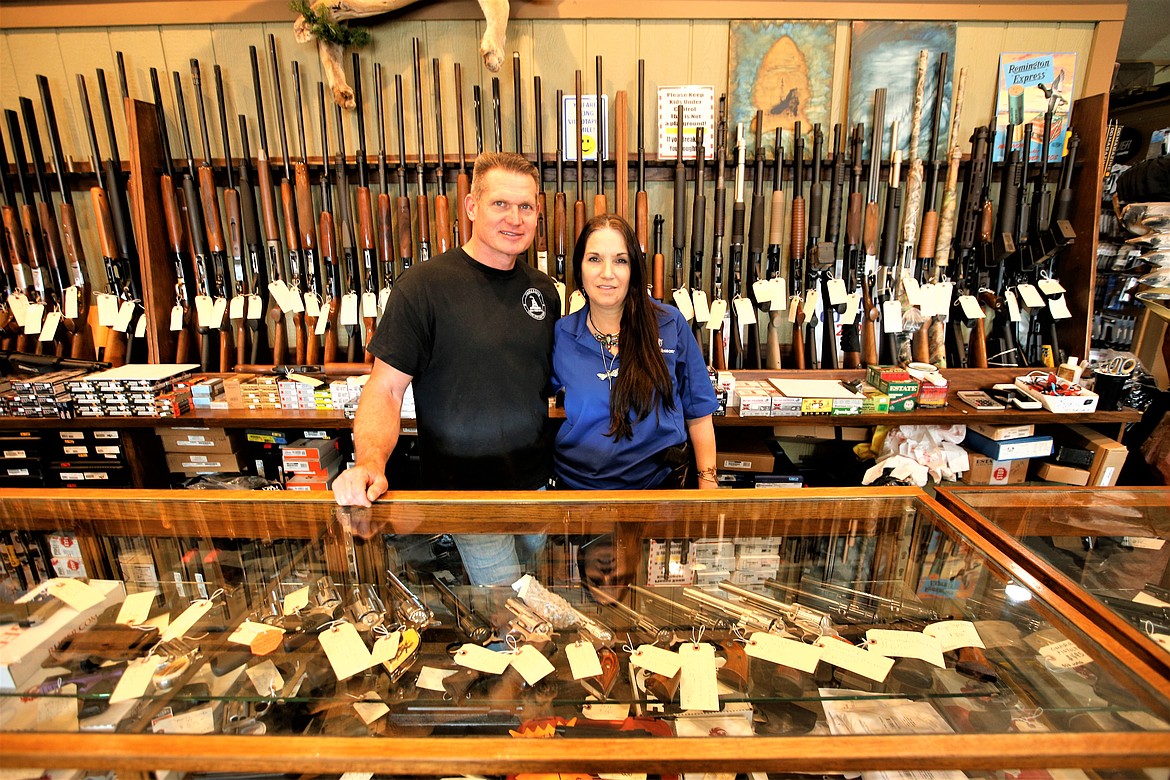 Marcus and Kinsey Boyle, owners of Triple B Guns in Coeur d'Alene, stand in their store Friday morning.
Previous
Next
by
BILL BULEY
Staff Writer
|
September 3, 2022 1:06 AM
COEUR d'ALENE — Three Boyles were busy on Friday morning at Triple B Guns.
Owners Marcus and Kinsey Boyle were behind counters chatting with customers, while son Logan Boyle was doing the same. Their 12-year-old Papillon, Sarg, was on shop patrol.
Rising calls for gun control hasn't led to declining sales at the Government Way shop across from the Kootenai County Fairgrounds.
"We thought it would change things, but it's still pretty steady like it always has been," said Kinsey Boyle.
The Boyles bought the business four years ago that buys, sells and trades firearms, new and used, and offers ammunition.
The walls are lined with rifles and semi-automatic weapons, including AR-15s, while an array of handguns of different calibers are displayed behind glass cases.
Flags, trophy heads and pictures of John Wayne decorate the walls.
It's times and days like these, with new and old customers milling about, that remind the Boyles why they love what they do.
"People here are awesome. We love the area," Kinsey Boyle said.
Next Friday and Saturday, Triple B is celebrating another year in business with a Smith and Wesson representative on hand. There will also be prize drawings, hot dogs, swag and sales.
It coincides with the Idaho Friends of NRA banquet next Saturday at the Best Western Plus Coeur d'Alene Inn.
Guns remain in demand. About 19 million were sold in the U.S. last year, the second-most to 2020, when more than 21 million firearms were sold nationwide.
An estimated 137,900 guns were sold in Idaho from January through July 2022, according to The Center Square. That's down from about 167,500 guns sold from January through July in 2021.
And according to a previous Press report, Idahoans purchased 281,284 guns in 2020, up from 209,275 firearms sold in 2019.
Triple B Guns sells thousands of firearms each year, Kinsey Boyle said, and generally maintains an inventory of about a thousand firearms.
Marcus Boyle, a Marine veteran and helicopter pilot, said it's where people will also find collectible guns, such as World War I and World War II weapons. There's an anti-tank gun, machine guns and even a Stinger missile launcher — sans the missile.
"We like to say we have something for everybody because we do," Marcus Boyle said.
People bring in guns to sell and trade. That might be a .22 Ruger Wrangler, a .357 Cimarron Pistolero or a North American Arms mini-revolver.
There are bolt-action rifles, lever guns and shotguns.
"We've seen a lot of cool guns," Kinsey Boyle said
"It's like Pawn Stars," Marcus Boyle added. "You never know what's going to walk through the doors.
When the Boyles moved to Idaho from Oahu, they did not have previous experience selling and buying guns, but quickly learned.
"You need to make somebody a reasonable offer, but you still need to make yourself some room to make some money," Marcus said.
"There is kind of an art to it," he added
Gun stores, says Marcus Boyle, are personal. The Boyles do their best to know each customer, what they like and what they're after.
"They're friends more than anything," he said.
Kinsey Boyle agreed.
"We just have a really good community here and we've become a very big part of it, she added.
Recent Headlines
---