Getting a jump on Christmas lighting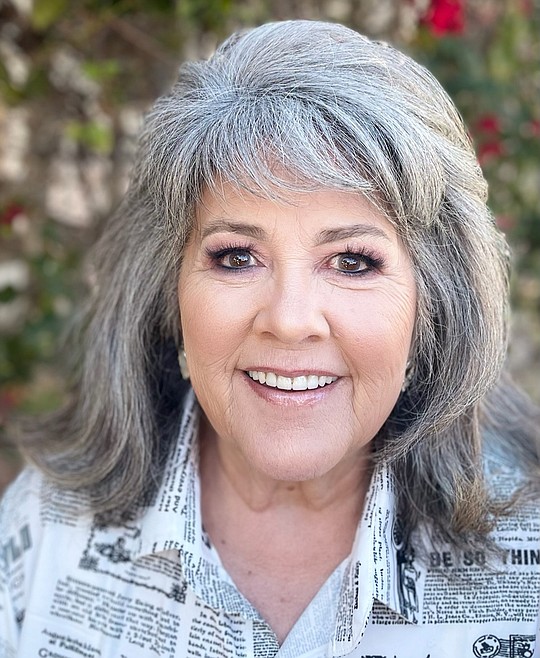 |
October 19, 2022 1:00 AM
"To every thing there is a season, and a time to every purpose under the heaven …" Ecclesiastes.
No doubt about it, October has delivered some gorgeous weather all month long, perfect for taking advantage to do outdoor chores before the inevitable cool and wet weather arrives. On Oct. 5, Lake Tower apartment resident Tim Shepperd posted a photo of workers setting up the Christmas tree on the Hagadone Corporate headquarters building.
Wrote Tim, "The neighbor across the way put up the Christmas tree and is now stringing lights. Merry HalloGivingMas."
I asked some friends if they'd put their Christmas lights up while the getting is good.
Marcia Rams and Katie Mans each said Senske had taken care of their outdoor lights installation in the first week of October, although Marcia declared hers would not be turned on until after Thanksgiving.
Jerry Sparling's house is already ready for the holidays with lights strung.
Kandi Johnson said they're calling their patio lights Christmas lights because her husband, Boyd, isn't wanting to change them out.
Katie Brodie is waiting until month's end before decorating for the holidays.
Daniella Cross said, "You would think we would (put the lights up now) as our house is akin to the Griswold home. But no, it must be cold and generally snowing for the husband (Jeff) to get into the mood to put out our thousands of lights on the house and shop! You would think that those 10-foot reindeer would be easier to get on the roof in 70-degree weather. Nope."
There's a house just north of the roundabout on Spokane Street in Post Falls that's decorated in Christmas lights and lit up year 'round. That's one way to avoid being on a ladder in a snow storm.
While for years we also rivaled the Griswolds with our outdoor lighting and decorations, now Bert humors me and will put lights up on the eaves and our front porch railings. The past few years we gifted most of our lights and outdoor decor to friends and neighbors.
Enjoy the next 48 hours of 70-degree weather before the seasons change for real on Friday. And have yourself a Merry HalloGivingMas!
•••
How many days until Christmas? 67. Two months and a day or two. And for those keeping track, the first day of summer arrives in 239 days.
•••
Happy birthday today to Dan Gookin, Tom Hamilton, Bobbi Koep, Louise Jackson, Linda Chapman and Holly Hall. Tomorrow Mary Lou Reed, Luke Malek, Mary Willeford, Jodie Krieg, Nick Peacock, Brooke Litalien and Jerry Lee take another trip around the sun. On Friday Ton Heston, Carly Goodlander, Mike Threadgill, Monika Krapfl and Paul Mikel do the birthday dance. Wish Jazmine Brown, Whitney Brown, Dick Brantley, Sara Fetters and Chastin Jaeger a happy birthday on Saturday. Our youngest grandson Connor turns 19 on Sunday, sharing a birthday with Teddy Allred, Greg Helbling, Nathan Tull, Holly Hansen, Christopher Adamson, Tim Snyder and Margaret VanLeuven. Starting the week with celebrations on Monday are Rocky Banks, Melissa Hjeltness, Adam Slobodow, Randy Millsap and David Ingalls. On Oct. 25 Jack Price, Mary Foeller, Kyley Greer, Kathryn Arrand and Damon Darakjy celebrate the anniversary of their birth.
•••
Kerri Rankin Thoreson is a member of the National Society of Newspaper Columnists and the former publisher of the Post Falls Tribune. Main Street appears every Wednesday in The Press and Kerri can be contacted on Facebook or via email mainstreet@cdapress.com. Follow her on Twitter @kerrithoreson.
Recent Headlines
---