Huckleberries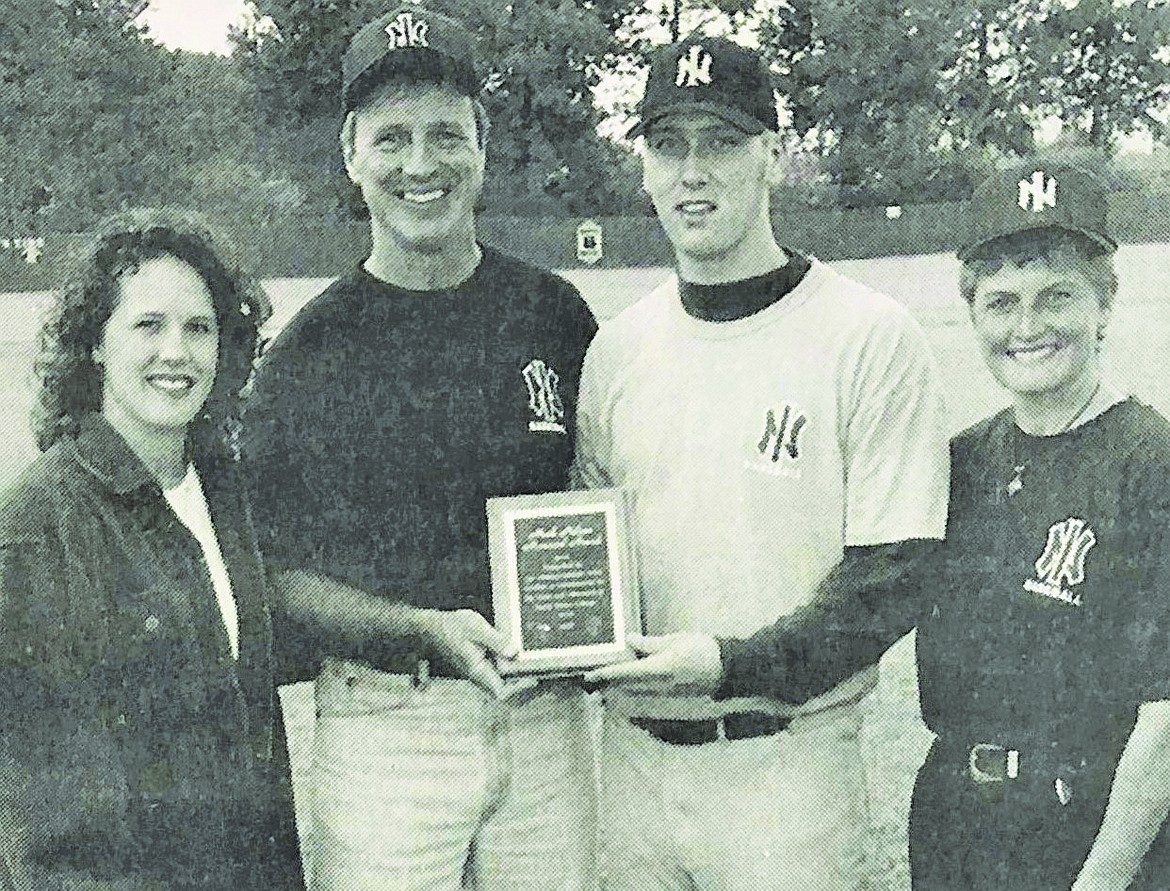 Jason Bay with the Nelson family — parents Chris and Vicky, sister Kerry.
|
October 16, 2022 1:00 AM
Jason Bay won numerous Major League Baseball awards after he left home in Trail, British Columbia, to seek his fortune in the good old USA.
In 2004, he was named Rookie of the Year for his play with the Pittsburgh Pirates. In 2009, as an outfielder for the Boston Red Sox, he won the Silver Slugger Award for his offensive prowess.
He was named to three all-star games and won three Tip O'Neill awards as the MLB's best Canadian ballplayer.
But there's another award, not mentioned in his online bios, that interests us here.
Twenty-five years ago (Oct. 14, 1997), Bay was awarded the first Mark Nelson Memorial Scholarship at North Idaho College for his performance on the field and in the classroom. That spring, he hit .447 as a freshman third baseman for the Cardinals.
The scholarship was created to provide financial aid for NIC ballplayers and honor the memory of Mark Nelson. The former NIC pitcher had died the previous winter after a year-long battle with brain cancer. Mark's parents, Chris and Vicki Nelson, donated $2,750 to establish the scholarship fund.
Originally, the scholarship was to provide $250 per year to a deserving NIC player. But the Press raised another $1,110 by launching a one-day fund-raiser in the community. Contributors included Hudson's Hamburgers, Capone's, Iron Horse Restaurant, Coeur d'Alene Casino and the Spokane Indians Baseball Club.
Jason Bay went on to play for Gonzaga before Montreal picked him in the 22nd round of the 2000 baseball draft. His promising career was plagued with injuries, but he still finished with 1,200 hits, 222 home runs, and a .266 career batting average.
In 2009, in a ceremony at Boston, Bay became a U.S. citizen. At 44, he's now retired and enjoying life as a full-time father of three children.
Meanwhile, the NIC baseball program that launched Bay's American odyssey was dropped years ago in a belt-tightening move.
The beautiful baseball diamond on which he played has been replaced by the Meyer Health & Sciences Building and a parking lot.
But some still remember the glory days of a young Canadian on the North Idaho College field of dreams.
He was Foxy
A few weeks ago, as I was in the local library scouring old issues of the Coeur d'Alene Press, a man approached with a question: How did Foxy Edmonds get his nickname?
I knew the answer because I've read the late Louise Shadduck's local history, "At the Edge of the Ice: Where Lake Coeur d'Alene and its People Meet."
O.W. "Foxy" Edmonds got his sobriquet while attending the University of North Dakota.
One day, Louise explained, Foxy was walking through campus when he side-stepped a puddle. In doing so, he missed getting drenched by a bucket of water fellow students in an upstairs window had ready for him. One of the young men yelled, "You're pretty foxy." And the moniker stuck.
In 1911, Foxy married Kathryn Mae "Kitty" Sturtevant in North Dakota. And the couple later moved to the Inland Northwest. Foxy, who died 40 years ago this week (Oct. 11, 1982), at age 92, operated the Panhandle Abstract and Title Company for some 50 years, beginning in 1915, and served three terms as CDA mayor.
His daughter, Beverly, married a local newspaper owner by the name of Burl C. Hagadone.
Yes, Foxy and Kitty's grandson is the late Duane Hagadone.
Spokane Smokane
For years, a standing joke was that Idaho had three capitals – Salt Lake City, Boise, and Spokane. The gag referred to the influence that Salt Lake City and Spokane had on Idaho. The jab got under the collective skins of CDA's movers and shakers, particularly those responsible for the daily production of the Coeur d'Alene Press. In an editorial published 25 years ago (Oct. 12, 1997), the Press claimed that the northern capital was no longer Spokane, if it ever had been. The economic and population growth of Coeur d'Alene and Kootenai County, the editorial huffed, had pushed the northern capital "fully within the borders of the Gem State." The edit sounded defensive at the time, particularly to this journalist who was working for the Spokane paper. But who can argue with its sentiments now?
Dreamin' of Xmas
You may know that Bing Crosby, the entertainment superstar who died 45 years ago this week (Oct. 14, 1977), owned a summer home on Hayden Lake. But did you know that the notes of his mega-hit "White Christmas" were inscribed on the home's drapes – red on white? Ron Hodge, a CDA native and long-time Benewah County coroner, once saw them while visiting Jim Sutherlamd. The former WSU football coach (1956-63) owned the place after Crosby. The crooner sold the house, built in 1952, after his first wife died. In October 1982, the Press reported, Crosby's son, Phil, had bought it for $500,000.
Huckleberries
· Poet's Corner: They'll be swarming sometimes/when we are out walking;/we suspect it's for romance,/but the aphids aren't talking – The Bard of Sherman Avenue ("Ash Aphids").
· Bumpersnicker (on an old silver Chevy truck with blue trim in the drive-through line at CDA's Walgreens (Friday, Oct. 7): "You can't fix stupid but you can numb it with a 2X4."
· Fifty years ago today (Oct. 16, 1972), two new earth science teachers at CDA Middle School were pictured in the Press – Terri Wilson and Larry Schwenke. Before he retired 35 years later in 2007, Larry would coach the girls' softball team to 12 straight state titles, serve as athletic director at CHS for 14 years, and be inducted into four halls of fame. Good hire.
· If you have a 1963 CHS yearbook, you might know that Linda Buroker was chosen queen for the homecoming game against Sandpoint 60 years ago. And that Carolyn Nelson, Maxine Howard, Marilyn Arnold, and Marg Berg comprised her court. But you would have to read the Press of Oct. 13, 1962, to identify Queen Linda's escort that night: Charles Nipp. Charlie, of course, and partner Steve Meyer, would become major developers of local medical facilities and businesses.
· The "new" Post Falls bridge over the Spokane River opened with fanfare 50 years ago (Oct. 12, 1972). Someone dubbed that Thursday as "a truly joyous occasion." And Congressman Jim McClure delivered the guest speech. A fatal accident in early 1971 had knocked out a portion of the old bridge, cutting off the south side of the river from Post Falls proper.
Parting Shot
I now realize that this is a squirrel-eat-squirrel world. Case in point. I was walking my Beagle, Huckleberry, along McFarland Avenue, near 13th Street, when I noticed a man staring at something on a utility pole. He was muttering to himself: "I've never seen anything like that. It was awful." He directed my attention to a spot halfway up the pole. There, a squirrel was packing the carcass of another squirrel skyward. A lover carrying off the body of its beloved? No, the man said. He'd watched the live squirrel kill the other and then begin to eat it. As I watched the carnage, the stranger walked off, shaking his head. "Maybe," I thought, "the animal kingdom is crazier than the human one. Or not.
D.F. "Dave" Oliveria can be contacted at dfo@cdapress.com.
Recent Headlines
---