Wild wheels
Cameron Day does a skateboard trick during a demonstration for Sorensen Magnet School of the Arts and Humanities students at the Coeur d'Alene Skate Park on Thursday.
DEVIN WEEKS/Press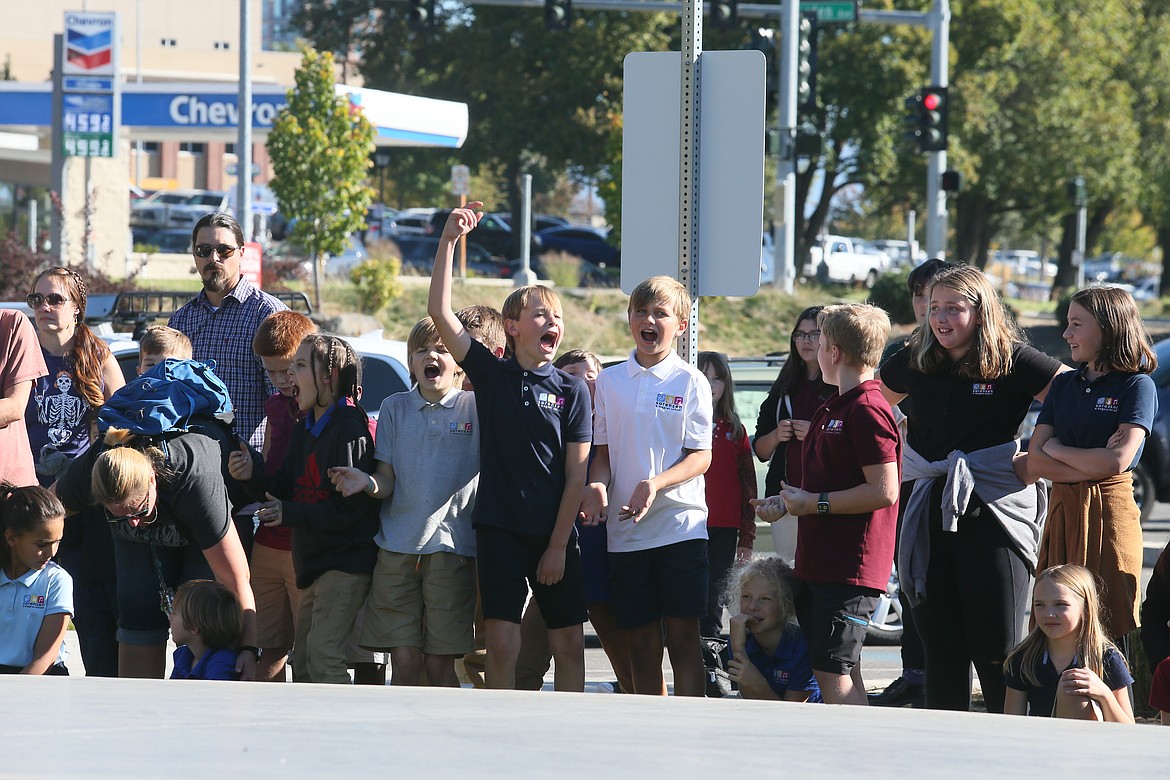 Sorensen fifth grader Colin Hutchins, center, raises his arm into the air as he and classmates holler and cheer during a skateboard demo Thursday.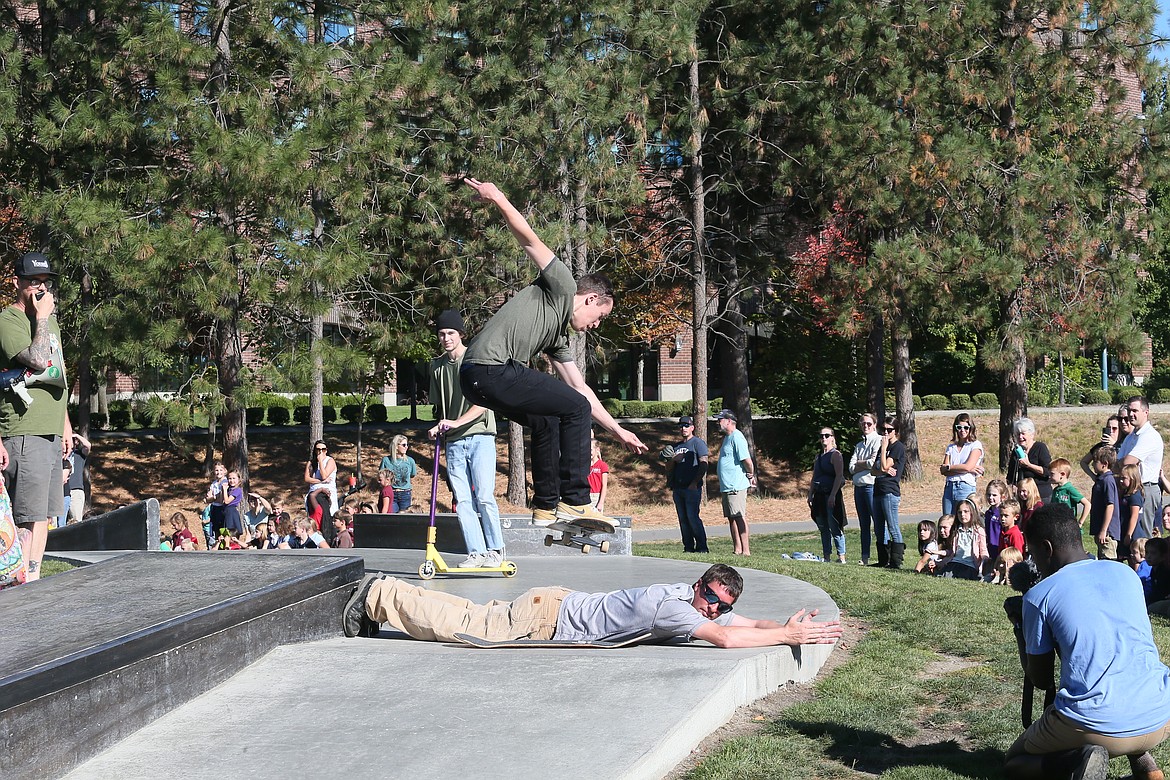 Casey Llanos wows students as he jumps his board over Sorensen dad Jake Adams at the Coeur d'Alene Skate Park on Thursday.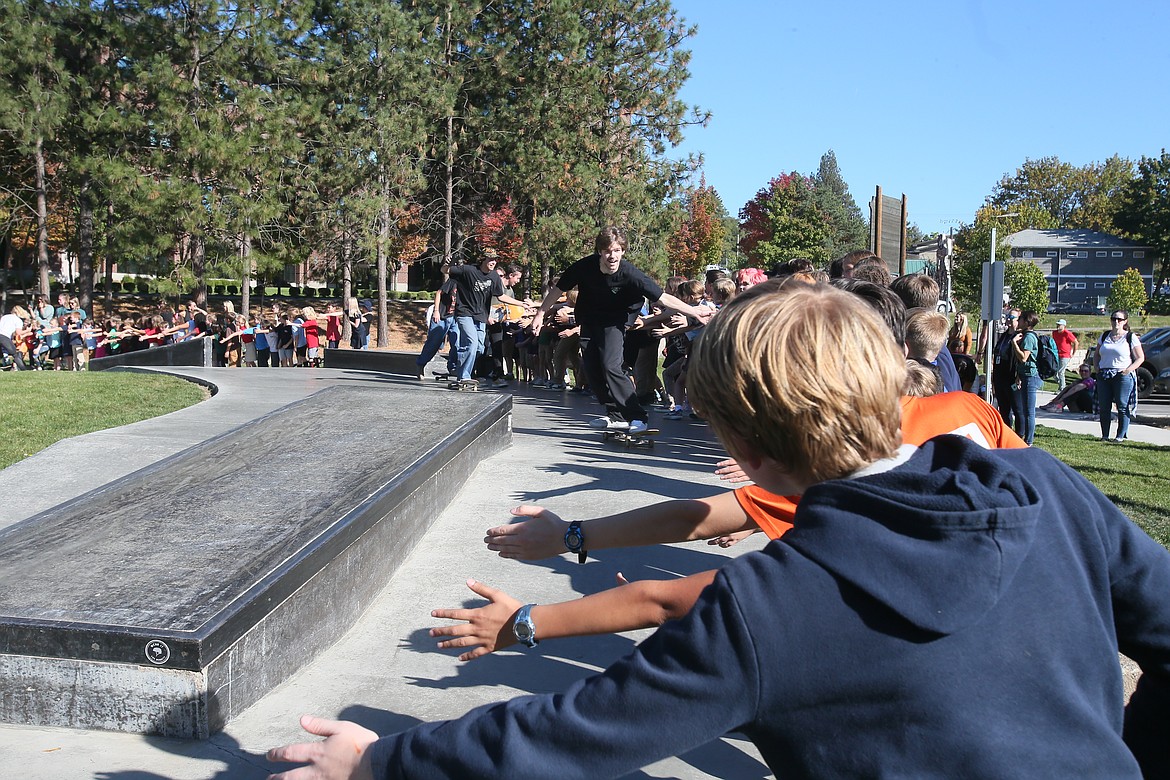 Skateboarder Rylan Beaton high-fives Sorensen students Thursday at the close of a demonstration in the Coeur d'Alene Skate Park. The students will welcome skateboard artist Mark Rivard on Monday.
Previous
Next
by
DEVIN WEEKS
Staff Writer
|
October 14, 2022 1:09 AM
For some, skateboarding is a lifestyle.
For others, it's an art form.
Students of Sorensen Magnet School of the Arts and Humanities are about to embark on a totally rad educational experience that immerses them in skateboard art under the direction of Minneapolis artist Mark Rivard.
"Mark Rivard visited our school three years ago, right when COVID hit our community," Sorensen Art Director Jill McFarlane said Thursday. "Our final exhibition of the skate decks at the Coeur d'Alene Library was canceled. We are thrilled to have the artist back."
Rivard will serve as artist-in-residence starting Monday. Students will learn how to tell their personal stories through visual art they'll create on blank skate decks.
"Using a skateboard deck as a canvas really reaches a different type of artist," McFarlane said. "Mark calls it 'a cultural tool to engage students in art-making and telling their story through art.' You see students' eyes light up when you tell them that they will get to take home their very own skate deck and create their own unique design on it."
As an introduction to this concept, they visited the Coeur d'Alene Skate Park on Thursday afternoon to view a demonstration by local skateboarders.
The demonstration did not disappoint.
"It was very impressive and very interesting to watch," fifth grader Arden Mickelson said.
The students cheered as about a dozen skaters performed ollies, jumps, kickturns, pop shove-its, grinds and other exciting moves on boards and scooters. One group of students was especially vocal, hollering, "Let's go!" and chanting, "Do a trick!"
The crowd went wild when one skateboarder, Casey Llanos, jumped his board over Sorensen dad Jake Adams, a willing participant who stretched out on the concrete for the trick.
"I thought it was amazing when they jumped over the people," said fifth grader Colin Hutchins, who started to lose his voice from cheering. "It was super intense."
Nathan Baker and his team worked with Sorensen to coordinate the demo. He was one of the local skateboarding enthusiasts who helped raise funds to construct an expanded and improved skate park, which opened in 2018 after several years of campaigning.
"What they wanted to do was have a community tie to their art project," Baker said. "All the skaters down here are local skaters. This is a slice of life they can see pretty much any time they come down here. And hopefully, when they do this art project, that might transmit into joining our skateboard community."
He said he and his colleagues performed demos in the local schools when the skate park campaign was underway.
"This has been one of the highlights of skateboarding for me," Baker said. "This is the reward and the feel-good part of skateboarding. It's just a blast."
Rylan Beaton skated by and high-fived students.
"It's really cool to me that they're showing an interest in skateboarding at such a young age," he said. "It shows me that these kids have a really bright future."
This artist-in-residence project is funded by the annual school auction and a grant received from the Idaho Commission on the Arts.
On Oct. 21, student skateboards will be hung on their lockers for students and parents to do an "art walk" viewing the skateboards. Parents and the public are invited to attend at 1:25 p.m.
On Nov. 11-12, boards will be chosen to be on display at the Emerge ArtWalk. They will be on display until the end of November.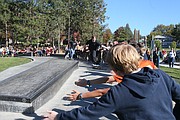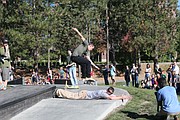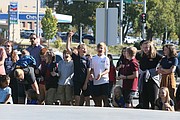 Recent Headlines
---