Once a teacher, always a teacher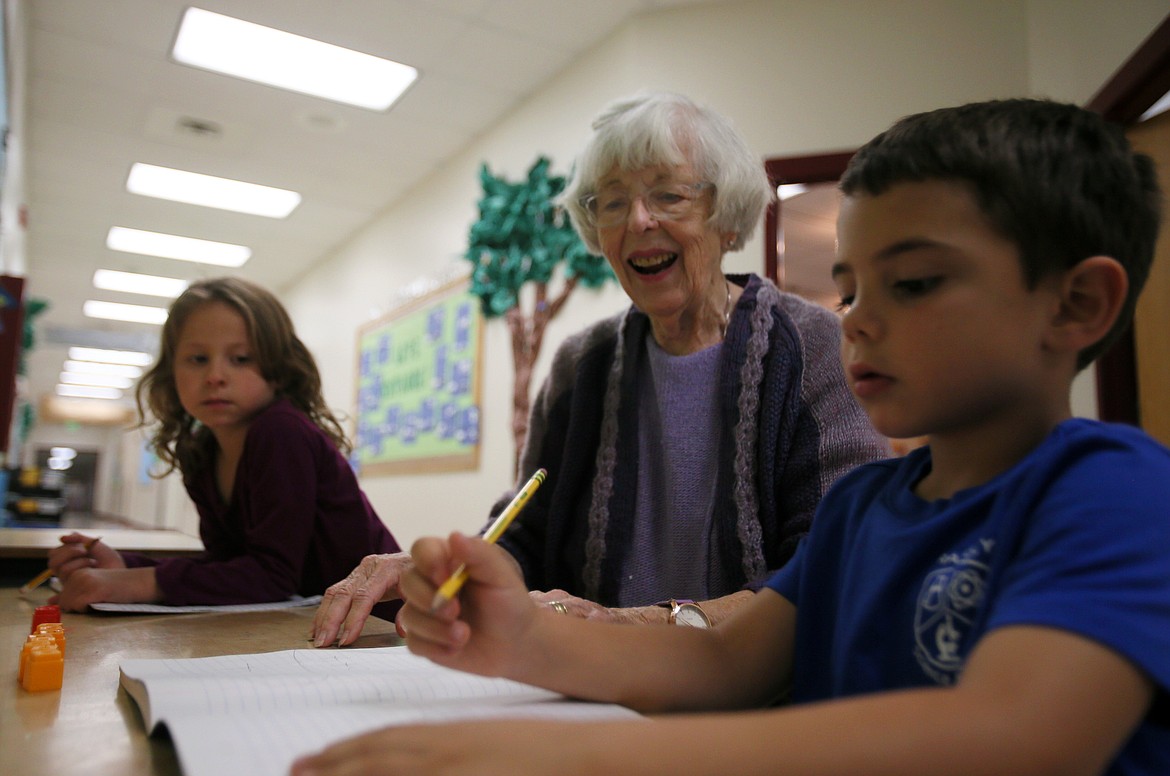 Retired teacher "Miss Janet" Crane, 89, helps first-graders Thomas Ely and Emma Worden with math problems on Thursday at Ramsey Magnet School of Science, where she has volunteered for 17 years.
DEVIN WEEKS/Press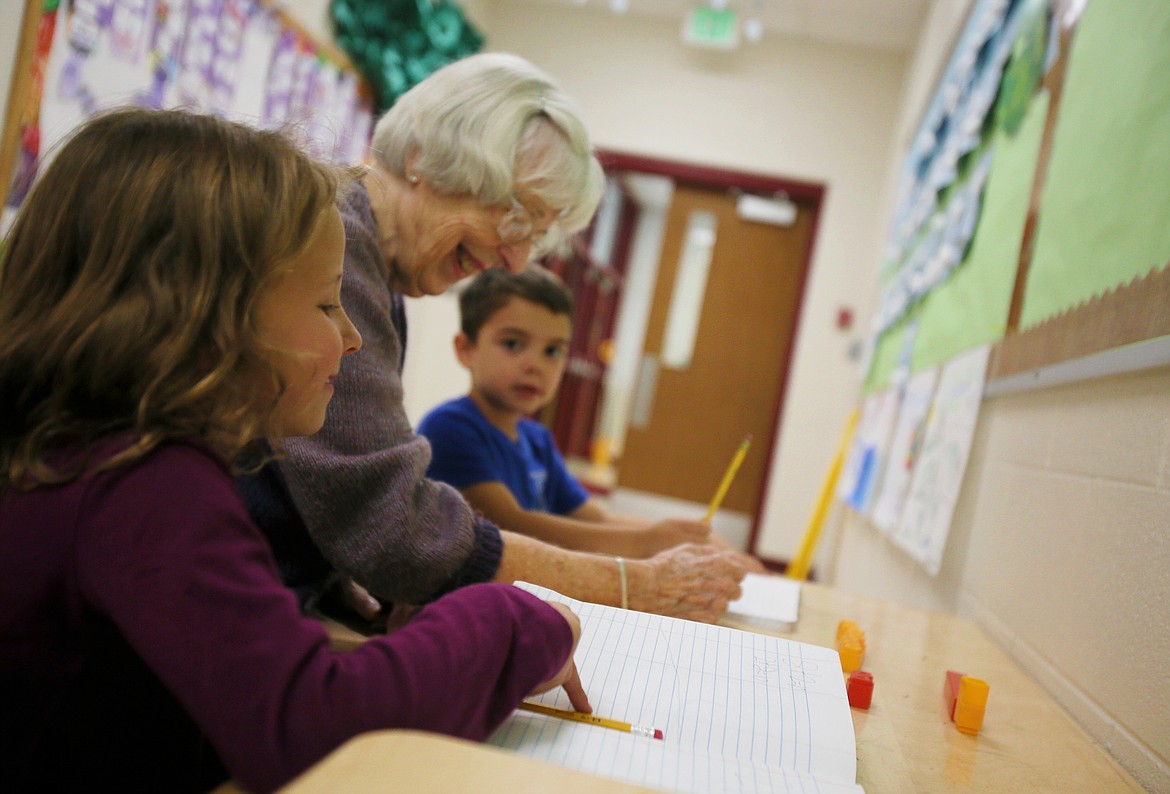 First-graders Emma Worden and Thomas Ely work on math problems with "Miss Janet" Crane at Ramsey Magnet School of Science on Thursday. Crane is a dedicated volunteer who has helped out at the school for 17 years.
Previous
Next
by
DEVIN WEEKS
Staff Writer
|
October 3, 2022 1:09 AM
Once a teacher, always a teacher.
This is particularly true of retired teacher Janet Crane, a cherished volunteer who has shared her gifts with Ramsey Magnet School of Science students for 17 years.
"It's a way of giving back," Crane, 89, said Thursday. "It's just the feeling of knowing you've helped somebody who needed a little push, a little encouragement."
Crane and her late husband of 56 years, Bill, retired in Coeur d'Alene in 2003 to be near their two sons and grandchildren. They also have a daughter and two grown grandchildren in Australia.
"I had to go 7,000 miles to see my first grandchild," Crane said.
Crane volunteers four days a week at Ramsey. She began volunteering with three teachers at the school in 2005.
"I wanted to get out of the house," she said with a chuckle, "and give back in some way."
When those teachers retired in about 2006, she became the resident volunteer in Clarissa Jackson's first grade classroom.
"She started peeking in my classroom, asking if I needed help," Jackson said. "When she came in that fall, she just showed up and said, 'How many days a week would you like me to be here?'"
Steadfast and consistent, Crane is more than happy to help with anything Jackson needs — making copies, putting workbooks together, prepping for science projects and more.
"She is golden to me," Jackson said. "She comes in Monday morning and says, 'What are we preparing for the week?' I wouldn't have the extras I have in my class if it weren't for her clerical preparation or just her physical presence to help me with the struggling students."
With Crane's help, Jackson is able to more quickly help students who may be falling behind.
"It's on-the-spot remediation, help one-on-one to get the confusion out of the way," Jackson said.
And those students are quite fond of Crane.
"They really love her," Jackson said.
Clara Miles and her three older siblings have all been in Jackson's class and gotten to know "Miss Janet."
"She's really nice," Clara said. "She's helped me with my folders sometimes, and she checks my papers. Most of the time she says, 'Wow! Great job!' I look forward to seeing her because she helps the whole class."
Crane will also assist other teachers when they need a hand with tasks, anything from working with laminate to prep work.
After the pandemic, Crane stepped up to volunteer five days a week.
"I figured the kids really needed help catching up," she said.
Crane truly shines in her work with students. Those who may need a little extra support with reading or math find a true mentor in the gentle-natured Crane, who believes in the potential of every child.
"At the beginning of the year, you see what they can't do, and at the end of the year, you see what they can do. You see such an improvement," she said. "You just love to see them bloom. Some bloom faster than others. But like I tell them, when they make a mistake or something, I tell them, 'We all have certain ways of doing things and we do all our things in our own time.'
"Another thing I tell them is, 'Teachers make mistakes, children make mistakes, that's the way we learn," Crane said. "If we didn't make mistakes, we wouldn't learn anything.'"
Crane's resume includes teaching kindergarten and first, second and eighth grades at schools in California.
She was a substitute for most of her teaching career so she could travel with her husband, who was in the missile business.
"We went to Maryland, Florida, anywhere there was missile companies," she said.
She smiled as she recalled how she used to pack his clothes for their trips.
"One time I forgot to put in his socks," she said, laughing. "After that, he did all his packing."
Crane keeps herself busy outside of school. She is active with the Coeur d'Alene Woman's Club, which established the Coeur d'Alene Public Library in 1904. She volunteers for two-hour shifts at the Friends of the Library's Second Story Books Bookstore.
Crane is a member of the Bookworms, which serves a free lunch every eight weeks at a local church. She's also a big sports fan, favoring the Miami Dolphins, San Diego Chargers and the L.A. Rams.
On Tuesday mornings, she sings with the Cancer and Community Charities (3Cs) Coeur d'Aleers chorus.
"I've been doing that for about four years," she said. "I love to sing. My great-aunt, my grandmother and my mother all sang and played the piano. They tried to teach me the piano, it didn't work. I wish they had given me singing lessons! I would have been able to read music and know what I'm doing."
Ramsey Principal Crystal Silvers said volunteers like Crane are few and far between.
"For somebody to be this dedicated for so many years, over and over again, no matter what random project or task we ask her to do, hands down she is the most dedicated volunteer we've had through the years," Silvers said. "She's just a staple at Ramsey. I don't know Ramsey without her."
Crane said she will continue volunteering for three more years. Then — and it's questionable — she might actually retire.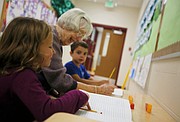 Recent Headlines
---