Jay Nelson Troy, 70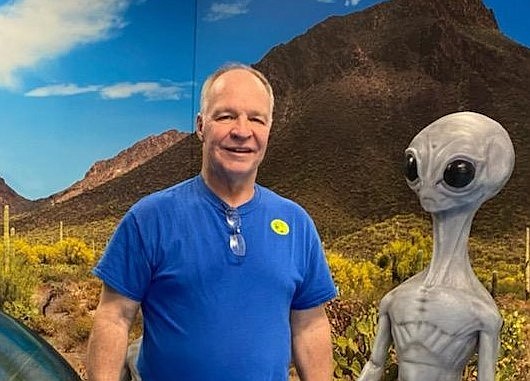 |
November 30, 2022 1:00 AM
Jay Troy, 70, was born June 16, 1952, in Cairo, Ill. He passed away after a 2½ year battle with cancer, in Coeur d'Alene, Idaho. His family was at his side as he passed.
Jay traveled with his parents, Nella and Jimmie Troy, who were in show business in circuses, fairs, sports shows, night clubs and TV until he was 6. He then started first grade in the Coeur d'Alene School System, attending Bryan Elementary School, Cd'A Junior High and Cd'A High School, graduating in 1970. Jay wrestled throughout his high school years, reaching State Champion in 1970, winning every match save one, which he tied.
After high school, Jay attended North Idaho Junior College (now NIC), then graduated from The College of Idaho in Caldwell in 1975 with a bachelor of science in biology and psychology with a minor in education. He received his teaching credentials at that time as well. In 1993, Jay received his master of education in secondary education from Central State University of Oklahoma (now University of Central Oklahoma).
Jay worked over 31 years in the educational field, beginning as an Admissions Counselor and then as Assistant Director of Admissions at the College of Idaho. He later taught science, coached wrestling and cheerleading at several middle schools and a high school in the Oklahoma City School District, and was also an Assistant Principal within the same district. He also coordinated a grant program at the University of Central Oklahoma, called GEAR-UP (Gaining Early Awareness and Readiness for Undergraduate Programs) for six years.
Jay started working in show business at age 8, doing a trampoline act, first with his sister, Kim, and then as a solo act. They performed all over the U.S. and Canada. Eventually, Jay added a Sponge Plunge act where he swan dived 55 feet into a 9-foot diameter blow-up bag. During college he traveled with the Gatini Circus during summer vacations, working in Quebec, Nova Scotia, New Brunswick and the Gaspe Peninsula.
During the early 1980s, Jay also worked for AIA (Agriculture Insurance Administrators) out of Lewiston, Idaho. This allowed him to obtain his Pilot's License and fly around Nebraska, Wyoming, Colorado and Oklahoma as an Area Manager for AIA. After resigning AIA, he moved to Oklahoma and returned to Education.
On May 20, 2013, an EF4/5 tornado destroyed a large part of Moore, Okla., and totaled the home where he lived with his wife, Cat. This prompted him to retire from teaching and move with Cat back to Coeur d'Alene in 2016.
Throughout Jay's life, not just during good times or during his fight with terminal cancer, but almost daily, he was heard by many to assert that "life is good." It would always make us smile.
Jay is survived by his wife, Cat and his sons, Jason and Tyler, all of Coeur d'Alene; his sister, Kim of Anacortes, Wash.; sister-in-law, Winona of Coeur d'Alene; and numerous family and friends all over the United States.
Memorial donations may be made to the College of Idaho, Office of Development, 2112 Cleveland Blvd. #49, Caldwell, ID 83605-44 32, Attn.: Bob Madden.
A viewing will be held 5-7:30 p.m. Monday, Dec. 12, 2022, at Yates Funeral Home, 744 N. Fourth St., Coeur d'Alene. A funeral service will be held at 1 p.m. Tuesday, Dec. 13, 2022, at the same location. A graveside service will take place at a later date. A reception will follow the funeral, location to be decided.
Please visit Jay's online memorial and sign his guestbook at www.yatesfuneralhomes.com.
Recent Headlines
---