FCS PLAYOFFS: Vandals fall in thriller in first FCS playoff appearance in 27 seasons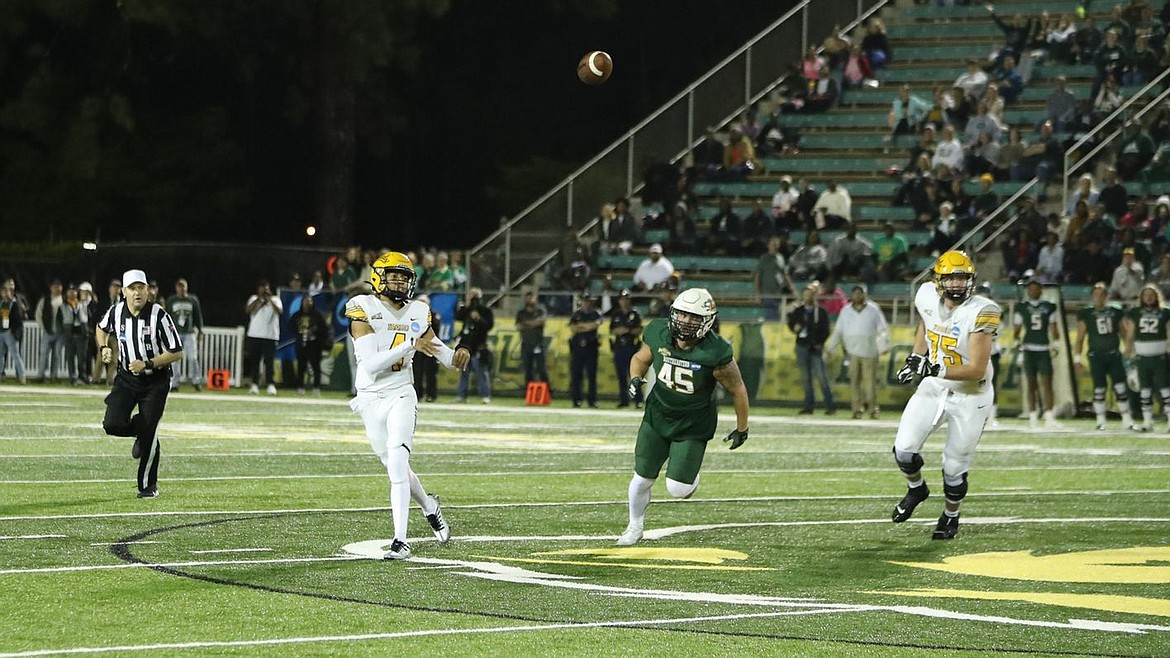 Photo courtesy Idaho Athletics Idaho quarterback Gevani McCoy (4) throws on the run against Southeastern Louisiana in a first-round FCS playoff game Saturday night in Hammond, La.
|
November 27, 2022 1:25 AM
HAMMOND, La. — Seemingly down for the count — twice — the Idaho Vandals got off the mat and nearly pulled out a victory at the end, or at least forced overtime, in their first FCS playoff game since 1995.
And a wild one at that.
But Ricardo Chavez's potential game-tying field goal sailed wide right with 6 seconds left, and the Vandals fell to Southeastern Louisiana 48-45 on Saturday night before 3,174 at Strawberry Stadium.
"They've got a good football team; they're very resilient," first-year Idaho coach Jason Eck said of Southeastern Louisiana. "I'm really proud of our team; we're very resilient, and mentally tough. We had a few times where we could have went in the tank when things didn't go our way. But we kept battling back."
Idaho, posting its first winning season since rejoining the Big Sky Conference in 2018, finishes 7-5.
Southeastern Louisiana (9-3), making its third playoff appearance in four seasons, plays at No. 6 Samford (10-1) next Saturday at noon PST in Birmingham, Ala.
"Obviously this isn't the result that we wanted," Idaho senior defensive lineman Leo Tamba said. "But … at the end of the day, we made plays, they made plays, and they just made more plays than us. But we take this experience and learn from it, and next year I'm excited to be a Vandal alum and watch the success."
Idaho led the turnover battle 21-8 during the season, but committed three turnovers on Saturday to none for Southeastern Louisiana.
"Very proud of our football team, but that's a good football team; they don't beat themselves," Eck said. "They didn't turn the ball over once, and that was one of our recipes for winning all year was winning the turnover battle.
"Usually we win the time of possession. But they had the ball for 33 minutes, and they ran a lot more plays than we did (77-55). They didn't turn the ball over, didn't beat themselves."
Gevani McCoy, who threw just five interceptions in 10 games, was picked off twice by the Lions, one of which was returned for a touchdown. McCoy finished 19 of 26 for 343 yards and three TDs
Hayden Hatten, who fumbled the ball away after a long reception on the first play of the game, finished with nine catches for a career-high 209 yards and a touchdown.
After that initial turnover, Idaho scored on its next three drives and led 21-10 late in the second quarter on a 5-yard run by Anthony Woods.
Southeastern Louisiana scored just before the half to cut the Vandal lead to 21-17 at intermission.
The Lions took the lead with 5:46 left in the third quarter on a 19-yard halfback pass from Jessie Britt to Nick Kovacs.
Idaho drove to the Southeastern Louisiana 16, but McCoy was hit as he threw, and Donniel Ward-Magee of the Lions intercepted in the end zone.
The Lions turned that into a score as quarterback Cephus Johnson III, seemingly wrapped up on an option run, somehow spun out of a tackle and ran 25 yards down the sideline for a 31-21 lead early in the fourth.
"Cephus Johnson reminded me of Vince Young running around today," Eck said of the Lions' QB, who finished with 69 yards on 12 carries.
Jermaine Jackson returned the ensuing kickoff 95 yards for a touchdown to pull the Vandals within three.
Then, on fourth and 6, McCoy hit Hatten on a 34-yard scoring play, and Idaho was suddenly up 35-31 with 9:15 left.
"What a football game; this is what the playoffs should be," Eck said. "There were 42 points scored in the fourth quarter. What a back-and-forth slugfest both ways, We didn't flinch when the momentum went away from us, and they didn't flinch when the momentum went away from them. I think that defines us both as being good football teams, and they were just a little better today."
Southeastern Louisiana answered with Carlos Washington Jr., second TD of the game to take the lead, then Zy Alexander intercepted McCoy and returned it 48 yards for a 45-35 Lions lead.
But Idaho came right back, McCoy hitting Jackson on a 70-yard scoring play with 3:23 left.
Jackson finished with five catches for 111 yards.
The Vandals then forced a punt which traveled just 18 yards, and Idaho took over at its 42.
Idaho drove to the Lions' 22 with 15 seconds left. With no timeouts, McCoy threw out of bounds on first down and, with 11 seconds left, Eck opted to try a field goal.
Southeastern Louisiana called a timeout to ice Chavez, a second-team all-Big Sky kicker who was 15 of 19 on field goals during the season. He then slipped on the turf during his kick.
"Looking back, if I had to do it over again, I would have called one more play … see if we could get a little closer for the kick. They were defending the end zone really well," Eck said. "If I had to do it over again, after they called the timeout to ice him, I would have gone over it with the quarterback and see if we could gain 5 or 6 more yards, and make it (the kick) a little shorter. But when you don't have any timeouts … I wanted to make sure we at least got a kick at it."
Idaho 7 14 0 21 — 42
SE Louisiana 7 10 7 21 — 45
First quarter
IDAHO — Roshaun Johnson 1 run (Ricardo Chavez kick), 8:14
SEL — Cephus Johnson III 2 run (Riley Callaghan kick), 2:13
Second quarter
IDAHO — Gevani McCoy 3 run (Chavez kick), 13:23
SEL — FG Callaghan 39, 7:35
IDAHO — Anthony Woods 5 run (Chavez kick), 4:11
SEL — Carlos Washington Jr. 2 run (Callaghan kick), :29
Third quarter
SEL — Nick Kovacs 19 pass from Jessie Britt (Callaghan kick), 5:46
Fourth quarter
SEL — Johnson 25 run (Callaghan kick), 14:16
IDAHO — Jermaine Jackson 95 kickoff return (Chavez kick), 14:03
IDAHO — Hayden Hatten 34 pass from McCoy (Chavez kick), 9:15
SEL — Washington 2 run (Callaghan kick), 5:13
SEL — Zy Alexander 48 interception return (Callaghan kick), 4:12
IDAHO — Jackson 70 pass from McCoy (Chavez kick), 3:23
INDIVIDUAL STATISTICS
RUSHING — UI, Woods 7-58, Johnson 7-30, Cummings 8-23, McCoy 6-10, Whitney 1-1. SEL, Johnson 12-69, Sharp 1-(minus 5), Washington 14-41, Graham 6-14, Britt 13-106, Larvadain 1-0.
PASSING — UI, McCoy, 19-26-2-343. SEL, Johnson 18-28-0-208, Britt 1-1-0-19.
RECEIVING — UI, Hatten 9-209, Graves 2-8, Whitney 2-15, Jackson 5-111, Cummings 1-0. SEL, Drobocky 1-8, Massey 4-61, Larvadain 6-55, Lewis 2-32, Sharp 1-24, Kovacs 1-19, Washington 3-18, Carter 1-10.
Recent Headlines
---