Coeur d' Alene Symphony Orchestra set for 2022 Holiday Concert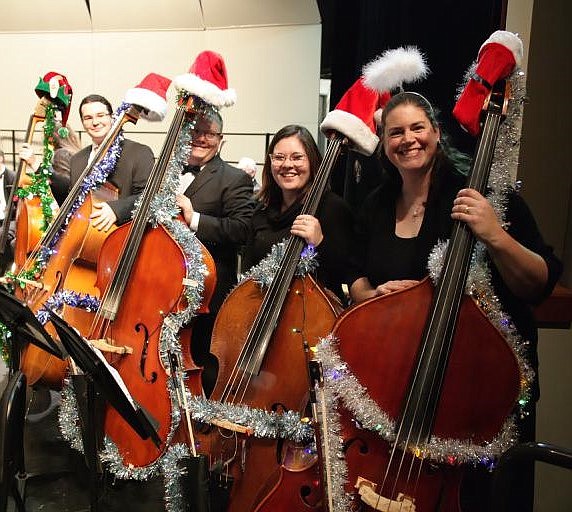 CSO Holiday Concert 2018 festive bass players.
Courtesy of Lora Whalen
|
November 25, 2022 1:00 AM
The Coeur d' Alene Symphony Orchestra, under the leadership of Maestro Dr. Danh Pham, DMA, are proud to presents the 2022 Holiday Concert on Saturday, Dec. 3 at 7 p.m. Held in the Schuler Performing Arts Center on the North Idaho College campus, Dr. Pham the Symphony Orchestra are set to perform a proudly cheerful musical experience for all who attend.
"The Holiday concert will always be our favorite because it's an event to be unapologetically happy," Pham said. "Symphony concerts typically explore the spectrum of emotions ranging from contemplation to elation. Holiday music puts a smile on everyone's face. It's an evening of ear-to-ear grins!"

Symphony board member Lora Whalen explains that the concert will feature the Christmas overture "Nutcracker" and Disney's "Frozen."
The Nutcracker, written by Pyotr Ilyich Tchaikovsky in 1892, was his final and most famous ballet; becoming synonymous with the holiday season. This tale, taking place on Christmas Eve, focuses on a little girl who receives her favorite toy, a nutcracker, and goes to the Land of Sweets.
Frozen, the 2013 computer-animated musical, tells of a young princess in the fictional Scandinavian Kingdom of Arendelle and is loosely based on the 1844 Hans Christian Andersen fairy tale "The Snow Queen."
Attendees can also expect to hear "Sleigh Ride" by Leroy Anderson, which was written during a heatwave in July of 1946. This work would later become one of the most famous orchestra and concert band standards for the holiday season.
This is Dr. Pham's inaugural season with the CSO and he holds degrees from DePauw University, Indiana University, and the University of Oklahoma. He conducts the Symphony Orchestra at Washington State University, teaches Instrumental Conducting and Symphonic Literature and is Director of Bands. In addition to all this, he also is the Music Director for the Washington-Idaho Symphony Orchestra.
Whalen offers an invitation on behalf of the orchestra board, director, musicians and donors, for all to come and enjoy what she describes as an incredible holiday evening experience.
Tickets are available at www.cdasymphony.org or by calling (208) 765-3833.
Recent Headlines
---