Marine patrol dock headed for Hayden Lake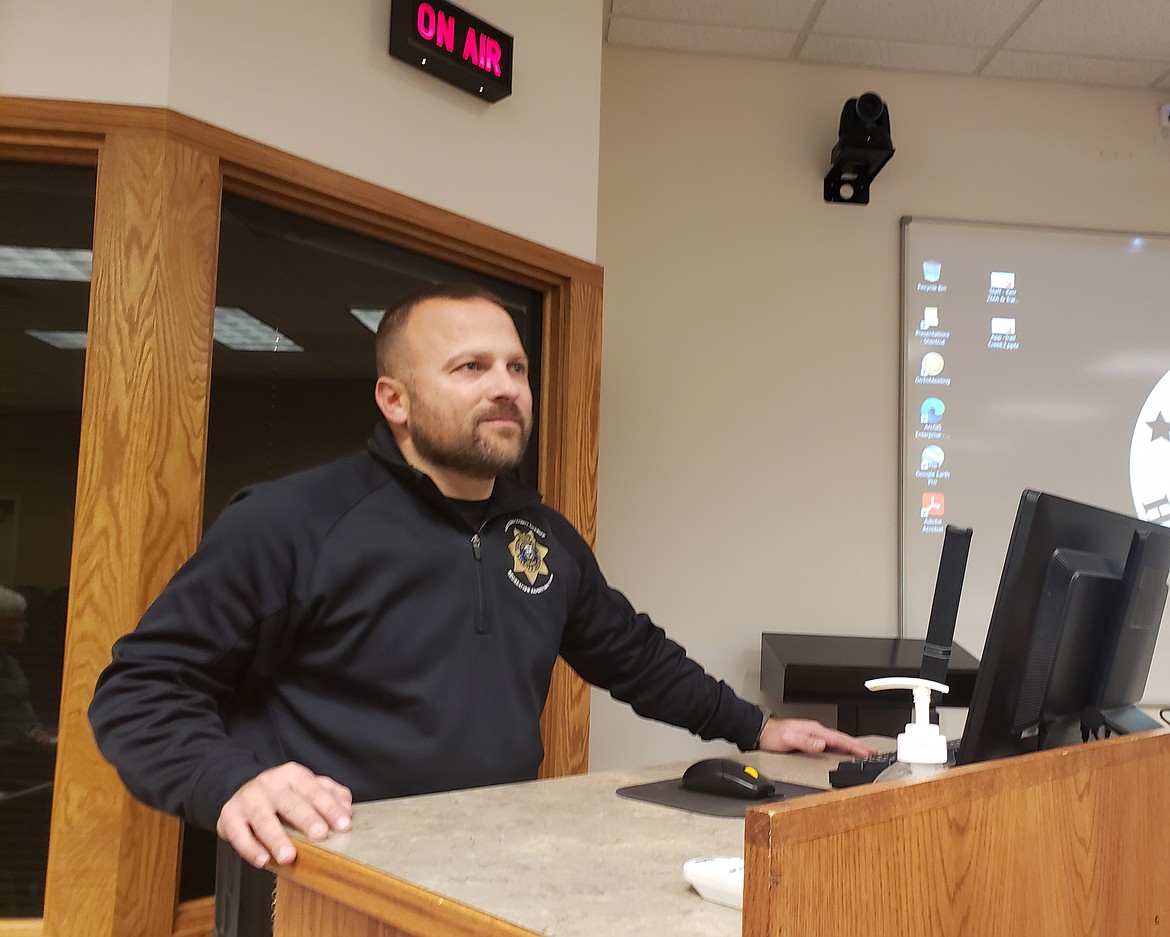 Sgt. Ryan Miller, Recreation Safety Supervisor for Kootenai County Sheriff's Office, answers questions to Hayden City Council members about a planned dock at Honeysuckle Beach. A Marine Patrol dock would allow faster response time on Hayden Lake, or at peak times, a team of marine deputies assigned to Hayden Lake to address increasing calls and reduce deputy response time.
by
JOSA SNOW
Staff Writer
|
November 25, 2022 1:00 AM
Hayden City Council members voted to add a permanent boat slip to the dock at Honeysuckle Beach for a marine patrol boat.
In a regular meeting Tuesday, the council approved a contract that would improve the Kootenai County Sheriff's Office's marine presence on Hayden Lake.
The new slip would be added to the southern side of the existing dock at Honeysuckle Beach, and the contract with Kootenai County ensures that operation of the slip will not interfere with normal use of the boat launch or beach.
"Right now, if we get a call on Hayden Lake we have to call in a deputy from somewhere in the county, their vehicle has to have towing capacity, because not all of our vehicles can tow a boat, and they drive over to Hayden Lake," said Sgt. Ryan Miller, recreation safety supervisor at the sheriff's office. "Then they have to get through traffic at the boat launch. In the best case scenario, if there's no traffic at the launch, they can get on the water in 20 to 30 minutes."
Currently the Sheriff's Office has no boat on Hayden Lake. With increased traffic on the water, the sheriff's office receives more calls for service on Hayden Lake, and expects that to increase as the population and use of the lake increases.
The cost of a boat and onboarding the deputies would be covered partially by recreational safety grants, and partially by a percentage of boating fees paid by lake users, Miller said.
Currently, Hayden Lake is part of the Western Lakes division for the Kootenai County Sheriff's Office. One of the top three busiest waterways in the region, it's currently the only one of the three without a permanent dock.
Adding a permanent boat slip to Hayden Lake would allow any deputy to access the boat and the lake within about 15 minutes, dramatically reducing response time.
There's a long term plan in place to add a gate to protect the boat from pedestrian or boating traffic.
Seasonal marine deputies are hired annually by the sheriff's office to cover the regional waterways and meet the demand for public safety coverage through summer months.
Council members voted to approve a contract with Kootenai County that would hold the county responsible for maintenance costs of the boat slip, but construction costs will be covered by Hayden's public safety impact fees.
The county would also be responsible for any building costs over $58,500, the amount the city budgeted from a public safety savings account.
The city of Hayden contracts their policing with the county sheriff's office, so the city doesn't have many public safety costs for things like offices, stations or cars, which are all included in county contracts.
City impact fees expire after eight years, and public safety fees can only be used for public safety, and they have been going unused.
"The money we're using for this project is from impact fees, so it's money we're losing if we don't use it," said Brett Boyer, city administrator.
Impact fees are paid for by growth so their revenue varies by year, and per city code, they cannot be used for things like salaries, Boyer said.
Right of Way acquisitions for Ramsey Road extension
Hayden Council Members also voted to approve the acquisition of three more properties for the Ramsey Road Extension Project that would connect Hayden Avenue to Lancaster Avenue.
That leaves roughly nine more properties, or right-of-ways, left to purchase before construction can begin, hopefully by 2024.
The council approved paying $120,116 for about an acre of land and easements along Buckles Ave.
More than 92% of the costs of the Ramsey Road extension will be covered by a federal grant, so the extension project draws very little money from the city's savings account.
Recent Headlines
---