Mortimer wins the day at annual auction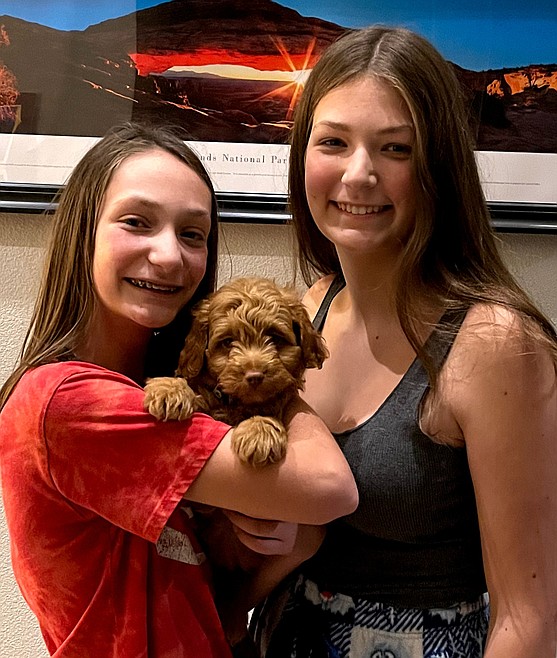 Reese and Kennedy Johnson with their new puppy, Mortimer, from the EXCEL Foundation's Big Event.
Courtesy photo
|
November 9, 2022 1:00 AM
On Saturday night, the EXCEL Foundation held its annual Big Event at the Best Western Plus Coeur d'Alene Inn. In 36 years of existence, the organization, with proceeds from the event, has funded nearly 1,500 direct classroom grants worth $2.5 million to teachers in Coeur d'Alene School District 271.
This year, one of the most-anticipated live auction items was a darling mini goldendoodle puppy donated by Paws Fur-Ever kennels. Included with the puppy was a basketful of must-haves for new puppy owners donated by Mountain West Bank.
EXCEL board member Ryan Johnson, wife Michelle and their daughters, Reese, 11, and Kennedy, 14, volunteered to keep the puppy for two weeks prior to the Big Event. As you can imagine, the girls became quite attached to the puppy, Mortimer, even knowing they were just temporarily "babysitting."
Fast forward to Saturday night, and Ryan, Michelle and Mortimer were in attendance at the event. Emcee Jimmy McAndrew and auctioneer Matt Backs were running the live auction action when it came time for the crowd to bid on the pup. Reese had provided a sweet handwritten note for the auctioneer to read to prospective new owners " ... he's called Mort for short, age 8 weeks. Character traits: likes yelping for a random reason, biting your ankles and he likes his nose stroked, chewing on rags, being held and attention," she wrote.
Jimmy said the bidding started strong and became a spirited battle of the bid cards between Jim Parker and Eli Yates. Up and up the bidding went, with Eli the last man standing with a high bid of $10,000!
You might presume that Eli and his wife, Ingrid (also an EXCEL board member), are new puppy parents, but nope; Eli told the auctioneer and emcee that he wanted to gift the pup to the Johnson family. The crowd was stunned at the generous gesture, no one more so than Ryan and Michelle.
"When I called the girls, I let them know that a wonderful family had just bid on Mortimer and donated him back to us," recalled Michelle. "We all started crying and were so overwhelmed."
Said Ryan, "When we got home, they were so happy and grateful. We've had multiple conversations about how the event played out and the level of generosity displayed by Eli and Ingrid Yates at the auction."

This is a win-win of epic proportions. Thanks to the Yates' donation, many classroom grants will be possible, and a darling doodle pup is in for a lifetime of love with his forever family.
•••
Since I filed this column several hours before the polls closed yesterday, no Wednesday morning election quarterbacking will be included. I'm hoping that humility, grace and respect will accompany all of the newly-elected and re-elected when they take the oath of office in January 2023. As the dust settles, it's also my hope that rhetoric takes a backseat to the actual representation of the citizenry, that all who have been elected now represent. Anyone who's been entrusted to serve has been bestowed a responsibility to lead.
•••
With Election Day just past and Veterans Day coming up, my appreciation to all who voted, all who stepped up to put their name on a ballot and to the veterans who through the generations have served to make and keep our country the land of the free.
To all who've served and serve in the armed forces, we thank you.
•••
Happy Main Street birthdays today to Jim Addis, Nancy Henry, Austin Gardner, Todd Tondee, Ben Rae, Lori Sherfey, Janine Avila, Gary Ulvan, Matt Lyman and Dennis Hall. Tomorrow Jeanne Norton, Beverly Pogue, Kathleen Tillman, Bret Bowers, Marlow Hendricks, Doug Eastwood, John Evans, Dale Broadsword and the U.S. Marine Corps, celebrating 247 years of honor and tradition. Semper Fi. Celebrating 11/11 birthdays on Friday are Ruth Pratt, Ellen Jaeger, Graydon Stanley, Tim Mitchell, Eugene Boyle, Aaron Roberts, Amy Colbert, Ruth Morrow (75!), Kim Malar-Currie (60!), Kelli Fahy, Heather Bryant, Keith Boe and Emilia Ovstedal. On Saturday Faith Mitchell, Chris Arnold, Polly Johnson, Marshall Mend, Dana Ryan, Greg Gervais, Robert Lantz, Antigone Twidt, Brenda Murphy and Amanda Behringer put on their party hats. Sunday birthday wishes to Matt Backs, Cheyenne Tate, Desiree Janke, Timarie Lindquist, Tonya Yost, Margaret Ogram, Jennifer Currie and Jeannette Laster. Best wishes to Mamie Johnson, Jane Hansen, Joan Antonich, Jill Satterly, Tim Curry, Ann Jaworski and Robert Chatters on Monday. Christopher Banks, Cheryl Siroshton, Mark Fisher, Teresa Eatherton, Jan Marie, Charlie Miller, Mark Gustofson, Christina Ethridge and Mary Scalise blow out the birthday candles on Nov. 15.
•••
Kerri Rankin Thoreson is a member of the National Society of Newspaper Columnists and the former publisher of the Post Falls Tribune. Main Street appears every Wednesday in The Press and Kerri can be contacted on Facebook or via email mainstreet@cdapress.com. Follow her on Twitter @kerrithoreson.
Recent Headlines
---