Neighborhood of the Week: New homes in Hayden — spacious living at Brantley Estates
You don't need three cars to enjoy a three-car garage. Space is valuable, and you get all kinds of space options with the Brantley Estates neighborhood in Hayden.
Brantley Estates, located just north of W. Lacey Avenue and west of Highway 95 at N. Reed Road, is a new development that gives convenient access to schools and other major Hayden amenities and businesses without a busy atmosphere.
Laurel Kerr, a Realtor with the Flerchinger Realty Group, Keller Williams Coeur d'Alene, represents an available listing that's nearing construction completion in Brantley Estates. She said the combination of location and atmosphere makes it an especially appealing development.
"It's not on a through-street, so there's not a lot of traffic going in and out," Kerr said.
Kerr also touted the quality builds of the homes from Tim Timmins and Eagle Ridge Builders.
"There are solid wood doors in every single home, really nice cabinets… beautifully tiled master bathrooms and showers and a lot of (the homes) have walk-in pantries," Kerr said.
Another major appeal for many potential buyers — no homeowner's association dues or CCRs.
With 19 total lots, Brantley Estates will fill in steadily, with 1-2 plans being made available each month, Kerr said, with the idea being that sold homes will be near construction completion at the time of listing. Floor plans are pre-selected but buyers will have some opportunity to choose certain features within the home.
The first home in the development closed in March, Kerr said, and approximately five homes are already sold.
Prices range in the mid-$700,000s and most of the home plans hover around or above the 2,000 square feet. All of the homes come with spacious three-car garages and some even boast RV garages.
One current active listing is a four-bedroom, two-and-a-half-bathroom home with approximately 2,300 square feet at a price listing of just under $759,000. Another is a three-bedroom, three-bathroom home with just over 2,000 square feet listed at just under $744,000.
For more information on Brantley Estates or other real estate inquiries, contact Laurel Kerr at 208-790-4944 or email Laurel@ToYourNewPlace.com.
Kerr said the local real estate market in general remains busy with different types of buyers.
"The interest rates are rising, and that makes some people want to move fast and it's making some people want to wait (or move more slowly)," Kerr said.
• • •
Let us know about story ideas, standout neighborhoods and developments that we may feature in an upcoming Neighborhood of the Week. Contact Tyler Wilson at twilson@cdapress.com.
Attention Real Estate Agents! Take advantage of Neighborhood of the Week by sending in your suggestions for featured areas, including sites outside the normal confines of Coeur d'Alene, Post Falls, Hayden and Rathdrum.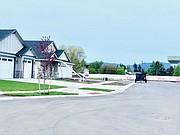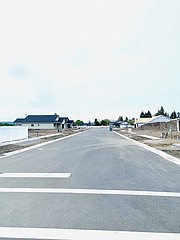 Recent Headlines
---