Water worries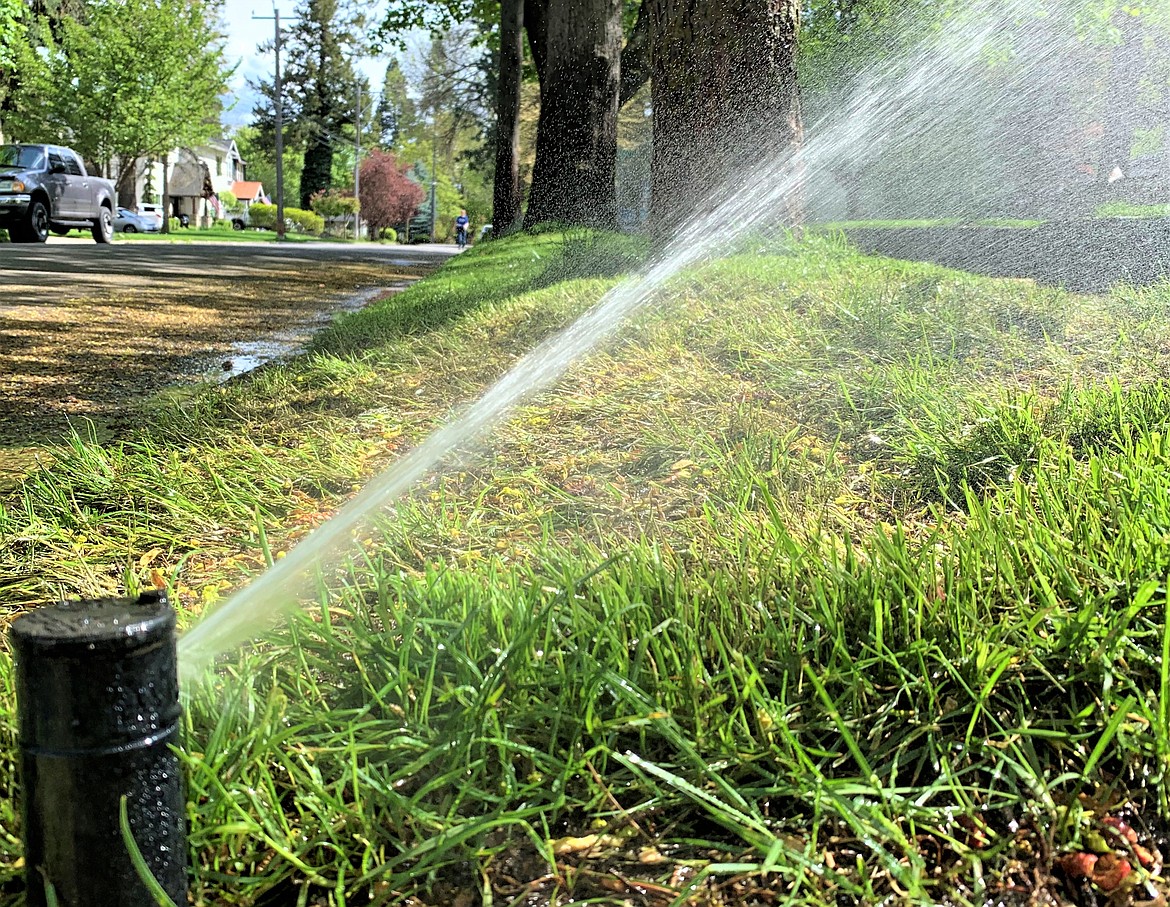 Water sprays from a sprinkler head at a Coeur d'Alene home on Tuesday.
BILL BULEY/Press
by
BILL BULEY
Staff Writer
|
May 25, 2022 1:09 AM
COEUR d'ALENE — On these cool, cloudy spring days, and on those cold, snowy winter ones, Coeur d'Alene pumps about five to six million gallons of water each day.
Come those hot summer days, demand for water rises. Dramatically. To about 36 to 37 million gallons a day.
But the city is not considering water use restrictions as adopted by its neighbor in Spokane on Tuesday.
"Something that drastic, I would not be considering here in Coeur d'Alene," said Terry Pickel, water director.
He said education about water conservation would be better than "a heavy-handed hammer."
The Spokane City Council passed an ordinance aiming at reducing water use by 5-2 vote on Monday.
According to a press release, the city "shall implement a prohibition on watering outdoor vegetation from 10 a.m. to 6 p.m. between June 1 to Oct. 1 and limit watering outdoor vegetation on each parcel for four days per week. Exceptions are allowed for new landscapes, vegetable gardens, to maintain tree health, and to mitigate wildfire risk."
"Ultimately, this ordinance requires residents to irrigate their lawns less often and outside of peak heat hours, providing cost savings to ratepayers, while simultaneously being good stewards of our Spokane River," Councilmember Lori Kinnear said.
The ordinance does not include penalties, which had been discussed.
"They changed their minds about fines," Pickel said.
He said the majority of the water produced by Coeur d'Alene in the summer goes for irrigation purposes, which is watering lawns and landscaping.
During last summer's heatwave, the city produced a peak of 43 million gallons of water a day.
"There is a considerable cost to meet that demand," Pickel said.
The city paid $1.5 million for its newest well that is now online near Huetter and Prairie roads. It can produce 4,000 gallons of water a minute.
Pickel said it's a significant infrastructure investment for something that isn't used 75% of the year, but it is necessary to quench the thirst for more in the dog days of summer.
All told, Coeur d'Alene now has 11 wells, all of which operate in the summer and can produce up to 50 million gallons a day. In the winter, only two and sometimes three are used.
The city on average pumps 4.2 billion gallons of water from the Rathdrum-Prairie Aquifer each year.
Last year, it pumped 5.2 billion gallons, which Pickel said was mostly due to the hot, dry stretch in June and July that saw 100-degree days.
He said residents can help reduce demand by using efficient irrigation systems. Most people over water their lawns, he said, and much of the water is wasted due to evaporation, run off and poor coverage.
Pickel said he has seen sprinklers going in the rain, and even when it was snowing in April.
He estimated that most underground sprinklers are only about 40 % efficient. And for those residents who move sprinklers around on their lawns, "that's even worse."
Another problem is that water is cheap in Coeur d'Alene, where the average home uses about 25,000 to 30,000 gallons of water a month.
The city charges residential users $1.05 per 1,000 gallons. For those who moved here recently from Seattle and California, where utilities are expensive, that's a bargain, so they tend to use a lot of water to have nice, green yards, Pickel said.
"That's the crux of the situation Spokane is facing," he said.
He said with the growth Coeur d'Alene is experiencing, it's important that people get in the habit of using water wisely now.
It can be done and it makes a difference.
He said city parks and schools are two of the area's largest water users.
"I challenged both of them to reduce their consumption a couple years ago," he said.
Parks did, by 30%, and schools, by 20%.
They did so by better management, using only what was necessary and buying things like efficient sprinkler heads that resist wind drift.
The cold, wet spring has been a blessing for reducing water usage, but Pickel knows that won't last.
Summer is coming.
"I'm afraid we're going to go from cool to just hot," he said.
Recent Headlines
---