THE VETERANS' PRESS: American Legion Boys State
by
RUTH ARESVIK/Veterans Help Net Correspondent
|
May 24, 2022 1:00 AM
Neil Armstrong. Tom Brokaw. Michael Jordan. Garth Brooks. Bill Clinton. Jon Bon Jovi? What possible common thread could these men possess? Based on the title of this article, of course — they all attended Boys State.
The American Legion Boys State (and Girls State) is among the most respected and selective educational programs of government instruction for U.S. high school students. Students become a part of the operation of local, county and state government. They learn the rights, responsibilities and privileges of their fellow citizens. Elected to various offices, the Boys State activities include legislative sessions, court proceedings and law enforcement presentations. At the end of the program, two representatives from each state are elected to attend Boys Nation in Washington, D.C., where they learn the structure and function of the federal government.
Boys State was founded in 1935 and was the idea of two Illinois Legionnaires — Hayes Kennedy and Harold Card — who organized the first Boys State at the Illinois State Fairgrounds in Springfield. Kennedy and Card were concerned about youth attending political indoctrination camps in the late 1930s and felt the Boys State program would stress the importance and value of a democratic form of government; to preserve and perpetuate it. At present, Boys State programs exist in all Legion departments in the U.S. except Hawaii.
Legion posts select high school juniors or seniors to attend the program in their respective state capitals based on recommendations of teachers or guidance counselors. All expenses are paid by the sponsoring post. Selection can be highly competitive and the event can be an important achievement for college and/or military academy admissions. Many programs offer college credit or scholarships to those attending Boys/Girls State.
This year, Manuel Schneidmiller American Legion Post No. 154 in Rathdrum will send eight local young men to Boise the first week of June to attend Boys State. Good luck and congratulations!
From North Idaho STEM Charter Academy: Zachary McKenna, Taelor Stafford and Alexander Willis.
From Lakeland High School: Bryce Lindsey, Cole Andres, Ryan Genteman, Jamison Elliot and Cody Morse.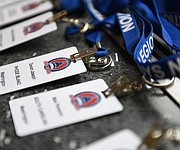 Recent Headlines
---