Neighborhood of the Week: 'Multiple offers in a day'
by
TYLER WILSON/Special to The Press
|
May 15, 2022 1:00 AM
With so much Rathdrum-related content lately in Neighborhood of the Week, I thought the hateful comments might subside.
Well, according to the Twitter account @Rathriffraff617, we haven't done enough to showcase the seller's experience in Rathdrum.
"The market is crazy! I heard my neighbor sold his house for $200,000 more than he paid for it! Do some actual reporting, you cowards!" — @Rathriffraff617
While I don't appreciate the hostility, I did agree wholeheartedly with their next Tweet:
"Tacos are yummy!" — @Rathriffraff617
Anyway, we thought it would be nice to talk to a REAL seller in Rathdrum. And behold! A person who recently sold their centrally-located Rathdrum home agreed to discuss their experience, so long as we kept their identity anonymous.
The seller, who will be called Billy Bob for the remainder of the article, bought his three-bedroom home in a well-established Rathdrum neighborhood back in 2017. The sale of the home closed in April 2022.
(Editor's note: While Neighborhood of the Week has been including dubious commentary from "Rathdrum residents" lately, we can assure you that "Billy Bob" is a real seller and that his experience actually happened).
Billy Bob didn't want to disclose the final sales price, however, the increase from the purchase price in 2017 was SUBSTANTIAL.
"We listed it a little below what our Realtor thought was market value, with the expectation of a possible bidding war," the seller said.
Their sales plan involved listing the house early in the week and offering time for private viewings. They would then set up an open house for the weekend if necessary. Billy Bob never made it to the open house.
In just three days, Billy Bob said they had at least 20 viewings. After the first day, they received "two or three" offers.
"We held off for a couple days to see what other offers would come," the seller said.
Before the weekend, Billy Bob said they had at least 13 offers.
The highest offer came, perhaps not surprisingly, from someone in California who didn't physically tour the home. Billy Bob said he was concerned the home's appraised value would come in too far below that offer price.
"The offer was aggressive, and we knew it wasn't going to be worth that much," he said.
Ultimately, the seller decided on a slightly-less cash offer from someone with ties to the community. Hearing the personal story of the potential homeowners helped in Billy Bob's decision process.
"We didn't necessarily want to outsource to someone anonymous, at least compared to the local person who was very kind and gave us their full story of who they were," the seller said.
He envisioned his house as the perfect starter level home for a couple or young family, so he was happy to see it work out that way.
While the market was feverish, Billy Bob didn't skimp on preparing the home for top price. He and his family cleaned the property and staged it well for visitors even though they were still living in the home. Billy Bob had also made a number of upgrades on the home since 2017, including improvements on the backyard space. That combination, along with the home's convenient location, resulted in a feverish response.
Billy Bob credits his Realtor, someone he had worked with before, with coordinating their plan and preparing him for a whirlwind sales process.
"He was very upfront and honest, and he made it clear that we didn't want to put this in motion until we had a plan and a timeline," the seller said of his agent.
That included making sure Billy Bob had time to move out before the new owners arrived. After all, the home sold with a full cash offer after only four days on the market.
As his agent told him, established homes in Rathdrum are a hot ticket, with the small amount of inventory being sold on average between 5-7 days.
When asked why readers of The Press seem to be so aggressive about seeing more Rathdrum content in Neighborhood of the Week, Billy Bob had an interesting opinion:
"I don't know, bud. It seems like people really hate you," he said.
• • •
Let us know about story ideas, standout neighborhoods and developments that we may feature in an upcoming Neighborhood of the Week. Contact Tyler Wilson at twilson@cdapress.com.
Attention Real Estate Agents! Take advantage of Neighborhood of the Week by sending in your suggestions for featured areas, including sites outside the normal confines of Coeur d'Alene, Post Falls and Hayden (and Rathdrum!).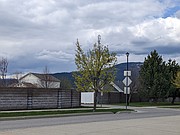 Recent Headlines
---