Coeur d'Alene Realty: Cheers to 100 years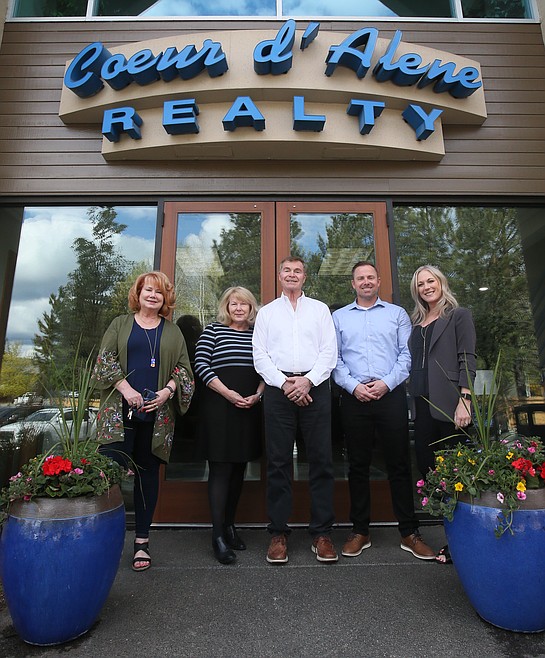 Coeur d'Alene Realty is celebrating 100 years this year. From left: Designated broker Pat Krug with Smock family Midge, Don "Pepper," Duffy and Jennifer.
DEVIN WEEKS/Press
by
DEVIN WEEKS
Staff Writer
|
May 15, 2022 1:09 AM
In 1922, someone could buy a new house in Coeur d'Alene for $1,250.
That same year, Coeur d'Alene Realty opened, beginning a real estate legacy of community stewardship, philanthropy and longevity that continues to today.
"We absolutely will celebrate the rest of this year with our cheers to 100 years," said Coeur d'Alene Realty owner/broker Don "Pepper" Smock.
The company has been in four locations and has had six brokers in the past century, two of whom are still active — Smock and designated broker Pat Krug.
Smock owned and operated Better Homes Realty before joining forces with the late real estate mogul Duane Hagadone in 1986 to create Better Homes Coeur d'Alene Realty.
"It was a privilege and a once-in-a-lifetime opportunity to be at Duane Hagadone's side," Smock said.
He recalled standing above the old Potlatch Mill site with Hagadone, who stared out into Lake Coeur d'Alene. Smock said that may have been the moment Hagadone began to envision the now-world-famous Floating Green.
"Many people in Coeur d'Alene have good jobs today because of Duane Hagadone. I do. My family does," Smock said. "On May 1, 1986, Duane Hagadone reimagined the economic future of Kootenai County. That Sunday morning when he opened The Coeur d'Alene Resort, the day before that Sunday morning, our little town was pretty desperate.
"Downtown Coeur d'Alene was in another depression/recession. Talk about doldrums. Our Penney's store downtown was closing. Our little town was desperate economically; men were laid off or on strike. Duane Hagadone reinvented the economic future of Kootenai that morning.
"It's been said so many times, I would add my voice that Duane was truly a visionary."
Coeur d'Alene Realty soon became a family business as Pepper's wife, Midge, oversaw the Coeur d'Alene Realty Windermere Foundation. Their son, Duffy, and daughter-in-law, Jennifer, became well-known real estate professionals with hearts for their community.
"Our family has been owners of this company for 37 years, more than one-third of the hundred, which I think is special," Pepper said.
And although 100 years seems like a long time, Coeur d'Alene Realty has aged quite well.
"We're not an old company," said Duffy, a co-owner and managing broker. "The Coeur d'Alene Realty Company has been in Coeur d'Alene doing business, helping people buy and sell real estate for 100 years. However, we are a second-generation company, second-generation family ownership. We have changed and are thriving."
The Smock family has been in North Idaho for five generations. Pepper said the family first moved to the community in 1949 and was established by 1950.
"We have deep roots here," he said. "We are kids who have grown up with this town."
The company has adapted as the community has grown.
In 2021, the company closed $1.22 billion in sales. Throughout its history, it has built neighborhoods and buildings across North Idaho, including its 19,000 square-foot office at 1616 E. Seltice Way that won an award for being the most beautiful building in Post Falls after it opened in 2004.
"We made a commitment to the community in Post Falls to be their trusted real estate company," said Jennifer Smock, co-owner and managing broker.
Although Coeur d'Alene Realty continues to be successful year after year, it's not all about business.
For more than 75 years, the company has sponsored Little League baseball and soccer teams. Its leaders serve on community boards and are frequently recognized for their dedication to the community.
"Our company has had some wonderful successes and recognitions," Pepper said.
But Coeur d'Alene Realty Windermere Foundation is the company's true heart.
"That's really a defining characteristic of who we are and why we do what we do," Duffy said.
Through its Boots and Socks program, the foundation has provided 56,000 pairs of winter boots and socks to local kids since 1995, the year Windermere became Coeur d'Alene Realty's franchise relationship of choice.
"There've been little kids who come in from the school district that will walk in here with a grandparent with their new winter boots and socks on who will hand us a little letter that says, 'Thank you so much for my boots and socks,'" Jennifer said. "Those are such great moments."
Since the foundation started keeping track in 2000, it has given more than $2 million to area nonprofits such as Children's Village, CASA of North Idaho, food banks, Union Gospel Mission, college scholarships, Safety Net and Safe Passage.
"Every June our whole company takes the day off of helping people buy and sell real estate and we go work at a civic organization, usually the Children's Village," Duffy said. "We're a sales organization. We just get to do a tremendous amount of good in the process."
If the foundation is the heart of the company, Coeur d'Alene Realty's 135 agents are the soul. Jennifer said servant leadership is a big part of why and how Coeur d'Alene Realty conducts business the way it does.
"We exist to serve the agents in our community," she said. "We make decisions based on what's best for our agents in our community every day, not what's best for those who sit at this table, necessarily."
For 100 years, Coeur d'Alene Realty has been making magic happen in North Idaho. The future looks just as bright.
"We've had a wonderful start in so many ways with a company that is so strong," Duffy said. "Our vision is to continue to grow and thrive in Coeur d'Alene and Kootenai County."
Recent Headlines
---