PREP SOFTBALL: Lakeland punches back — Hawks score five in bottom of seventh to capture state 4A berth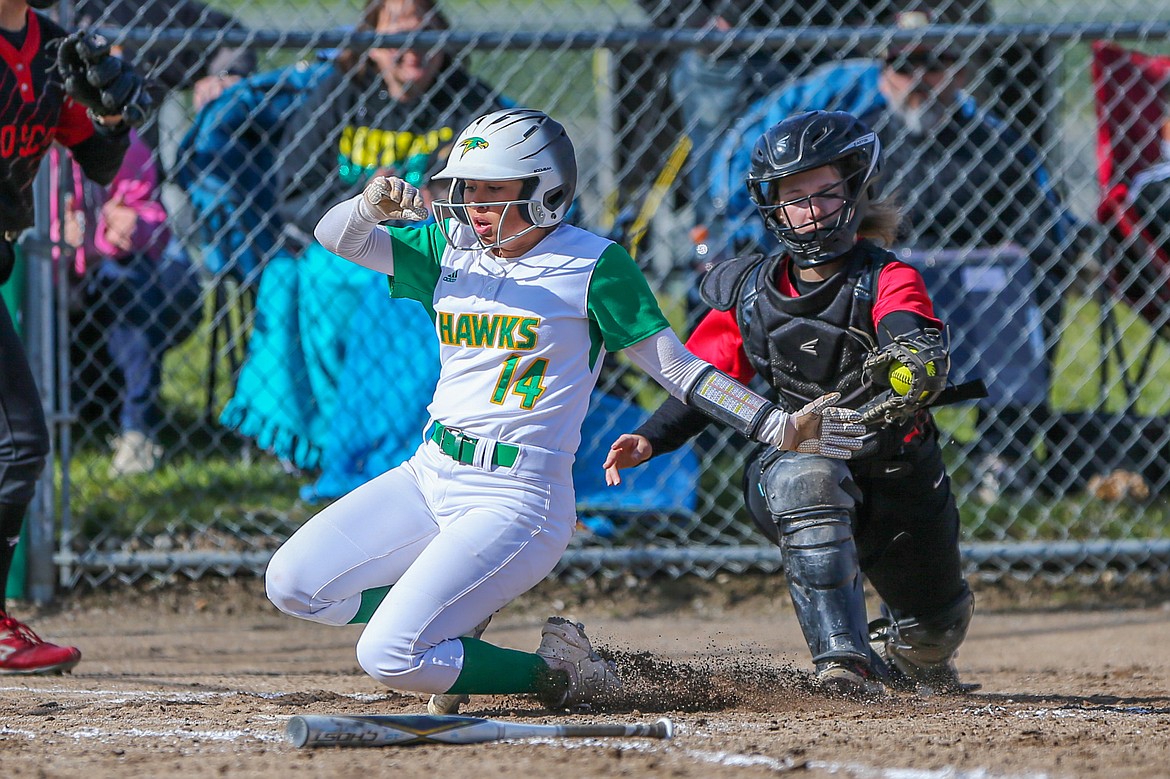 JASON DUCHOW PHOTOGRAPHY Emma Avalos (14) of Lakeland slides in safely while scoring on a sacrifice fly in the sixth inning, and Moscow catcher Megan Highfill tries to apply the tag in Game 2 of the 4A Region 1 softball best-of-3 championship series Friday at Lakeland High.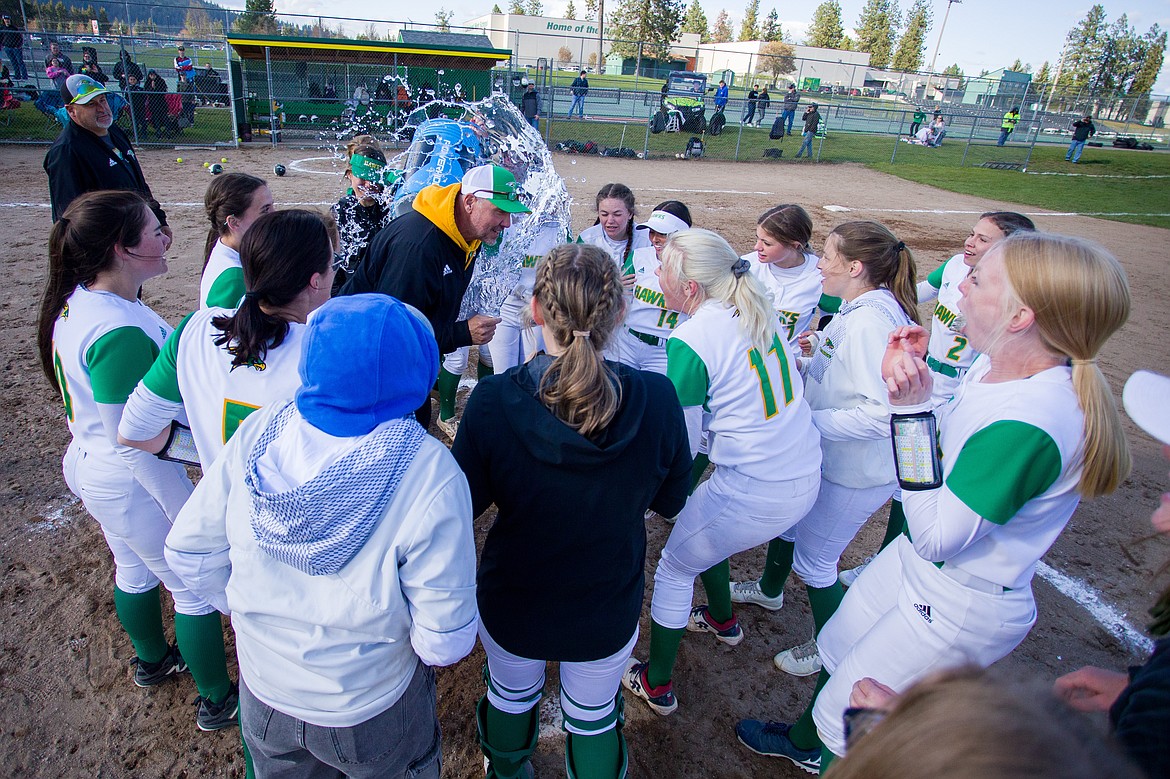 JASON DUCHOW PHOTOGRAPHY Lakeland coach Dwayne Curry gets drenched after the Hawks won the 4A Region 1 softball championship Friday in Rathdrum.
Previous
Next
By MARK NELKE
Sports editor
RATHDRUM — Down by four runs heading into the bottom of the seventh inning proved to be no big deal for the Lakeland Hawks on Friday afternoon.
The Hawks had been preparing for this moment all season long.
Lakeland quickly tied the game with a pair of two-run homers, then freshman Alexis Hanna singled through the right side with the bases loaded and no one out to score Haylee Smit with the winning run as the top-seeded Hawks outlasted the second-seeded Moscow Bears 16-15 to win its third straight 4A Region 1 softball championship.
Lakeland (14-12), which beat the Bears 19-9 on Wednesday in Game 1 of the best-of-3 championship series, completed the sweep Friday to advance to the state tournament next Friday and Saturday at Post Falls High.
"The whole season we've been preparing for this — on being able to take a punch," said Lakeland senior shortstop Harley See, who went 4 for 4 with a a three-run homer and five runs scored. "So we have the game plan, that once the other team gets us, then we're just going to hit 'em harder, and we've been preparing all season for that."
"Going in one more round when you don't think you can. That's what makes all the difference in your life." — Rocky Balboa
Lakeland, the No. 8 seed via the MaxPreps rankings will open state vs. No. 1 Bishop Kelly on Friday at 9 a.m.
Moscow, bidding for its first regional title since 2014, finishes 10-15.
The Bears, with just three seniors, trailed 6-0 and 10-4 before tying the game with six runs in the top of the sixth, then scored five times in the top of the seventh to lead 15-11.
That just set the stage for a more dramatic finish.
See singled to lead off the Lakeland seventh and Cienna Walls followed with a two-run homer over the left field fence.
Payton Sterling walked and Emma Avalos, who finished 4 for 5 with five RBIs and three runs scored, hit a two-run homer to tie the game.
Haylee Smit walked, and Kayleigh Dyer singled to left. Emma Byrne bounced to the pitcher, but her throw to third was late and Smit was safe. The lefty hitting Hanna then came through with the game-winning grounder through the right side, scoring Smit.
"The last couple of weeks we've been going over as many 'Rocky' quotes as we can," first-year Lakeland coach Dwayne Curry said. "It's not about who hits the hardest, it's who hits the last. And who can get up from a punch. And I kept telling them, we're going to get punched in the mouth, and we did. We got punched in the mouth big-time.
"As soon as we came off the field (after the top of the seventh), all I could tell them was, 'All we need is an opportunity. We've got the power, we've got swingers, we're going to hit the ball. Let's go hit the ball.'
"For (Hanna) to do that at the end — oh my goodness. Couldn't be more proud," Curry said.
"No, maybe I can't win, maybe the only thing I can do is just take everything he's got. But to beat me, he's gonna have to kill me, and to kill me, he's gonna have to have the heart to stand in front of me, and to do that, he's gotta be willing to die himself and I don't know if he's ready to do that. I don't know, I don't know." — Rocky Balboa
Byrne, who finished 3 for 5, hit a two-run homer to cap a five-run third inning that hiked Lakeland's lead to 6-0.
Moscow pulled to within 7-4 on a two-run single by Jalyn Rainer in the top of the fifth, but See belted a three-run homer to right to make it 10-4 Hawks.
Rainer, a sophomore, walloped a grand slam well over the center field fence in the sixth to tie the game at 10. Rainer finished with six RBIs.
Dyer's sacrifice fly scored Avalos to put Lakeland up 11-10 in the bottom of the sixth. Angel Sparks' two-run single down the third-base line capped a five-run seventh for a 15-11 Bears lead.
But eight batters went to the plate for the Hawks in the bottom of the seventh, and all eight reached.
"Every champion was once a contender who refused to give up." — Rocky Balboa
"We fought back; we're a real gritty team," first-year Moscow coach Katie Habryle said. "It's just more about doing the little things, and we let a couple little things get away from us, and that kinda bit us."
Lakeland started six seniors, two sophomores and a freshman. Moscow started two seniors, five sophomores and two freshmen.
"We have a lot of young kiddos, and they're going to be really great, so I'm just excited to watch them grow, and see what they can do," said Habryle, who played softball at Bradley, and works in the compliance office at Washington State. "We have really young pitchers, one's a sophomore, the other's a junior, … our young staff in the circle, plus our young kids everywhere in the field is going to be great to watch them grow. For the next couple of years it's going to be really, really fun."
"Even when we got up 7-1, we knew they would come back," Curry said of the Bears. "It's going to be an incredible next four years, five years against them."
Moscow 000 136 5 — 15 14 2
Lakeland 105 131 5 — 16 20 5
0 out when winning run scored.
Kelly Stodick and Megan Highfill; Haylee Smit and Payton Sterling.
HITS: Mos — Kiblen 2, Highfill, Branen 2, Robertson 3, Sparks 2, Rainer 2, Stodick 2. LL — See 4, Walls 2, Sterling 2, Avalos 4, Smit 2, Dyer, Byrne 3, Hanna 2. 2B — Kiblen, Sparks, Avalos 2, Smit, Sterling. HR — Rainer, See, Avalos, Byrne, Walls.
Kellogg 14
Priest River 4
KELLOGG — In the second-place, loser-out game at Kellogg Middle School, the second-seeded Wildcats (7-15) beat the third-seeded Spartans (5-18) to earn a berth to the state 3A tournament next Friday and Saturday in Buhl.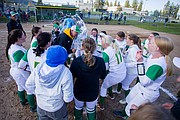 Recent Headlines
---