My Garden Path: May…at last!
by
ELAINE CERNY/Special to The Press
|
May 1, 2022 1:00 AM
At long last, we made it into the month of May. What a good feeling!
Now to get things going out in the yard. Most of us gardeners have more projects in mind than we have time and energy to do them. We'll just have to "give it our best shot."
Two weeks from today marks the average last killing frost for our area. Just take that with a big grain of salt as "average" just means we've had half of those frosts AFTER the 15th. Keep an eye on those forecasts for a while yet.
Some of our favorite plants are pretty tender and will croak when put out now even if the temperature doesn't quite get down to 32. Examples are marigolds, geraniums and dahlias. These and others, need to be "hardened" off before moving them outside. To do this, you'll need to put them outside in a nice protected area for a couple of hours. Increase their time outdoors each day for the next week or more. This procedure makes a huge difference as to whether these plants will survive or not after they're moved to their summer spot.
Remember, just because you see these and other tender plants in the stores, that doesn't mean they're ready to plant with no "prepping."
If you have hostas that need to be moved or divided, do it soon, before they leaf out. They will enjoy a new spot in the damp shade.
In your "spare time," grab that trowel or shovel and go after those dandelions. Don't just chop off the flowers, the whole plant needs to be dug out and tossed. Try to do this before the flowers go to seed. Your neighbors will be very thankful.
When it comes to the vegetable garden, there are some that can be planted now. These "greens" are mostly tough and can go in now. They include lettuce, spinach, beets, carrots, radishes and snow peas.
Some of the flowers that can take some cold are pansies, petunias, primroses, violas, snapdragons, stock, sweet peas and alyssum. Even these do better in a protected spot.
Be sure to soak those sweet pea seeds before planting them. Toss any that float as they won't germinate.
Invite your mom to go along when you visit the plant nursery. You never know when you might need some "brownie points."
• • •
Elaine Cerny has gardened most of her life, starting in 4-H. She has belonged to garden clubs in three states and is currently an active member of the River City Gardeners Club in Post Falls. Her column has appeared in The Press every other Sunday from early March until late October for the past 14 years.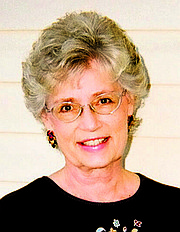 Recent Headlines
---