'Miner' lands new digs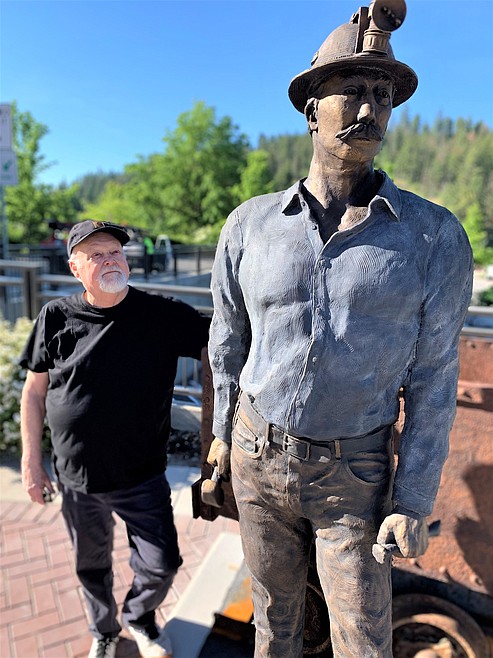 Artist Terry Lee stands by his newest statue, "The Miner," after it was installed on Front Street in Coeur d'Alene on Wednesday.
BILL BULEY/Press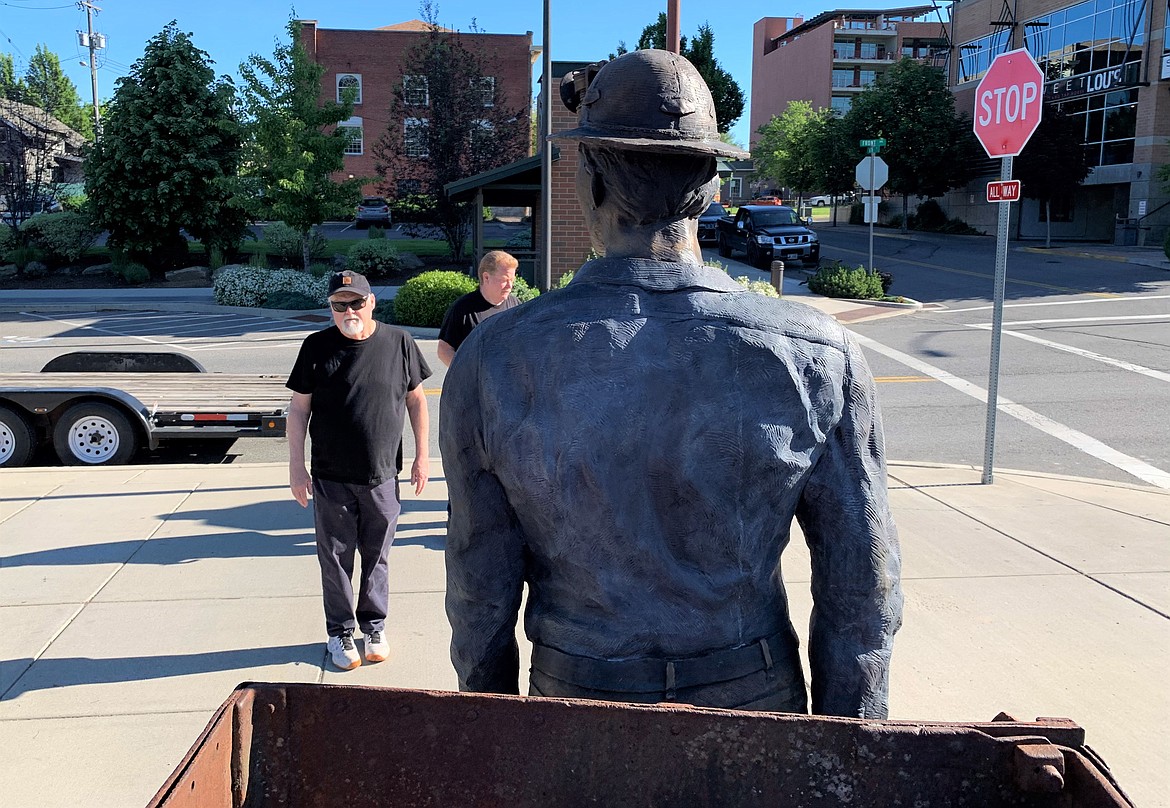 Terry Lee looks over The Miner after the bronze statue was installed Wednesday at Sixth and Front in Coeur d'Alene.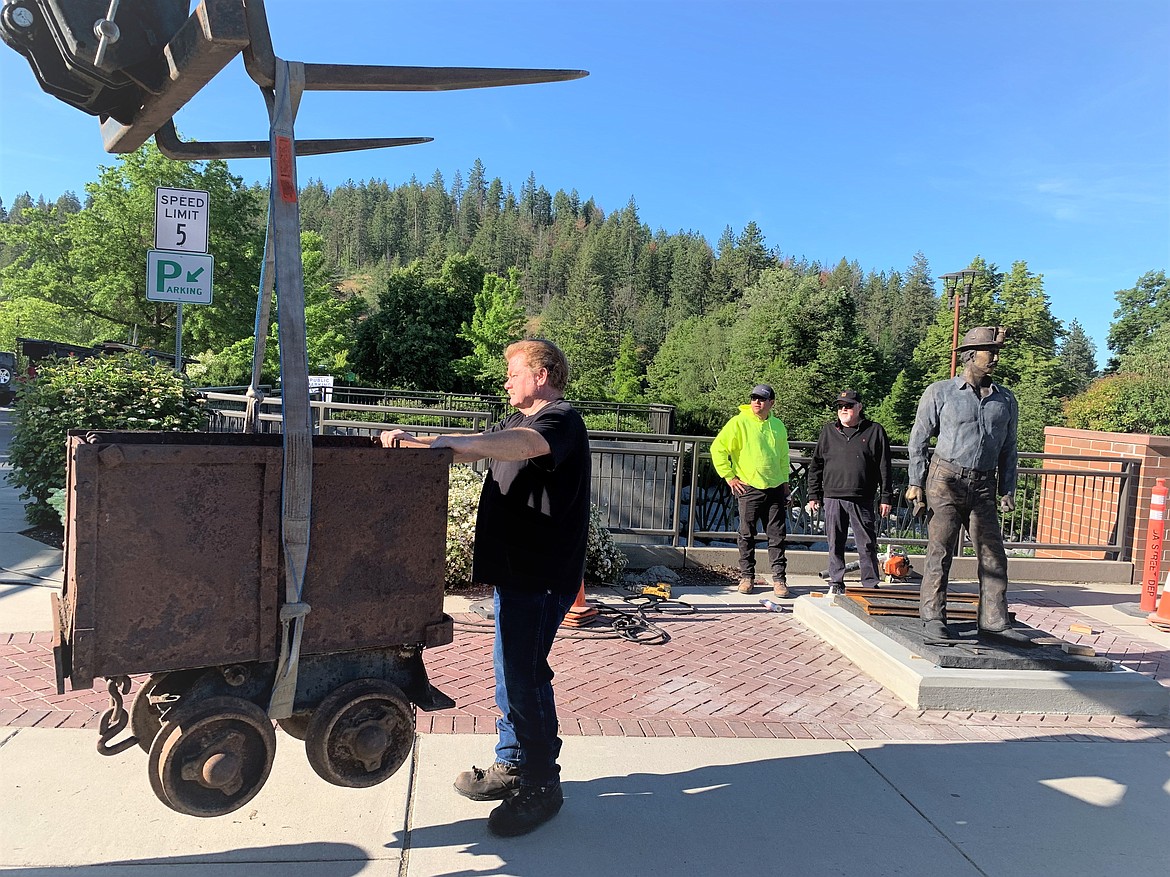 Bud Brisson helps guide the ore cart toward its new home next to The Miner on Wednesday.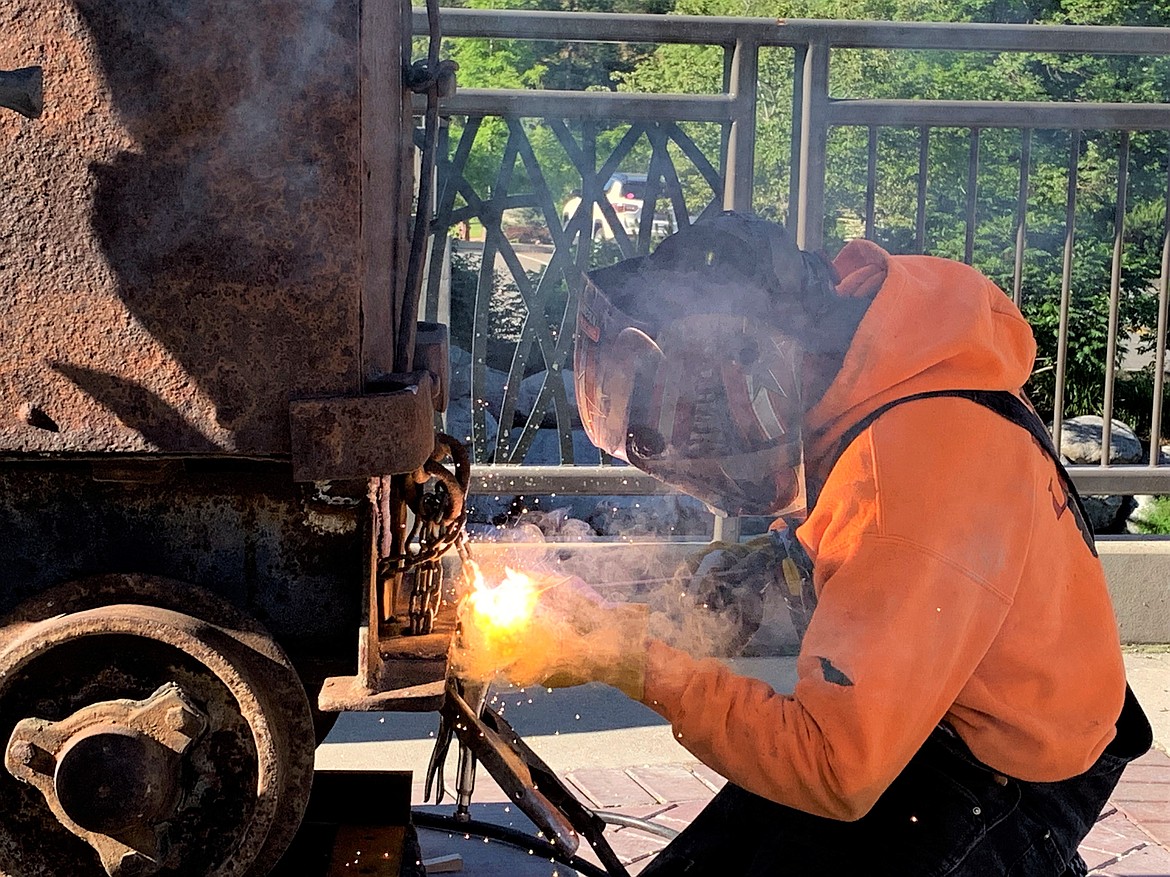 John Wallace of Allied Weldery, Inc. welds a chain on the ore cart with The Miner statue on Wednesday.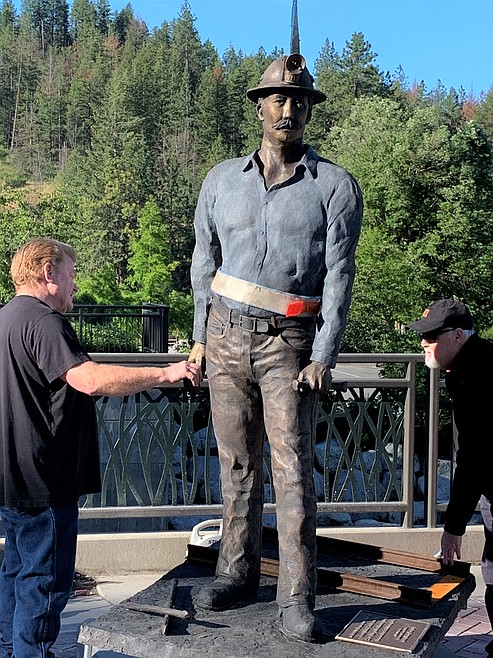 Terry Lee, right, and friend Bud Brisson help with installation of The Miner on Wednesday on Front Street.
Previous
Next
by
BILL BULEY
Staff Writer
|
June 23, 2022 1:07 AM
COEUR d'ALENE - Susan Robertson was walking her dog, Daisy, Wednesday morning when she saw Terry Lee's new statue being installed downtown.
She stopped to admire it.
Her father, Bill Smith, was a North Idaho miner and a logger, and she said he would have been pleased.
"Beautiful work," Robertson said.
The Miner, a bronze statue that stands 6-feet, 2-inches tall and weighs 325 pounds, was put in place near McEuen Park as a few people looked on.
It joins Lee's other works that stand tall at Sixth and Front, "American Worker," "Idaho Farmer," "Idaho Lumberjack" and the most recent, "The Suffragist" installed in August 2020.
"He looks strong," said Bud Brisson, a friend of Lee's helping with the installation alongside two city of Coeur d'Alene workers.
"I love it," Brisson said. "It's been a lot of work. He has put hours and hours and hours."
The Miner is joined by an ore cart that weighs 600 pounds and was welded in place on railroad tracks by John Wallace of Allied Weldery, Inc.
"The whole mining thing hits home for me," said Wallace, who grew up in the Silver Valley.
Lee, who also made the popular Mudgy and Millie statues in Coeur d'Alene, said he was "very, very relieved" to have The Miner in its rightful place.
Hecla Mining donated $50,000 for the project.
A plaque at the base of the statue reads: "Dedicated to the men and women who created Idaho's world-renowned Silver Valley and continue to provide the minerals essential to our lives.
"And to Art Brown, President and CEO 1987-2000 Hecla Mining Company."
A dedication is expected to be held next month.
Lee said he considers the five statues a "history walk."
He hopes they help people realize that mining, lumber, and farming have been key industries in North Idaho.
"There's so many people that are moving into this city that have no idea that there were five working lumber mills in the city of Coeur d'Alene," Lee said.
He said each statue takes about a year from start to installation.
For The Miner, he shaped and detailed it on clay. A foundry in Kalispell, Mont., made the mold, which was done in sections.
"It's like a jigsaw puzzle," Lee said.
It is covered in bronze with a protective coating.
The ore cart was obtained from a local man with a collection of them.
Lee's next statue, which might be completed next year, will be a World War II Army soldier commissioned by the late Bud Ford of Coeur d'Alene.
After that, a World War II Navy nurse is planned.
Lee, who is primarily a wildlife painter, learned sculpting from George Carlson.
"He taught me how to measure the model and how to scale things up and do all the work on it," Lee said. "And so it just became a really fun activity. I really enjoy it. And then one thing led to the other, people approached me for some of these."
Lee's neighbor, Barbara Rogers, was on hand as the statue was installed early Wednesday.
"I think that this miner is going to be the David of Coeur d'Alene," she said. "He's done just a marvelous job on the statue. They're all beautiful."
Her friend, Mary Ellen Stocking, agreed.
She said they visited Lee in his studio when he was working on The Miner, and it was fascinating to watch it come together.
"We couldn't not come and see it," she said.
Rogers said it achieves Lee's goal to share the history of the area.
"It depicts North Idaho life, no doubt about it," she said.
Recent Headlines
---