Gifts that keep giving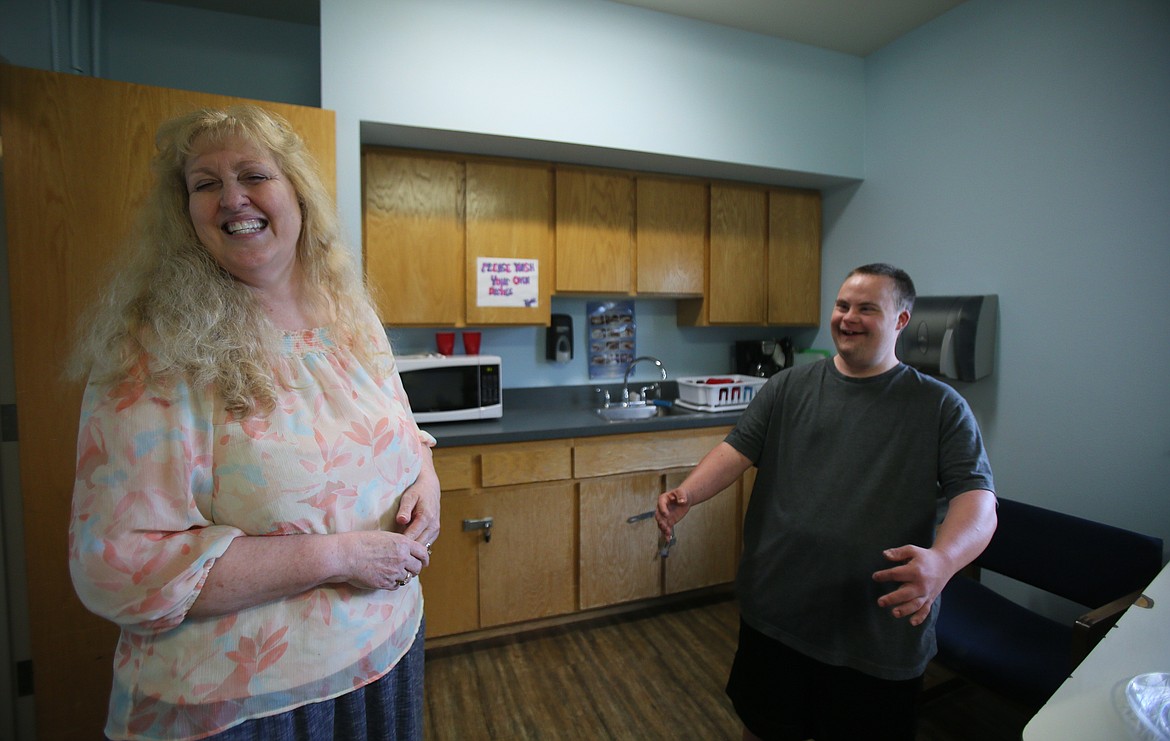 Tesh, Inc. Vice President Terri Johnson and client Travis Hoard have a happy exchange Tuesday while discussing upgrades in the activity center break room. On Thursday, Tesh and other local nonprofits will receive a portion of $85,000 in grants from the Women's Gift Alliance.
DEVIN WEEKS/Press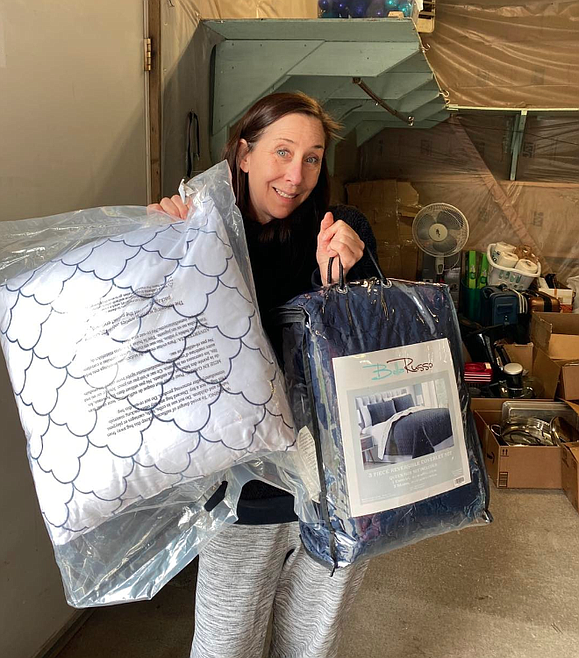 Safety Net InlandNW executive director Molly Allen shows off a few items during a donation drive in April. Safety Net and other local nonprofits will be gifted a portion of $85,000 in Women's Gift Alliance grants during an awards presentation Thursday.
Previous
Next
A little happy dance and two thumbs up were Travis Hoard's response when he learned Tesh, Inc. will soon receive an upgrade.
"I like a new space," he said Tuesday afternoon as he and Tesh Vice President Terri Johnson visited the old activity center break room.
The building was constructed more than 23 years ago, Johnson said.
"It opened when I started, that's how I know," she said. "No upgrades have been done to this other than the flooring."
The break room, which is used for light cooking, snacks and lunches on some days, is currently not ADA-compliant, Johnson said.
"You can see there's just no space, and not only is there no space, you can not get a wheelchair in here," she said. "We're working on getting a dishwasher and we're going to be putting in all new cabinets."
Tesh's activity center break room will soon be transformed into a functioning kitchen space thanks to a $25,000 grant from the Women's Gift Alliance.
"We are so excited about this grant," Johnson said. "We hoped to have this upgraded for a long time. Whenever you wash dishes right now, all the water goes down the front, all over the sink. It's just awful. It wasn't meant to be a kitchen; this was meant to be a staff break room. And we, obviously, changed that quite some time ago, so it's a break room functioning as a kitchen."
The Women's Gift Alliance is a nonprofit membership organization affiliated with the Idaho Community Foundation. The alliance's members each contribute $1,050 per year. Of the annual membership donations, half are pooled and distributed through a grant solicitation and selection process and the remaining half is equally divided between individually designated gifts and the Women's Gift Alliance Endowment Fund.
From 5 to 6:30 p.m. Thursday at Hospice of North Idaho, 2290 W. Prairie Ave., Coeur d'Alene, the organization will gift a total of $85,000 to five local nonprofits. Tesh, Safe Passage Violence Prevention Center and Safety Net InlandNW will each receive $25,000. The Literacy Project of North Idaho and CDA ACT (formerly Out of the Shadows Theater) will each receive $5,000.
The public is welcome to attend the celebration.
"It's huge for us," said Safety Net co-founder and executive director Molly Allen. "The grant is going toward furnishing and doing all sorts of things for kids in North Idaho, which we haven't been able to do efficiently because we haven't had a place here."
Safety Net is a nonprofit that supports foster kids when they age out of the system. It helps with housing, clothing, transportation and other necessities that provide a foundation for young men and women who are completely on their own. Safety Net began in eastern Washington, but has since expanded into North Idaho and now has storage space in Post Falls.
"We're thrilled to be able to be there," Allen said.
This is the 18th year the gift alliance has bestowed financial gifts upon local charities and causes. Not including this year, its members have gifted more than $1.4 million to more than 100 different organizations. The alliance currently has about 135 members.
"If we grow our membership, we can give more money," grants committee co-chair Joan Woodard said.
The grant committee made site visits and gathered information about the applicants, then whittled the number from 22 to the five grant winners. Woodard said it was very hard to make those final decisions this year.
"Through that process, we get to learn about more organizations that we've never learned about before," she said. "It's really rewarding to see the grantees acknowledge their grants and what they're going to be able to do with them. We stay in touch with them and like to bask in their success as well."
Woodard said the alliance is a group of like-minded women who are from every walk of life and background and simply enjoy each other's company.
She said members are often asked, "What is it about the Women's Gift Alliance that has causes you to keep giving?"
"Everybody's my people," Woodard said. "We just welcome any other women who would love to join us or check us out to see what we're all about."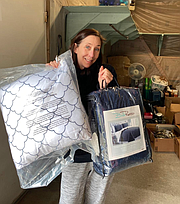 Recent Headlines
---