THE FRONT ROW with MARK NELKE: This year, Thursday nights and Saturday afternoons are also all right for high school football in North Idaho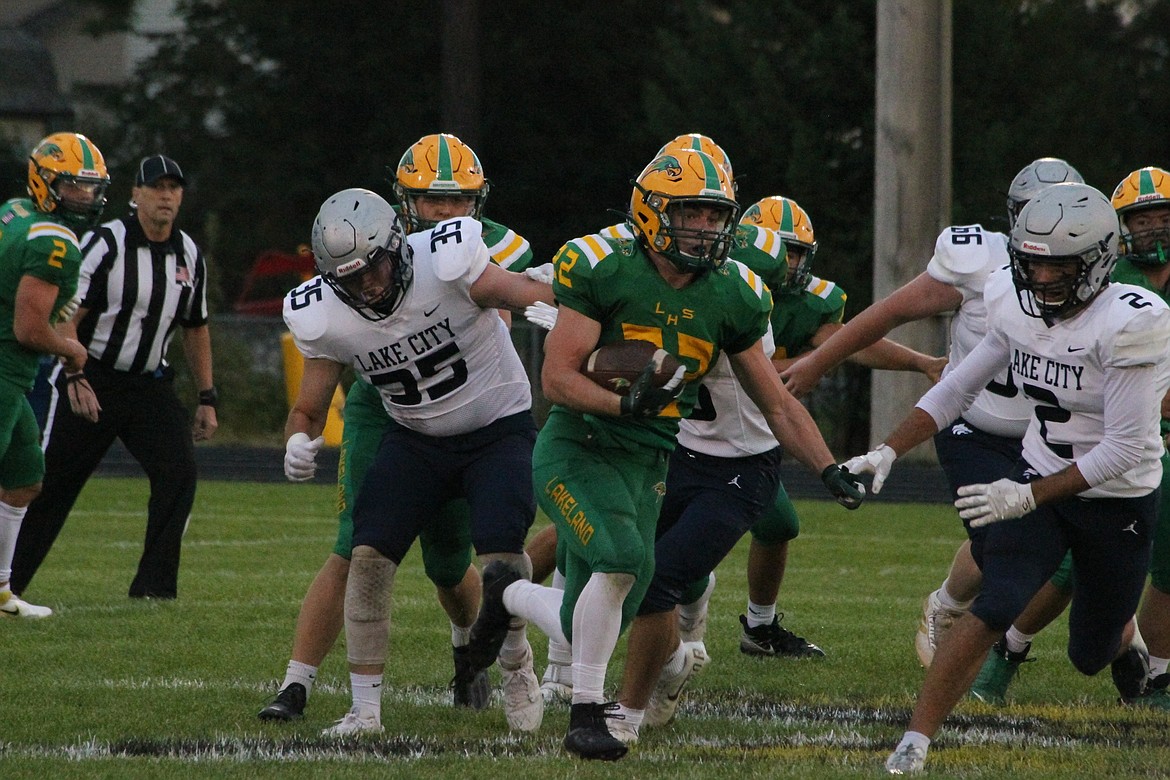 MARK NELKE/Press John Cornish (22) of Lakeland runs against Lake City in last year's game. Lakeland is scheduled to travel to Lake City on Aug. 26, in the second game of the season for Lakeland, and Lake City's season opener.
For local high school football teams this fall, Friday Night Lights will sometimes become Thursday Night Lights, and on a few occasions, Saturday Afternoon (Sun)Lights.
The local and nationwide shortage of officials includes football, and there weren't enough officials in North Idaho to handle everyone playing on Friday nights.
So all schools were asked to divvy up moving their games, to share the inconvenience so at least all games could be covered — just not all on Friday nights.
One notable game that won't be on a Friday night — Lake City at Coeur d'Alene, moved to Saturday with a 1 p.m. start.
"We had to move it. No officials," Lake City athletic director Jim Winger said.
Coeur d'Alene and Lake City each have one non-Friday night game this year — their Saturday afternoon meeting.
Post Falls didn't have to move any games off Friday nights, but will play one game Friday afternoon.
Lakeland had two games moved to Thursday nights, and just recently, had a third game moved to Thursday.
"We're going to be fine; we'll play on any day," Lakeland athletic director Matt Neff said. "That's the new normal. Volleyball is asking the same thing; we've had to adjust. Soccer for sure, lots of adjustments. There's only enough officials for six games on any given day, so that soccer schedule is spread out from Monday to Saturday."
Timberlake chipped in by moving one of its home games to Thursday night, and the Tigers will play one Friday afternoon game — though not because of lack of officials.
St. Maries has one Thursday night game and one on Saturday afternoon.
"We all tried to help out," St. Maries AD Todd Gilkey said.
Here's a look at the football schedules for the local 5A, 4A, 3A and 2A schools for this fall. We wrote about Coeur d'Alene's schedule in March, but we'll include the Vikings' slate for comparison.
LAKE CITY
Schedule
Aug. 26 — vs. Lakeland.
Sept. 2 — vs. Raymond (Alberta). Sept. 9 — vs. Emmett (at Baker City, Ore.) Sept. 17 — vs. Bishop Kelly. Sept. 23 — at Moscow. Sept. 30 — vs. Sandpoint.
Oct. 8 — at Coeur d'Alene. Oct. 14 — at Lewiston. Oct. 21 — vs. Post Falls.
Overview
Lake City tried to schedule some schools from the Greater Spokane Leagues, but the GSL's openings didn't match when the Timberwolves needed games.
"We had a hard time filling two weeks," Winger said.
Eventually, Bishop Kelly called and agreed to come to Lake City, and the Knights wanted to play on a Saturday afternoon.
After opening again with Lakeland, this time at home, Lake City will play host to Raymond (Alberta), which has played Sandpoint in the past.
"And Kris (Knowles, the Sandpoint AD) said their experience with Raymond in the past was good, and that just fit that opening," Winger said.
The next week, Lake City will meet Emmett (relatively) halfway, in Baker City, Ore.
"Emmett is a pretty good program," Winger said. "We decided we would go a little farther this year (to Baker City), and next year they would go a little farther coming here, so maybe (play in) the Tri-Cities, or something like that.
"I guess they've got a real nice facility (in Baker City), and they were very happy to host."
All the nonleague games are two-year deals.
After not playing Moscow since 2004, Lake City will play the Bears for a second straight year, this time in Moscow.
POST FALLS
Schedule
Aug. 25 — vs. Skyline (Salt Lake City) at Middleton High.
Sept. 2 — vs. Timberline. Sept. 9 — vs. Sunnyside (Wash.) Sept. 16 — at University. Sept. 23 — vs. Lakeland. Sept. 30 — vs. Mt. Spokane (at Union Stadium, Mead).
Oct. 7 — vs. Lewiston. Oct. 14 — vs. Coeur d'Alene. Oct. 21 — at Lake City
Overview
Many of these nonleague games happen this way — Team A posts it has an open date on a "games wanted" site, and hopefully there's a Team B that also has that date open.
Post Falls opens vs. Skyline — not the one in Idaho Falls, nor the one in Sammamish, Wash., but the one in Salt Lake City. They'll meet on a Friday afternoon at Middleton High, partly due to travel, partly due to officials, Post Falls AD Craig Christensen said.
He said that game wasn't nailed down until earlier this year, when Skyline contacted Post Falls, and the site wasn't secured until just a few weeks ago. As these nonleague games are two-year deals, next year's matchup will also be at a neutral site — perhaps in eastern Idaho, Christensen said, or perhaps back in the Boise area again.
Post Falls will then host Timberline of Boise and Sunnyside of Yakima the next two weeks — good this year, but next year, those games will be on the road.
"Yeah, that's gonna be a bummer because we'll have two trips (to the Boise area) back to back. (in 2023), Christensen said. "It is what it is. When Sandpoint decided not to play us (the Bulldogs are playing Alta of Utah at the Rocky Mountain Rumble in Rexburg during Week 1, when Sandpoint and Post Falls usually meet in the season opener), it kinda threw a monkey wrench into our schedule."
Post Falls was able to get two GSL teams on its schedule — at University, and vs. Mt. Spokane at Union Stadium in Mead).
The Sunnyside game was another example of putting the word out and seeing if you hear back from anybody.
"We've never played them in anything before," Christensen said of Sunnyside.
But, when it was all said and done, Post Falls had a full nine-game football schedule.
"It's the one schedule that, every year … man, how are we going to do this?" Christensen said. "Thank God everything's fallen into place. It always comes together, but there was a while there we were thinking 'Man, we're in trouble.'"
LAKELAND
Schedule
Aug. 19 — vs. Preston (at Butte, Mont.). Aug. 26 — at Lake City.
Sept. 1 — vs. Columbia (Nampa). Sept. 8 — at West Valley. Sept. 16 — vs. Coeur d'Alene. Sept. 23 — vs. Post Falls. Sept. 29 — at Timberlake.
Oct. 7 — vs. Sandpoint. Oct. 21 — at Moscow.
Overview
The Preston, Columbia and West Valley games are the second year of two-year agreements. So the sites just flipped for Columbia, which comes north from Nampa this year, and West Valley, a short trip to Millwood. Preston, in the southeastern corner of Idaho, and Lakeland will meet at Montana Tech in Butte for the second straight year.
Lake City, Post Falls and Timberlake are annual foes for the Hawks. The only game they needed was one to replace St. Maries, which needed to add two league games.
Lakeland added Coeur d'Alene. The teams have played just once since 2009, and that was in 2020, when COVID-19 meant no games vs. Washington schools, and left North Idaho teams scrambling to fill schedules.
"We're going to be ready to play whoever comes in front of us," Neff said.
Lakeland will have a bye between its first 4A Inland Empire League game, vs. Sandpoint, and its other league game two weeks later, at Moscow.
TIMBERLAKE
Schedule
Aug. 26 — vs. South Fremont.
Sept. 2 — at Shadle Park. Sept. 9 — at McCall-Donnelly. Sept. 16 — vs. Moscow. Sept. 23 — at St. Maries. Sept. 29 — vs. Lakeland.
Oct. 7 — vs. Lethbridge (Alberta). Oct. 21 — vs. Bonners Ferry.
Overview
Tim Cronnelly, who is retiring as Timberlake athletic director, and football coach Kelly Amos put this year's eight-game football schedule together.
"We could have played a ninth," Cronnelly said, "but since we're a two-team football league, that last game with Bonners Ferry is for an automatic state playoff spot, so we opted to have that week before it as a bye week. Another week to get ready, plus heal up if need be."
With Kellogg and Priest River dropping down to 2A and the Central Idaho League, the only football teams left in the 3A Intermountain League are Timberlake and Bonners. The winner earns the league's automatic berth to state; the loser will be in the mix for an at-large berth, based on MaxPreps rankings.
Timberlake and South Fremont liked their home-and-home the past two years, so they re-upped again, with this year's opener set for Spirit Lake.
The Tigers added McCall-Donnelly, another 3A school like South Fremont, which they figure can't hurt their MaxPreps rankings.
Timberlake will play Lethbridge at home again, as the Alberta team prefers to travel.
Timberlake's game vs. Shadle Park was supposed to be at Albi Stadium in Spokane. But demolition of that stadium is already underway, so that game will be played on the football field at Shadle, which doesn't have lights, on a Friday afternoon.
ST. MARIES
Schedule
Sept. 2 — vs. Riverside (Chattaroy, Wash.). Sept. 9 — at Freeman (Wash.). Sept. 16 — at Kellogg. Sept. 23 — vs. Timberlake.
Oct. 1 — at Bonners Ferry. Oct. 7 — at Grangeville. Oct. 13 — vs. Priest River. Oct. 21 — vs. Orofino.
Overview
The Lumberjacks will not have a Week 1 game, then are scheduled to play eight straight weeks.
"We used to play Kellogg that week (Week 1), and have a bye later," Gilkey said. "But with Kellogg joining the league now, we moved that farther down in the schedule."
The Kellogg game, the Central Idaho League opener for both schools, is now in Week 4. The Lumberjacks used to have a bye between their CIL games with Grangeville and Orofino. But with Priest River also in the CIL now, the game with the Spartans was scheduled for that bye week — on a Thursday night.
"Wherever we had a bye, we just slotted people in," Gilkey said.
St. Maries' game at Bonners Ferry was moved to a Saturday afternoon due to the officials shortage.
St. Maries and Riverside last played in 2017. The Lumberjacks and Freeman played last year for the first time since 2014.
COEUR d'ALENE
Schedule
Aug. 19 — vs. Rigby (at Missoula). Aug. 26 — at Rocky Mountain.
Sept. 2 — vs. Sandpoint. Sept. 16 — at Lakeland. Sept. 23 — vs. Woodinville (Wash.). Sept. 30 — vs. Union (Camas, Wash.).
Oct. 8 — vs. Lake City. Oct. 14 — at Post Falls. Oct. 21 — at Lewiston.
Mark Nelke is sports editor of The Press. He can be reached at 208-664-8176, Ext. 2019, or via email at mnelke@cdapress.com. Follow him on Twitter @CdAPressSports.
Recent Headlines
---