Police investigating drag performance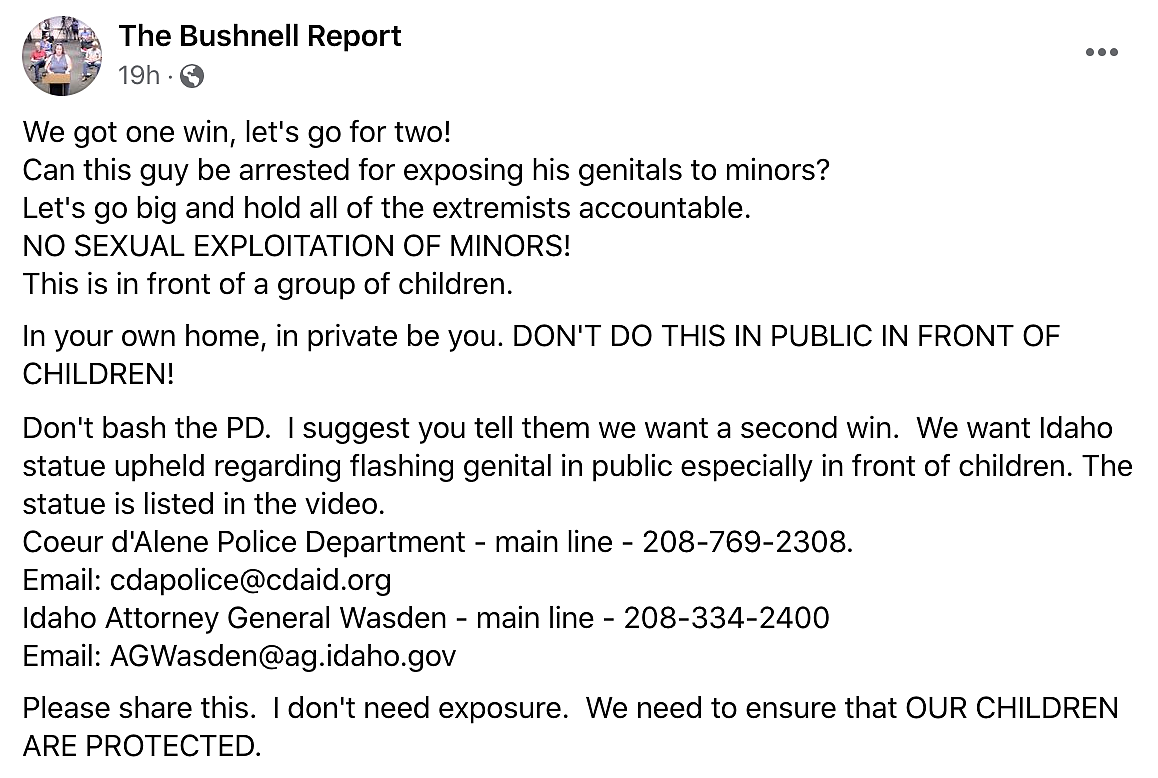 The original Facebook post, which circulated widely, called for the arrest of a dancer who performed during Saturday's drag show at City Park.
by
KAYE THORNBRUGH
Staff Writer
|
June 13, 2022 3:23 PM
COEUR d'ALENE — Police are investigating an edited video of a drag performance in which a dancer's genitals were allegedly exposed Saturday to an audience at City Park — but an unedited version of the footage appears to debunk the claims of indecent exposure.
Coeur d'Alene police confirmed Monday that multiple people had called to complain about the incident that allegedly occurred at the Pride in the Park celebration.
None of the callers watched the performance firsthand, police said.
Instead, they saw an edited video that circulated widely on social media.
The edited video showed a dancer wearing a rainbow-striped bodysuit with a black leotard underneath, performing onstage at the bandshell at City Park.
The footage was slowed down and edited so the dancer's pelvic area was blurred out, then cut to footage of children watching the performance.
The edited video first appeared Sunday on The Bushnell Report, a North Idaho-based Facebook page.
The Facebook post claimed the dancer's genitals were exposed to the crowd and called for the dancer's arrest, urging the public to contact Coeur d'Alene police and the Idaho Attorney General's Office.
The post garnered thousands of views, as well as hundreds of shares and comments expressing outrage.
What appeared to be an unedited version of the video, without blurring, surfaced on social media Monday afternoon.
No genitals were visible in the unedited footage.
Detectives have made contact with the dancer, according to a news release, and expect to complete their investigation Monday.
The case will then be forwarded to the Coeur d'Alene City Prosecutor's Office for review.
Recent Headlines
---