Neighborhood of the Week: Monitoring market shifts in Kootenai County
by
TYLER WILSON/Special to The Press
|
June 12, 2022 1:00 AM
Rising mortgage interest rates could mean a shift in the local real estate market.
North Idaho continues to be a seller's market and one of the most in-demand areas for buyers across the entire country. The word "overpriced" has been thrown about too, and locals have justifiably complained about the absence of affordable housing in the region.
Could change be coming? Well, The Press' own Bill Buley took a deep dive into the matter in a June 6 feature titled, "'Normal' housing market on the horizon." Find it at CdAPress.com!
The story cited a number of recent factors that could alter the North Idaho market, including interest rate increases that have begun to price certain buyers out of the market.
High prices plus higher interest rates plus inflation-influenced cost-of-living increases equals… something's gotta give, right? Right?!
The market snapshot courtesy of the Coeur d'Alene Regional Realty (CRR) group announced May 2022 numbers that still demonstrated overall market strength but with signs of potential changes.
According to CRR:
• The median home price in Kootenai County was $559,000, up 24.2 percent from May 2021.
• 1,119 homes sold last month, down a little over 15 percent from last May.
• Average days spent on the market was 66, down 21.4 percent from last year.
• There were 698 homes listed as of June 7.
Listings have increased 58.3 percent from last month, providing more inventory for current buyers.
Neighborhood of the Week has long been interested in deals and price cuts, and by the looks of the MLS, there are an increasing number of homes with reduced pricing that have cropped up in recent weeks (with many of those garnering an immediate shift from "active" to "pending" status. Some of that activity is the result of sellers who priced their homes way too high in the first place. Nevertheless, the reports on price cuts courtesy of Realtor.com, Zillow.com and other online MLS databases more resemble those we typically see in the fall/winter stretch of the market (otherwise known as "Price-cut-a-palooza" season).
This column space will be eying some of those price changes in the coming weeks and scouring favorite neighborhoods for savings opportunities.
The major takeaway I'm hearing from agents, not to mention what our friend Bill Buley reported in his recent Press feature, is that the local market could be settling into a more "normal" pattern of growth. In other words, don't expect the market to tank anytime soon. Will the price cuts and increased inventory be enough to offset rising interest rates in order to maintain a rigorous seller's market? That's what we'll be watching for this summer.
• • •
Let us know about story ideas, standout neighborhoods and developments that we may feature in an upcoming Neighborhood of the Week. Contact Tyler Wilson at twilson@cdapress.com.
Attention Real Estate Agents! Take advantage of Neighborhood of the Week by sending in your suggestions for featured areas, including sites outside the normal confines of Coeur d'Alene, Post Falls, Hayden and Rathdrum.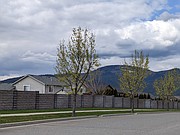 Recent Headlines
---