Griz grabs moose in front of Many Glacier Hotel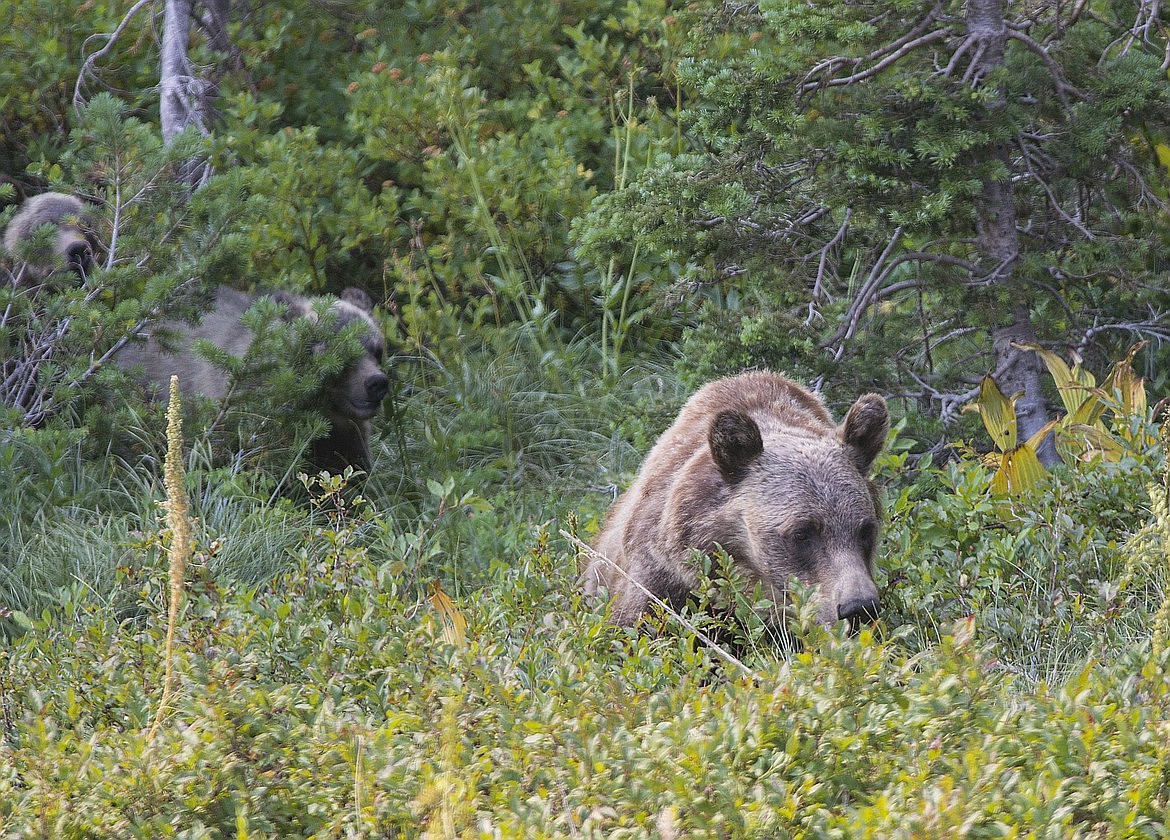 Photo courtesy Hungry Horse News A grizzly sow and her cubs feed in a patch of huckleberries in Glacier National Park in the Swiftcurrent Valley in this file photo.
By CHRIS PETERSON
Hungry Horse News
A calf moose was on the menu for a hungry grizzly bear In Many Glacier right in front of people at the Many Glacier Hotel, but the mamma moose chased the bear away from a second calf.
According to a video posted on social media by Josh Camareno on May 28, the grizzly stalks the moose and her two calves which were bedded down along Swiftcurrent Lake on the edge of the road in front of the hotel.
The grizzly pounced on one calf and killed it and dragged it off.
The grizzly returned a couple of hours later for the second calf and that's when things got really interesting.
The angry cow moose can be seen chasing the grizzly bear back and forth in front of the hotel on a separate video by Jacob Selcer.
Both videos are on Instagram. Both were apparently taken from the balcony of the hotel, safe from the path of the moose and the bear.
At one point, the bear, trying to get away from the moose, runs headlong into a window and viewers can hear glass breaking.
The bear did not enter the structure. The hotel was not open to guests at the time. The window was temporarily repaired with a piece of plywood, park spokeswoman Gina Kerzman said.
The Swiftcurrent Nature Trail from the Hotel to the junction of the south shore trail has been closed due to bear activity.
Grizzly bears preying on young and sometimes even full-grown animals is not unheard of in Glacier. Bears are omnivorous, just like humans, and eat both plants and animals.
A few years ago, local photographer Sumio Harada captured a grizzly catching a mountain goat in the backcountry of the park, just a few miles from the hotel.
Bear attacks on humans in Glacier, however, are very rare, considering the millions of people who visit the park each year.
Through the park's 112-year history, 10 people have died from grizzly bear attacks. The last one was in 1998.
Folks are urged to use extreme caution near bears. Never approach or feed a bear. They can run as fast as a horse. Bears can be very dangerous around kills. Sows with cubs can also be very aggressive.
The hotel opened to guests for the summer season on June 3 — its regularly scheduled opener for the season.
Recent Headlines
---