A run for their money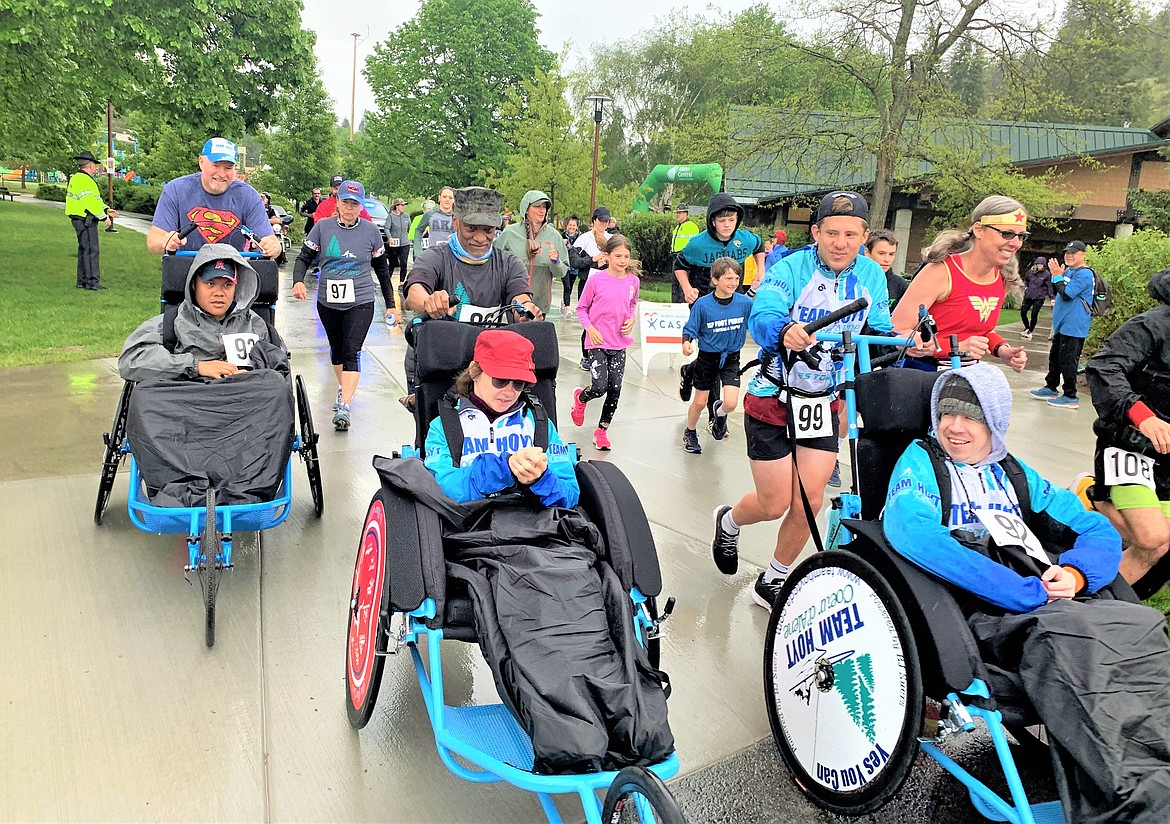 Team Hoyt members, citizens and Idaho State Police troops participate in the 5K Foot Pursuit Saturday morning at McEuen Park. Starting out, from left, are Jeff Kinnard pushing Arvi Bagtas, Umo Rivera pushing Anette Enger, Jim Kinnard pushing Anthony Eastman, and Jan Kinnard.
BILL BULEY/Press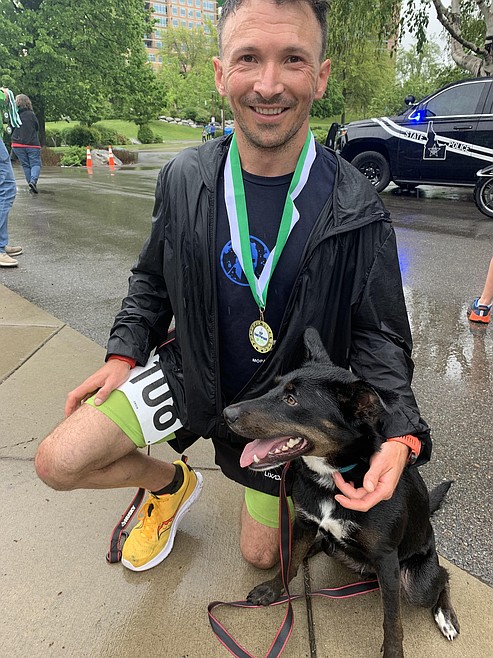 Scott Giltner of Hayden and his dog, Grace, relax after winning the 5K Foot Pursuit on Saturday at McEuen Park.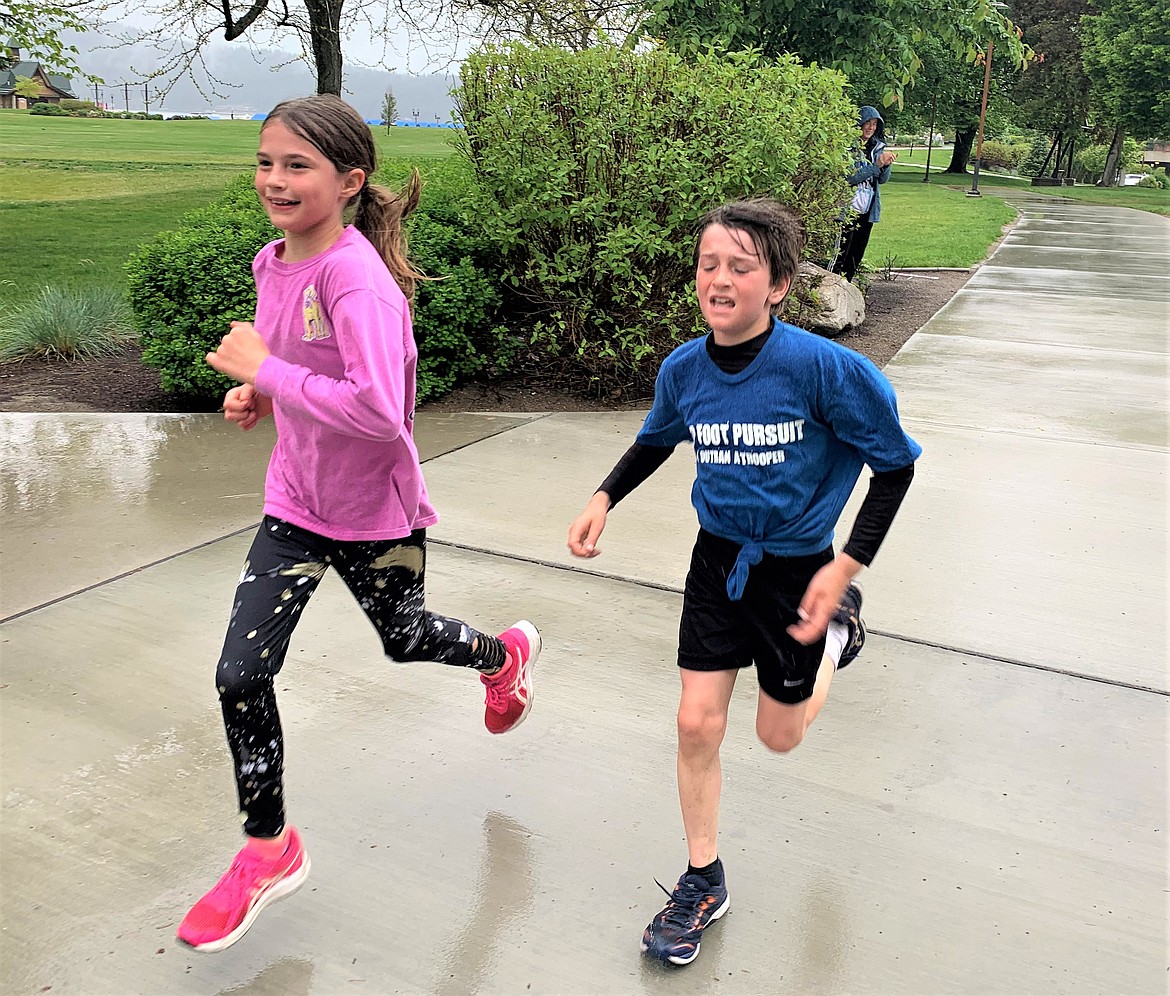 Shelby and Archer Alderson race to the finish line of the 5K Foot Pursuit on Saturday at McEuen Park.
Previous
Next
by
BILL BULEY
Staff Writer
|
June 5, 2022 1:06 AM
COEUR d'ALENE — Aiden Alderson was among the first finishers in Saturday's Foot Pursuit at McEuen Park that sees citizens trying to beat Idaho State Police troopers.
But there was one trooper he couldn't catch: His dad, Richard Alderson.
"He's the trooper that beat me," Aiden said.
Little sister and brother Shelby and Archer Alderson weren't far behind.
"We beat him," a smiling Archer said, pointing to another ISP trooper.
About 50 men, women and children took part in the fundraiser for North Idaho Court Appointed Special Advocates on a cool, rainy morning.
The 5K race, in its fourth year, started with a siren and ISP Capt. John Kempf shouting, "Stop, Police!"
Everyone ran.
Scott Giltner of Hayden and his dog, Grace, won easily in 19 minutes and 19 seconds.
Giltner adopted the border collie/German shepherd mix two years ago out of the Kootenai Humane Society. They have been best buddies since.
"She's my secret weapon, always excited to run," Giltner said. "The bond we have is unlike anything I've ever experienced. We seem to energize each other."
Lana Lawrence of Coeur d'Alene, who began the day with a half-mile swim in a chilly Lake Coeur d'Alene at Sanders Beach, was the first female finisher.
She was happy to come out and support CASA.
"It's just a fun event," she said.
Kristin Ludwig, director of development at North Idaho CASA, said their caseload is increasing and donations have been steady.
The Foot Pursuit raised more than $11,000.
Funds will help with programs like Birthday Books, which provides every CASA child with books for their birthday; and Learning Lab, which connects students with teachers to overcome educational barriers.
Despite the weather, people were in great spirits, Ludwig said.
"We had a great turnout," she said.
Team Hoyt's Umo Rivera pushed Anette Enger in her racing wheelchair on the out-and-back course through City Park.
"My medal is the smile on those faces," Rivera said, pointing toward kids at the finish line.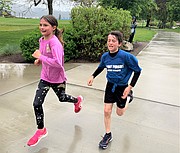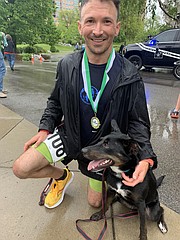 Recent Headlines
---