Education, culture, tradition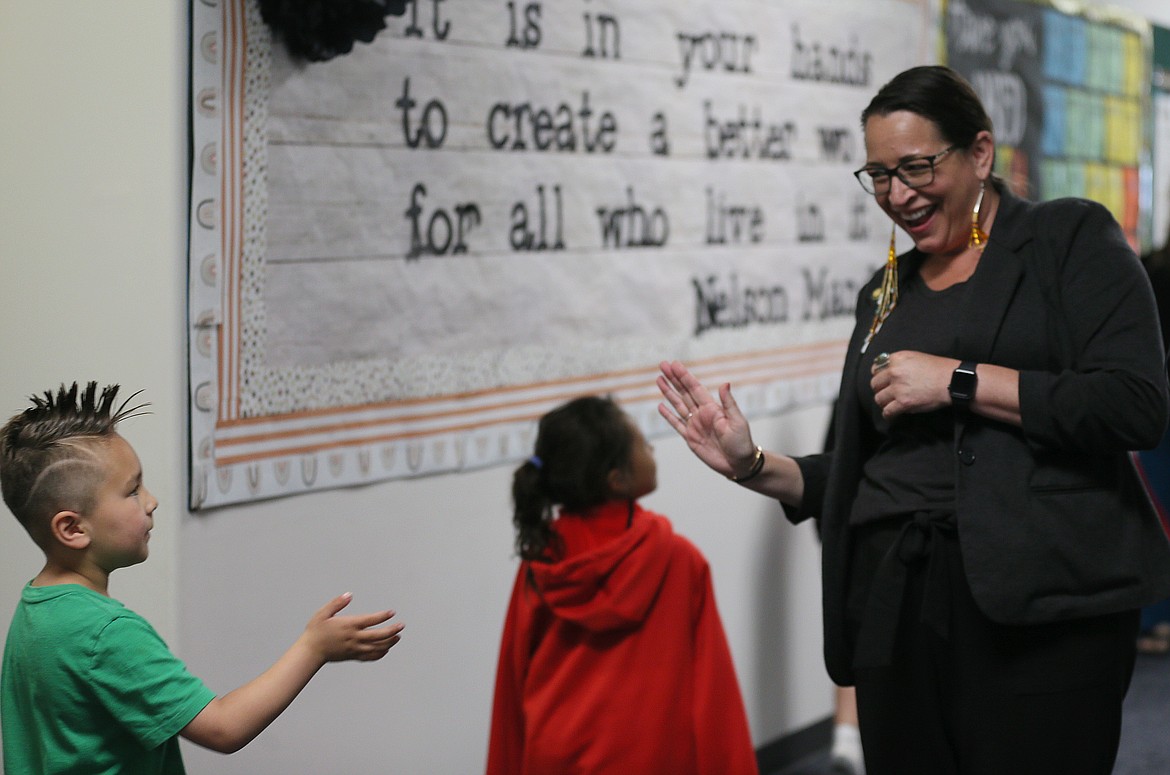 Hollie Mackey, executive director of the White House Initiative on Advancing Educational Equity, Excellence, and Economic Opportunity for Native Americans and Strengthening Tribal Colleges and Universities, shares happy exchanges with first-graders Friday during a site visit to the Coeur d'Alene Tribal School in De Smet.
DEVIN WEEKS/Press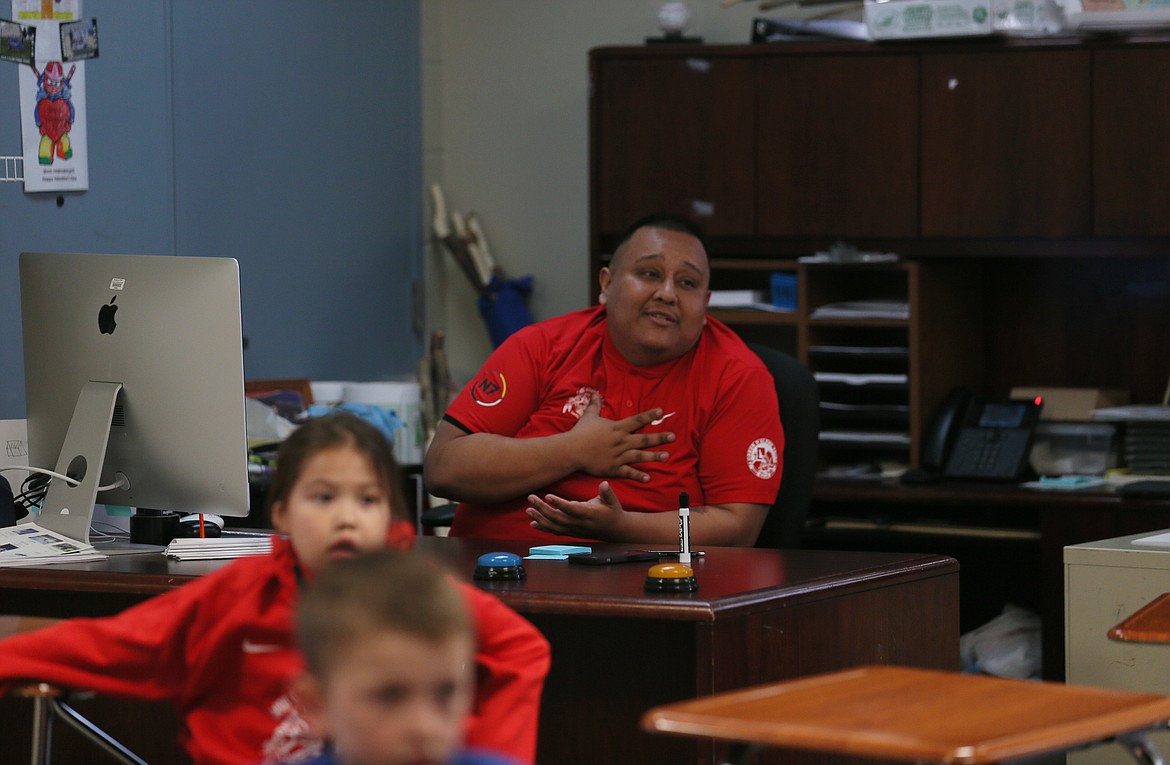 Coeur d'Alene Tribal School teacher James LaSarte-Whistocken introduces himself in traditional Coeur d'Alene language to visitors from the U.S. Department of Education on Friday.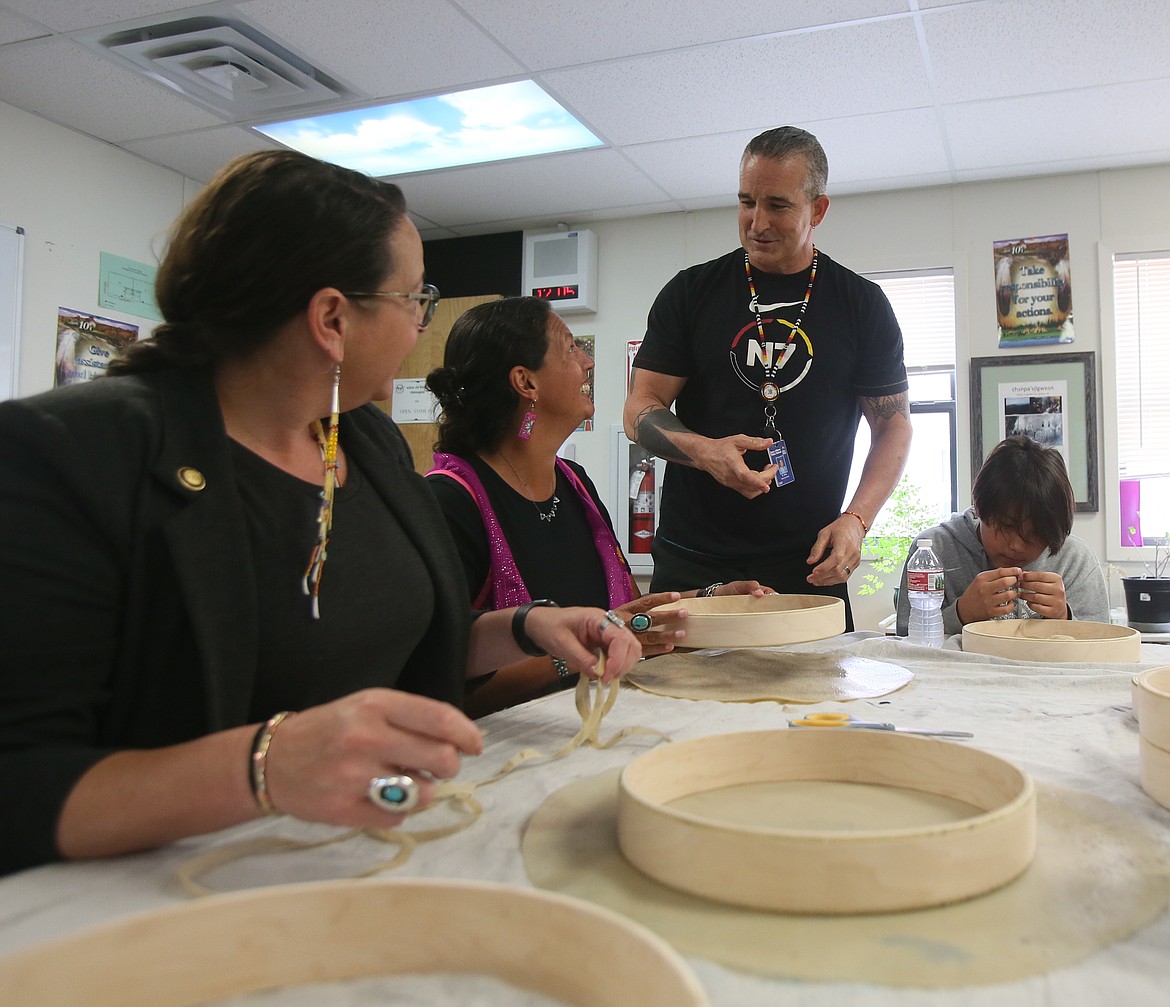 From left, officials from the United States Department of Education, Hollie Mackey and Amy Loyd, make traditional hand drums with the help of Coeur d'Alene Tribal School instructor Wade McGee and his students during a site visit Friday.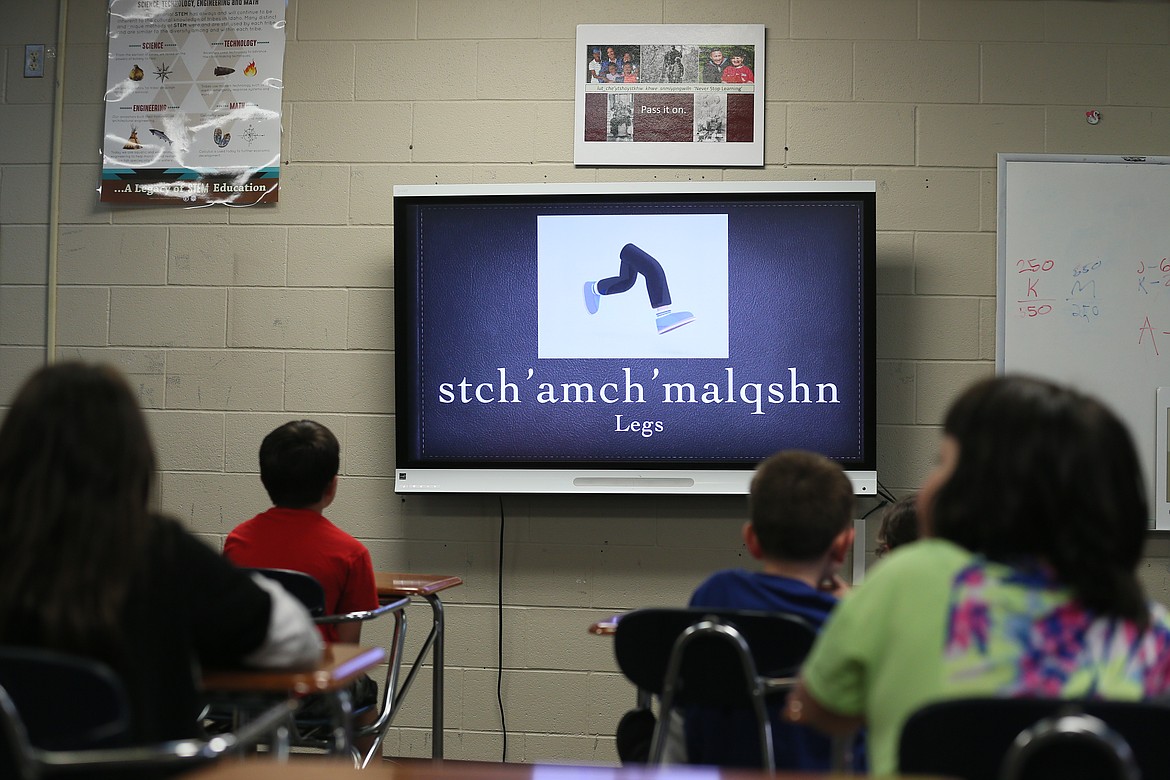 First-graders in James LaSarte-Whistocken's class learn the traditional Coeur d'Alene word for "legs" during a series of language lessons Friday.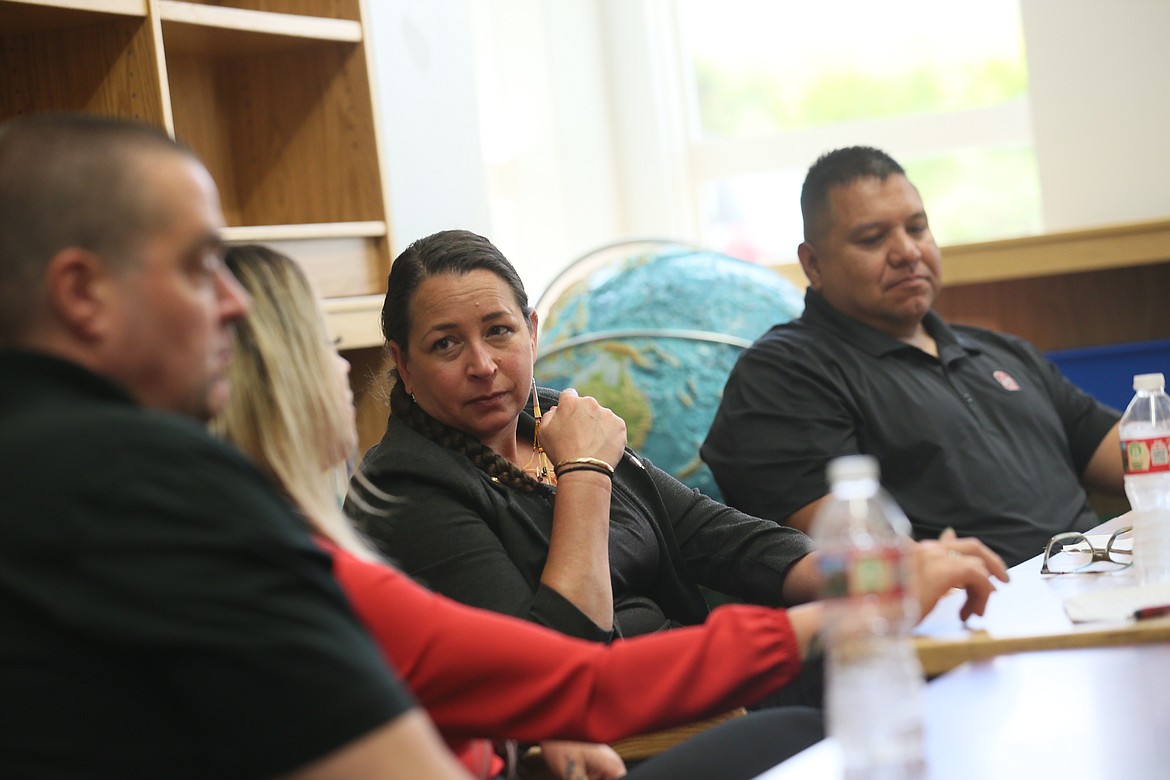 Hollie Mackey, executive director of the White House Initiative on Advancing Educational Equity, Excellence, and Economic Opportunity for Native Americans and Strengthening Tribal Colleges and Universities, listens to Coeur d'Alene Tribal School officials during a site visit Friday.
Previous
Next
by
DEVIN WEEKS
Staff Writer
|
June 5, 2022 1:08 AM
Students in Wade McGee's class spoke softly among themselves as they focused on pulling strips of rawhide through holes in round hand drum frames.
McGee explained how the drum work offers lessons for his students.
"Because we deal with medicine and because we talk about life, trauma and the circle of life," he said. "As with all things when we make things, it's where their heart is, where their mind is. Just like when we pick the medicine, 'Where is your mind and heart?'"
The Coeur d'Alene Tribal School students shared their craftsmanship strategies and styles with two special visitors who worked alongside them: Amy Loyd and Hollie Mackey, officials from the U.S. Department of Education.
Mackey and Loyd traveled from Washington, D.C. to De Smet to spend the day observing and engaging with Coeur d'Alene Tribal School faculty, teachers and students.
"This has been perhaps one of the most rewarding visits I've ever done because I get to do something in partnership with young people and their teachers to learn about the integration of who they are, where they come from and where they're going as part of their culture brought to life through drum making," said Loyd, senior adviser in the office of Miguel Cardona, U.S. Secretary of Education.
"Holly and I are just thrilled to be able to spend some time at the school and with the Tribe and learning about the Tribe's vision for educational sovereignty and how they're integrating culture and language into all they're doing," she said.
The day began with a roundtable discussion featuring tribal representatives and officials from the Coeur d'Alene Tribe Department of Education, as well as school leaders.
Coeur d'Alene Tribe Chairman Chief Allan discussed his upbringing on the reservation and his stalwart confidence in the generations coming up after him.
"Our kids are resilient, they can do anything," he said. "I believe in every one of them."
He emphasized the role funding plays in attracting and retaining teachers.
"It's all about money. Nobody wants to be a teacher. If you pay somebody enough, they're going to be a teacher," he said. "Some of our tribal members won't even be teachers because they can make more at the casino or they can make more in the tribal government. So we're to blame a little bit at least. We need to figure that out. We need to supplement that."
Mackey and Loyd also stopped into James LaSarte-Whistocken's class, where his first-graders were learning how to read and speak the traditional Coeur d'Alene language. They listened and repeated words such as "huckleberry," "weaving" and "face painting."
"We're here to learn from the tribe about their vision for what they want and need for their young people and their future, thinking about self-determination and tribal sovereignty and how we as the federal government can help support and make space for the tribe, for Native students and families to set a vision for themselves for what success means and use education as the key to achieving their goals," Loyd said.
Sixth-grader Alayla Matheson shared her thoughts on having special guests all the way from D.C.
"I'm very grateful and thankful that they're here today, because our school has a bunch of really smart students," she said.
Vander Brown, a 2019 Coeur d'Alene Tribal School grad who attended the school for his K-8 career, called their visit "a blessing."
"I think it's a special opportunity," he said. "There's not a lot of eyes on Native country. It doesn't seem like the government, it's just not a lot of love, it seems like. We're out here away from everybody. This is a good step I feel like. It's a good thing."
Recent Headlines
---