Ignite cda OKs $100K for park makeover
by
BILL BULEY
Staff Writer
|
June 1, 2022 1:08 AM
COEUR d'ALENE — The city of Coeur d'Alene's urban renewal agency recently approved providing another $100,000 toward the renovation of Sherman Square Park.
Ignite cda, which bought the property on the 300 block of Sherman Avenue in late 2020 for $500,000, and already contributed another $25,000, agreed to provide the money to the Coeur d'Alene Rotary Club, which is overseeing the project.
Steve Widmyer, an ignite cda board member, said he did not want to see reductions to the park improvements now slated at about $480,000.
"I always look at what the taxpayers are getting for their money," he said during the board meeting in the Library Community Room. "I think they're going to get a great project. I don't want to shortchange this project. There are a lot of people who have worked hard to make this happen."
The makeover will create what has been described as a "downtown urban space." It will include a water wall, landscaping, boulders, lamp posts, green space, a timeline of Rotary community projects and stone benches.
The park, which is home to a summer concert series, will extend into the street and some parking spots on the south side of Sherman will be eliminated.
It will be renamed Rotary Centennial Park and is tentatively scheduled for completion later this summer. Eventually, it will be gifted by ignite cda to the city of Coeur d'Alene, which will handle maintenance.
John Young of Young Construction is the project's design committee chairman. He said the club's preliminary budget pegged it at about $310,000. But due to rising costs of materials and labor, it increased, "significantly."
"That's a huge portion of the cost overrun," he said.
Bob Burton, one of the project chairs, said that in 2013 the Rotary Club approved a proposal for a major project to commemorate its 100 years as a club.
It initially considered 13 proposals, narrowed it to three in fall of 2020 and settled on the Sherman Square Park project, which was then owned by a private individual who agreed to sell it for $525,000.
Ignite cda paid $500,000 and the Rotary Club added $25,000. The deal closed by the end of 2020.
"Things moved quickly," Burton said.
The scope of the project has been presented to city commissions, the Coeur d'Alene Regional Chamber, and Coeur d'Alene Downtown Association.
"Public green space is a tremendous asset in a thriving downtown and something we as a Downtown Association support and will strive to preserve," said Emily Boyd, executive director of the CDA Downtown Association. "This space will be the community's to enjoy — to rest their feet during a long day of shopping or enjoy a coffee or an ice cream cone in the sun. Maybe even enjoy some live music. It is going to be a great asset for downtown Coeur d'Alene small businesses and the community."
The City Council approved it in November.
Burton said they had hoped to have it completed by now, but delays pushed it back and costs rose.
"We're over budget," he said.
Some main expenses include $125,000 for curbing, gutters, colored concrete; $112,000 for electricity and lights; $50,000 for bronze plaques and medallions, and $42,000 for landscaping and irrigation.
Young, who is donating his company's contributions to the project, said they wanted to make the park special. It was once home to the F. W. Woolworth store, which burned down in 1980.
The answer was to push it into the street, creating an "oasis of green" in the middle of downtown.
Young was happy to donate his services.
"I just feel it's the right thing to do, to go ahead and make this thing come together," he said.
The Rotary Club considered reducing the scope of the project but decided against that because it had presented the plan to many agencies and groups
Changing it would be starting over, Young said.
"If we start taking pieces and parts out of it, we felt we would have to go through the whole process again," he said.
Jody Azevedo, also a project chair, said that in April, the Rotary Club initially had about $275,00 for the project, ignite cda pitched in $25,000, and then the Rotary Club committed an additional $100,000.
That left them about $85,000 in the red of the latest price tag.
The additional $100,000 from ignite cda will provide a little extra cushion.
"It's an an unknown world with construction right now," Azevedo said.
Young said "despite the city of Coeur d'Alene is getting a million-dollar park. That's an incredible gift from our community."
Ignite cda's board agreed and unanimously approved the request.
Boyd agreed it's a good investment. She said the former property owner could have sold it or built on it.
"When the Rotary and ignite purchased the property, with the intent to gift it to the city, it solidified that Sherman Square Park (soon to be Rotary Centennial Park) will remain a public space for all to enjoy," she wrote.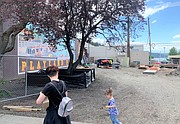 Recent Headlines
---