Neighborhood of the Week: Staying positive — benefits of a cooler summer market
by
TYLER WILSON/Special to The Press
|
July 17, 2022 1:00 AM
Let's start with the bad news. Rising interest rates can be a huge deterrent for many potential homebuyers, particularly those who require a long-term loan in order to make a deal.
Purchasing power for buyers is directly influenced by even slight interest rate hikes. And if you don't put more money down at the time of purchase, your monthly mortgage loan payment will increase.
Look, we'll just say it: That's really lame.
However, as we've seen in recent weeks all across the Inland Northwest, those big-picture, national economic factors can create local opportunities… for the right kind of buyer.
We don't have to be thrilled by the situation, but we can try to be like Monty Python and look on the bright side of life. Whistle.
More inventory
Even as recently as a few weeks ago we were talking about how difficult it was to find a suitable house in such a high-demand market. Starter-level homes sold almost instantly. Middle-range homes went almost as fast. It seemed like just when you thought you found the perfect house on your real estate app, the status would shift to "pending."
Buyers in the market now definitely have more choices, in part because…
Less competition
Higher interest rates steer some buyers away (understandably), and in a popular market like North Idaho, it can be nice to have a little bit of leg room while house hunting.
Even earlier this year, buyers across the Inland Northwest had to submit offers on homes almost immediately, sometimes sight unseen, and still be forced to compete against multiple buyers. Without the frenzy, you can give yourself a little more time to…
Shop for what you want
I remember both of my homebuying experiences (12 and 6 years ago, respectively) to be somewhat relaxed. I had time to think about a property before I submitted an offer. I took multiple home tours. I drove through the neighborhood at various times of day for a few days. I didn't need to rush into the decision, to the point where once I submitted an offer, I felt confident in the decision.
If you're buying now, use the cooldown to take a few breaths and really consider the things you want out of a home. Who knows, with a little bit of waiting, you might even see even more…
Price drops
Many residents of North Idaho (fairly) criticize the skyrocketing cost of living here. Prices just went really high for a while there, particularly the last couple of years, so any cooldown is welcome to those who may be thinking about buying soon.
And if you are thinking about jumping into the market, you now have…
Opportunity to recalibrate your buying strategy
With higher interest rates, you may want to consider reaching for a larger down payment. Maybe you want to prioritize more of a fixer-upper at a lower price, or, maybe you should search for a fair price that isn't going to need extra money in repairs. Maybe you want something smaller than you thought before. Maybe you want to live closer to town, or maybe you'd prefer to be as far away from all the other crazies as possible.
Point being you can use the change of pace on the market to better investigate what you want out of the market in the first place.
More questions? Contact a real estate agent. Chances are they're following the market even closer than you are, and certainly more than the guy who wrote this article, because he got distracted with Monty Python songs several paragraphs ago.
• • •
Let us know about story ideas, standout neighborhoods and developments that we may feature in an upcoming Neighborhood of the Week. Contact Tyler Wilson at twilson@cdapress.com.
Attention Real Estate Agents! Take advantage of Neighborhood of the Week by sending in your suggestions for featured areas, including sites outside the normal confines of Coeur d'Alene, Post Falls, Hayden and Rathdrum.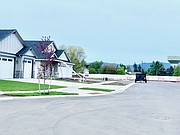 Recent Headlines
---