Making a splash
Now open on the east side of Silver Lake Mall, Water World is Black Sheep's newest showroom.
It offers a large selection of water sports gear with kayaks, recreational inflatables, life jackets, water shoes, wakeboards, water skis, towables and water sports accessories.
Other specialty showrooms include American Heritage, Workwear, Life Is Good and Hydration Station. Hours are 10 a.m. to 7 p.m. Monday through Saturday and 10 a.m. to 6 p.m. Sundays. Phone 208-667-7831. Check www.backsheepsportinggoods.com.
Beauty at the Lake Summer Party today
The Summer Party for the new Beauty at the Lake Med Spa and Wellness Spa location is 3 to 7 p.m. today at 204 N.
Fourth St. It includes prizes, light appetizers, beverages and EMSculpt and EMSella demos.
Owners Michelle Briseno, Rebecca Heffter and Natalie Overturf offer IV drips, booster injections, botox, filler, microneedling, hydrafacials, organic facials, sugaring and laser hair removal, photo facials, Frax 1550, vein treatments, profound laser, emsculpt, emsella, emtone body contouring and massage.
Hours are 9 a.m. to 6 p.m. weekdays and 9 a.m. to 4 p.m. Saturdays. Phone 208-758-0570. Check www.beautyatthelake.com.
Buck Wild Espresso has a "Western" theme
With a country cowgirl and patriotic theme, Buck Wild Espresso has opened at 3027 Government Way.
Owner Elaun Sherwood and baristas Sequoia Webb and Brooke Russell offer specialty organic espresso, lotus energy, Redbull and zip-fizz drinks and Drummin' Up BBQ breakfast burritos. Signature drinks include Freedom, Don't Tread On Me, Mule Deer and Cowboy Casanova.
Hours are 4:30 a.m. to 7 p.m. weekdays, 5 a.m. to 7 p.m. Saturdays and 6 a.m. to 4 p.m. Sundays. Phone 208-620-7189. Check buckwildespresso on Facebook and Instagram. On Military Mondays veterans and active duty get 50 cents off drinks.
Now the Tidbits:
A large building is under construction at 9046 W. Prairie Ave., near Greensferry, for Mountain View Business Center. Contact Royce Johnston at 208-691-3054 for team rental information. The building should be complete at the end of August. For lease information contact Logan Rude at 208-651-8825.
Construction should start soon on a Class A professional office building in the northwest corner of the intersection of Prairie Avenue and Ramsey Road in Hayden.
A new Metro Express Car Wash will be built where the "Coming Soon" sign is at the intersection of Lancaster Road and U.S. 95 in Hayden.
Bottle Joy taphouse will be at 1208 E. Sherman.
CDA Idaho Clothing Co. expanded from its current location at the northeast entry of the Plaza Shops building into the former Grace & Joy space.
The Thomas George building planned for the corner of Third Street and Front Avenue will be 18 stories mixed with commercial places on the first floor and 60 condominiums above.
Watch for details on new buildings under construction for corporate offices for Rogers Burgers on Government Way and Caliber Collision by Metro Car Wash in Post Falls.
St. Joseph's Ear, Nose, Throat & Allergy Clinic will have a new building at 849 N. Syringa, Post Falls.
Watch for commercial construction west of Highway 41 between 16th and Horsehaven in Post Falls.
Rooted Chiropractic Club will be at 9420 Government Way.
Many of the 16 commercial lots are available in the planned Prairie Crossing Shopping Center in the northeast corner of Highway 41 and Prairie Avenue.
A Burger Dock will be in the new building at Fourth and Lakeside.
A new building for Etco Services is under construction off Huetter north of Seltice and I-90
The PACR office building is under construction at 1857 W. Hayden Ave.
Breaking Bread Bistro will be where Davis Donuts was at Fourth and Best.
Literary Souls Used Books is moving to Ste. F at 205 E. Seltice Way.
A sign on Wayne Drive in Hayden says "Future home of Blue Chip Chiropractic."
A new Pizza Hut will be in Hayden.
The Mill will be a four-story mixed-use building at Government Way and Mill Avenue with businesses on the ground level and 43 apartments above.
Consign Furniture has a "coming soon" sign southwest of the U.S. 95-Lancaster Road intersection.
An Express Exterior Carwash is being built in the 3400 block of Seltice in Post Falls.
Club Pilates will be in Hayden Design Center at 9235 Government Way.
Cornerstone, a four-story commercial and residential building, is under construction in Riverstone.
Bruchi's quick service restaurant is planned for a new building north of the corner of Highway 41 and Mullan Avenue.
Watch for construction of Vantage Point Brewery across from Michael D's Eatery off Coeur d'Alene Lake Drive.
Gentlemen Sausages will soon be in the former Abi's Ice Cream location at 112 Fourth St.
TownePlace Suites by Marriott Hotel is being built where the Outback Steakhouse was in the southeast corner of I-90 and Northwest Boulevard.
Watch for an antique and collectibles mall coming to Post Falls.
A new commercial and residential building, Midtown Centre, is being built at 821 N. Fourth St.
Watch for major changes with the Burger Bunker and Bunker Bar off Spokane Street in Post Falls.
The Den will be a new tavern at 761 N. Idaho St. in Post Falls.
Coeur d'Alene Nissan will have a major addition to its building off U.S. 95.
"Stewardesses" is the longest word typed with only the left hand and "lollipop" with the right.
Contact Nils Rosdahl at nrosdahl@cdapress.com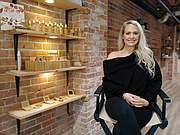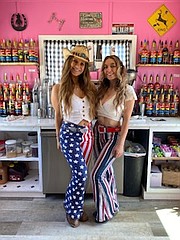 Recent Headlines
---