OUTDOORS.... A taste of nature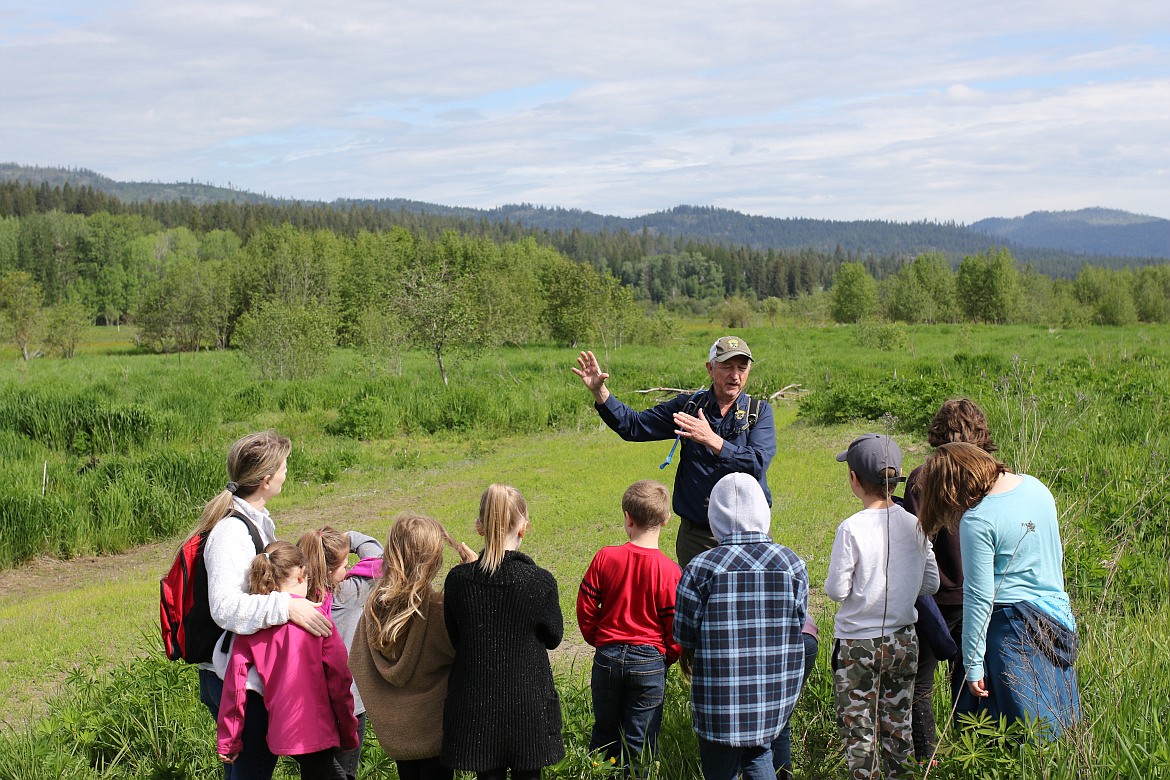 Photo courtesy Idaho Fish and Game Fish and Game staff teach kids about wetland habitats.
By T.J. ROSS
IDFG regional communications manager
In today's highly digital and modernized world, it's easy for nature to take a back seat. Not so was the case for the second and fifth grade classes of Southside Elementary in the Lake Pend Oreille School District.
In early June, Idaho Fish and Game staff participated in a field trip of a Fish and Game-managed wetland near the south end of Cocolalla Lake. The 121-acre parcel of land is part of the Pend Oreille Wildlife Management Area, which, like our other WMAs, is managed for wildlife habitat and public access for sportsmen and recreationists.
While on the field trip, kids were treated to a tour of the property where they learned about the diverse wildlife species that rely on wetland habitats. Kids visited multiple stations, where they learned in more detail about monarch butterflies, aquatic insects and wetland habitat conservation and restoration.
Miles Benker, regional habitat biologist for Fish and Game, led the first station where he explained the importance of wetland vegetation for food, water and cover for various wildlife species. He also discussed the important role wetlands play in filtering out pollutants and sediment from entering Cocolalla Lake.
The second, and arguably most popular station, was the aquatic insects. Fish and Game staff swept the shallow water of the wetland with a seine net to capture a diversity of aquatic life. Kids were equipped with a hand lens, eager to clamor over the findings of the last sweep of the net. They observed water-dwelling bugs, frog tadpoles and even some small fish species.
The last station transitioned away from the wetland habitat and into the meadow-type habitat. Here kids took a deep dive into the complex life cycle of the monarch butterfly and the incredible journey the butterflies take each year to reach Idaho. A stand of showy milkweed, a plant species critical for monarch butterflies to survive and complete their life cycle, was carefully planted by the hands and hard work of the students. The stand will be maintained and monitored with the future help of the school's students and teachers.
The Southside Elementary field trip has occurred for several years now, and it continues to be a favorite among students, teachers, administrators and parents, alike.
TJ Clary, principal of Southside Elementary, said, "We are super grateful for this opportunity. The students loved it."
There was also strong community support for the event.
"The kids had a great time and hopefully learned something about wildlife management in Cocolalla," said Gary Suppiger, member of the Cocolalla Lake Association.
In case you're wondering, wetland habitats are highly productive and important to all kinds of wildlife species.
Ranging from animals as large as a moose and as small as a mouse, wetlands play a critical role. Wetlands are also home to beaver, mink, muskrat and otters, as well as various reptiles and amphibians such as western toads, Columbian spotted frogs, salamanders, common garter snakes and painted turtles. Birds of all types often frequent wetlands, including ducks, geese, blue heron, osprey and bald eagles.
Recent Headlines
---