Searching for Honeysuckle's sweet spot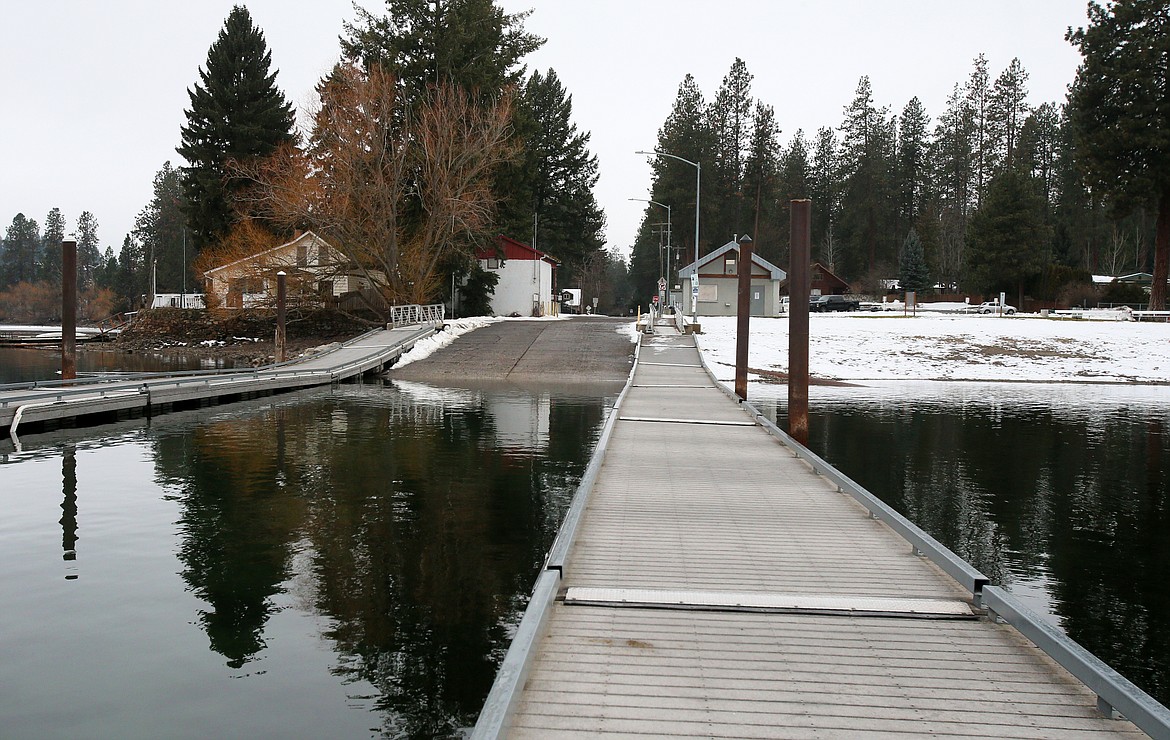 The future of Honeysuckle Beach was discussed in depth Wednesday evening during an open house in the Hayden City Hall Council Chambers. Honeysuckle Beach and boat launch are seen here Jan. 19.
DEVIN WEEKS/Press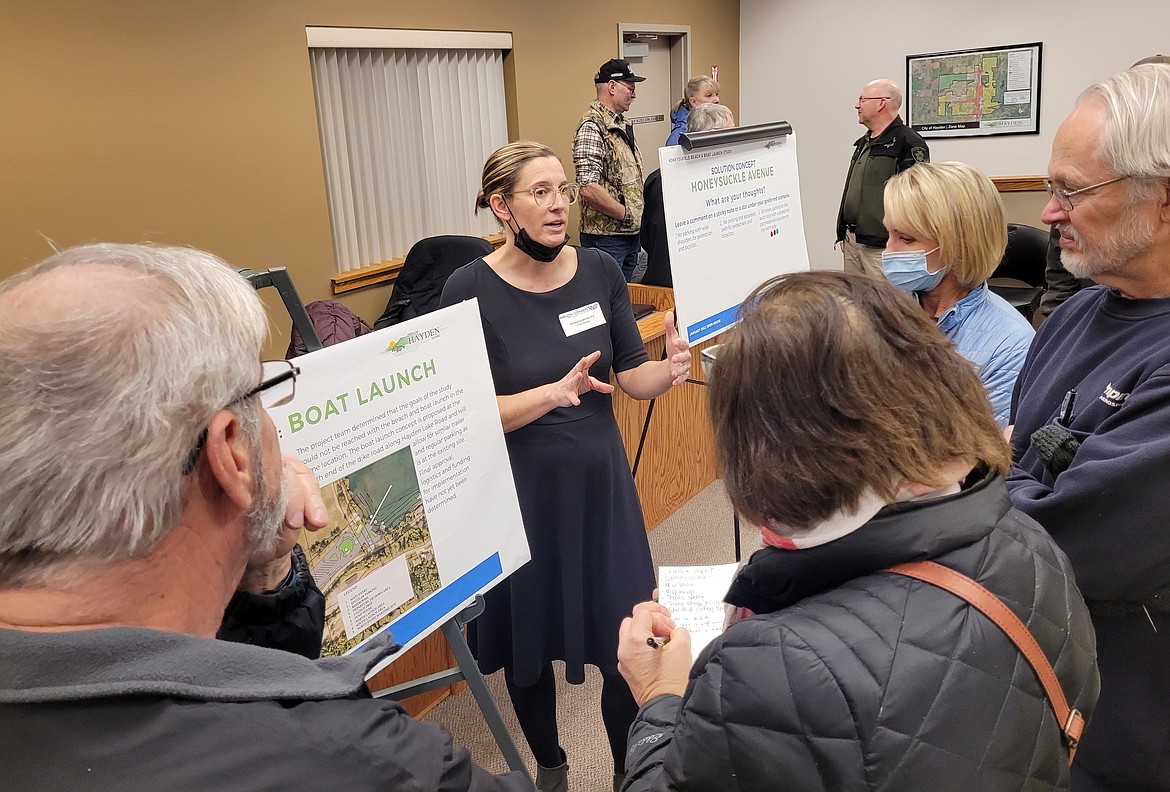 Melissa Cleveland speaks to attendees Wednesday evening during the Honeysuckle Beach and Boat Launch Study Open House in the Hayden City Council Chambers.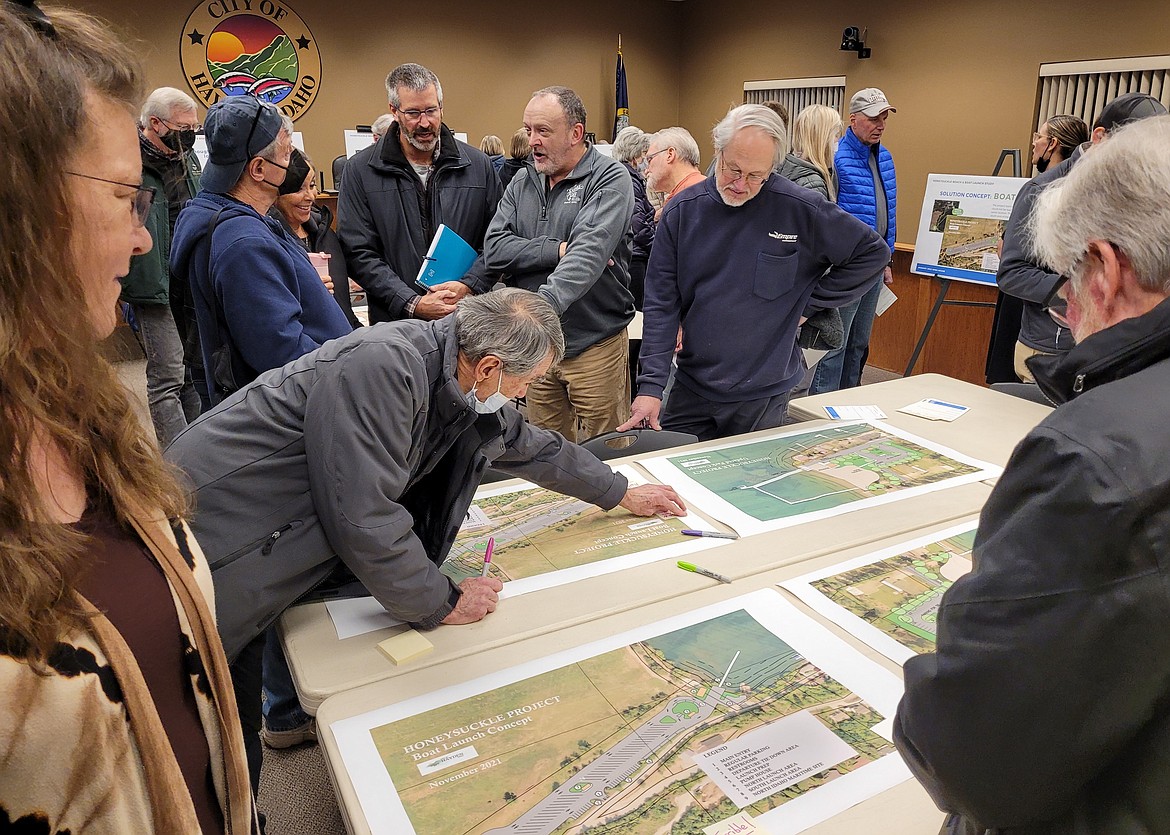 Bud Van Natta places a comment on a map Wednesday during the Honeysuckle Beach and Boat Launch Study Open House.
Previous
Next
by
DEVIN WEEKS
Staff Writer
|
January 27, 2022 1:08 AM
HAYDEN — Overcrowding.
Emergency services.
Traffic.
Safety.
Access.
Environmental impacts.
The city of Hayden has much work to do to find the sweet spot for the future of Honeysuckle Beach and the people who use it.
"I'm very concerned about the traffic problems, as well as emergency access on Hayden Lake Road that they're talking about, and access for boat trailers and cars," Hayden resident Bud Van Natta said. "It seems to me their best option would be to have the boat trailers close to the lake and the cars not necessarily so, because that could be handled by a shuttle."
Van Natta was one of more than 80 people who attended during the first hour of the two-hour Honeysuckle Beach and Boat Launch Study Open House in the Hayden City Council Chambers on Wednesday evening.
People mingled with city officials and communicated their concerns and ideas through maps, sticky notes and sometimes intense conversation.
"I'm tired of seeing the moms having to walk with their kids to the beach," Hayden property owner Russ McLain said. "The boats have wheels, and they can walk, all their stuff's in the boats. I'd like to see Honeysuckle Beach parking strictly just for moms."
Barb Neal, a member of the Hayden Lake Watershed Association, shared that the association has "very serious concerns" about this project, from traffic and lake overflow impacts to how it will affect wetland conservation land and the need to drive pilings and dredge a boat channel in the bed of Honeysuckle Bay, "which is known to be a fragile interface between the lake's waters and the Rathdrum Prairie Aquifer."
Melissa Cleveland, who originally managed the project for the city but now works for the engineering company Welch Comer, was one of the project officials who fielded questions from residents.
She said "thank goodness" about the amount of people who attended the open house.
"We love to see people come and tell us what they think," she said. "This is an extremely challenging problem to solve at Honeysuckle Beach. The goal of this study was to see if there was an opportunity to separate the beach users and the boat users. This is what we came up with.
"It's a decades-long problem that we're trying to tackle here," she continued. "It's not without its challenges."
The beach and boat launch study started in April 2021.
Submit comments in the online form at www.cityofhaydenid.us by Feb. 11.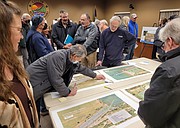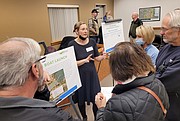 Recent Headlines
---