Korean War comes alive in food court
by
JACK EVENSIZER/Special to The Press
|
January 26, 2022 1:00 AM
I met a Korean War veteran the other day at Costco. I saw a man wearing an Army cap as I walked by the Food Court and asked him if he was in the Army. He smiled and said he was. Then, offering him a fist bump, I pointed to my Army tee-shirt, told him that I was too, and asked him if he saw any action. He proudly told me that he was in Korea in 1952 and saw plenty. He said that was a long time ago, and he was 91 years old. I told him he did not look a day over 90. He got a kick out of that, and both of us had a good laugh.
He was a Combat Engineer and worked on floating bridges, repairing them as the enemy blew them up. I could relate since I also trained as a Combat Engineer. Having served a tour of duty in Korea 16 years after he did, I saw the fruits of his labor on the Korean peninsula. People I met there are very thankful for us soldiers, then and now, for pushing back the communist hoard.
His narrative of the war was mesmerizing. I listened intently, knowing that this man was in the middle of one of the worst wars we fought. He described the situation there as one of chaos and neglect because it was not a war but a Police Action. Without logistical support, supplies were severely limited, including troops. He said that the Army brought infantry soldiers straight from Okinawa to his frozen war without proper winter clothing. As a result, many died, frozen in fox holes, from the severe cold and snow. I knew about this but hearing it from a soldier on the front lines made it real. Ever since I learned about those boys my age freezing to death in fox holes, I felt sorry for them and knew that they gave it all, proudly, for duty, honor, and country — a feeling only those enduring the elephant of combat know.
This brave combat veteran was drafted in 1948 and served for eight years on active duty. His brothers were career Navy sailors, so he was following the family tradition of making a career in the military. Unfortunately, he was injured in an explosion during the war and was returned to duty only to find that he was assigned to a desk. Being a warrior, he wanted to continue his career as a combat engineer, so he did not reenlist at the end of his military commitment in 1956. Instead, he made a career in the United States Fish and Wildlife Service and retired many years later.
Besides being awarded a Purple Heart for his combat injury, he and his unit were awarded the Syngman Rhee Certificate Unit Citation for "exceptionally meritorious service to the Republic of Korea from 30 June 1952 to 27 July 1953."
So, there we were, two old soldiers exchanging war stories when his wife finished her shopping and parked her cart beside our table. I told her that we were telling war stories, and she said that she had heard them before. We all laughed at that. They left before me, and I did not get his name.
It was my pleasure and honor to talk to this old soldier, and I am thankful that I did not have to endure the hardship of his tour of duty. I salute you, my comrade in arms. Be well, and remember that you served our country in the highest manner. Thank you for your service!
• • •
Jack Evensizer is a resident of Dalton Gardens and a veteran of the U.S. Army Infantry.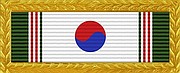 ---