Witnesses describe bloody shooting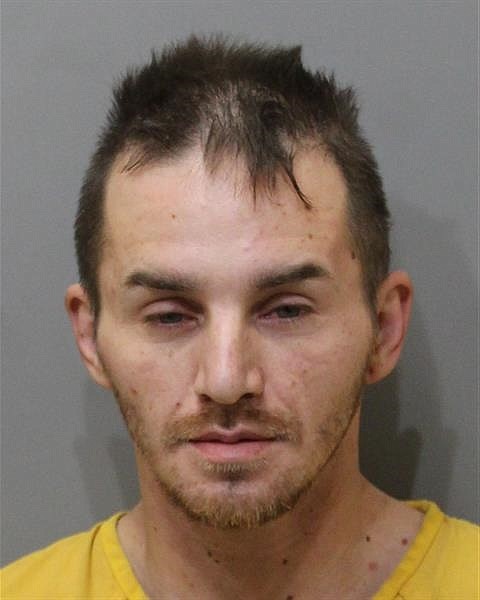 by
KAYE THORNBRUGH
Staff Writer
|
January 22, 2022 1:09 AM
COEUR d'ALENE — A man shot in the neck sought refuge inside a coffee stand and gas station employees used aprons as tourniquets during a shooting last year.
Witnesses painted a picture of the day Tisen Sterkel allegedly shot two people at a Post Falls gas station before going on a crime spree.
Sterkel, 32, of Oldtown, is charged with nine felonies: aggravated assault, two counts of aggravated battery, two counts of possession of a stolen vehicle, operating a motor vehicle without the owner's consent, robbery, burglary and eluding.
He is also charged with two counts of unlawful entry and with possession of a controlled substance, all misdemeanors.
After a preliminary hearing Tuesday, Magistrate Judge Patrick McFadden ruled that enough evidence exists to bind the case over to district court.
The charges stem from Dec. 2, when Post Falls police responded to reports of a shooting at the Conoco gas station at Highway 41 and Poleline Avenue.
A 30-year-old man was shot in the neck, police said. He was reportedly sitting in his parked car when a bullet flew through his windshield.
In court Tuesday, the man said he heard a loud pop — and then couldn't hear or see anything for a time.
"I thought I must have been struck by lightning because it was so loud and disorienting," he said. "I couldn't feel anything. I was numb down my face and arm."
After noticing a hole in his windshield, he patted himself down. He looked in a mirror and saw a nickel-sized hole in his neck.
He said he ran to a nearby coffee stand and banged on the window. Panicked baristas let him in.
The man underwent surgery for his injury.
He told the court the bullet tore through several muscles. The wound inhibits his ability to move his neck and one arm, he said.
A 38-year-old man said he was about to get out of his vehicle to pump gas when he heard a loud bang. Though he said he saw Sterkel holding a gun, he didn't think he was in any danger.
Then his ears started ringing.
It wasn't until he got out of his vehicle and put weight on his leg that he realized he had been shot just below the knee.
A gas station employee reportedly beckoned him over and brought him inside the building.
Other employees used their aprons as tourniquets, he said, but couldn't stop the bleeding.
Sterkel allegedly shot the tire of a car and pointed the gun at another person but didn't fire.
Security footage appeared to show Sterkel fire at least five shots, according to police reports.
Law enforcement said the shooting appeared to be random, with no connection between Sterkel and the injured individuals.
After the shooting, witnesses said Sterkel fled the scene in a gold pickup.
Police said Sterkel ditched the pickup and stole a different vehicle from behind a barn.
Sterkel stopped again, police said, and allegedly forced a man at gunpoint to switch vehicles with him before driving off.
The man testified that he resisted at first because he thought Sterkel's rifle was fake. Then he said Sterkel cocked the rifle.
"At that point, I knew it was a real gun," the man said. "I just thought to myself, 'Well, I guess he is taking the truck.'"
From there, Sterkel allegedly tried to hide in two different residences.
A woman testified that she was working from home when Sterkel opened her unlocked front door and tried to enter. He was holding a gun.
"He said he needed a place to hide," she said.
In an effort to get him to leave, the woman said she told Sterkel to hide behind the shop on her property. Sterkel's foot was in the doorway, she said, so she couldn't close it.
The pair struggled, she said, before she managed to shut the door. Sterkel then left the scene.
Another woman said she was home alone when Sterkel walked in through the front door, armed with a rifle.
"He had panic in his voice," she said. "The only thing he said was, 'I'm not going to hurt you, ma'am."
Sterkel soon turned and left, she said. She never saw him again.
Deputies from the Kootenai County Sheriff's Office spotted Sterkel driving along the railroad tracks along Highway 53.
When Sterkel refused to stop, law enforcement reportedly pinned his vehicle from both sides, disabling it.
Police took Sterkel into custody and transported him to Kootenai Health to be evaluated before booking him into jail.
At the hospital, Sterkel reportedly asked about the people he shot and said he hoped they were OK.
He reportedly told police he had used meth on the day of the shooting and believed people had been following him all day.
Sterkel allegedly said he believed some of the cars at the Conoco had been tailing him.
Post Falls Police Detective Brian Williamson testified that Sterkel seemed alarmed when he learned he'd hit someone in the neck and another person in the leg.
"He seemed pretty upset about that," Williamson said. "He asked if he killed them. I didn't have the answer. He was really upset."
Sterkel remains in jail on $2 million bond.
---