Homes and hopes for pets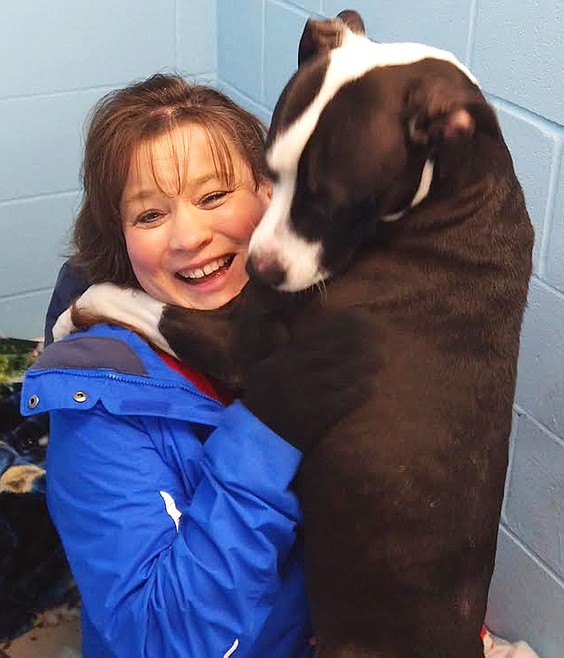 Photo courtesy Vicky Nelson Dede Pugh, a volunteer with the Kootenai Humane Society, enjoys time with Susie, a one-year-old mixed breed canine.
|
January 17, 2022 1:08 AM
HAYDEN — Being executive director of the Kootenai Humane Society comes with a lot of responsibilities.
But assisting during an operation to amputate the leg of an injured cat seems above and beyond the call of duty.
"I was a vet tech today," Debbie Jeffrey said.
Coming into her ninth year guiding the nonprofit, Jeffrey knows the wants and needs of KHS, which operates on an annual budget of about $1.2 million, perhaps better than anyone.
A new shelter under construction on Atlas Road and expected to be completed before year's end is at the top of the list for a game changer.
"People have been hearing about a new shelter for 15 years. It's finally going to be here," she said during a phone interview with The Press. "It's not talk anymore. It's reality."
The new shelter, being built at a cost of more than $5 million, will have more than 20,000 square feet. It will offer more space, better accommodations and an improved health care environment for dogs, cats and all creatures big and small that end up in the shelter.
And that's a lot.
Last year, KHS took in 523 pets surrendered by owners, 610 strays, 608 rescues and 233 from animal control. It also received 265 feral cats for spay/neuter.
That's nearly 2,000 animals that came through its doors. Many were returned to their owners.
Adoptions totaled: Cats, 743; dogs, 737; rabbits, 25; rodents, 21; guinea pigs, eight; reptiles, two; birds, two; and one ferret.
Jeffrey said even more telling is the number of animals that came to KHS for spay or neuter, vaccines and microchips.
Spay and neuter totaled 1,797; vaccine clinic, 4,252; and microchips, 525. 
"These are incredible numbers and shows the need that we are able to help all of these animals," she said.
Appointments for surgeries are booked until March.
"We see the demand growing more and more," Jeffrey said.
One of the main challenges with the onset of COVID-19 has been its impact on staffing. KHS, which employs about 15, often has to run short due to the virus. With so much to do already, taking workers out of the flow makes it tougher and more stressful.
"You can't run on a shoestring here," Jeffrey said.
Staffers are required to wear masks, which has been criticized by some.
"We're protecting the small staff we have here, and their families," Jeffrey said. "If you're sitting in my chair you try to do everything you can to protect the staff."
She is hoping that things are smoother this year — and is confident the new shelter will make a big difference, even leading to increase donations.
That could help KHS acquire an X-ray machine and one for blood work, too.
The goal is to raise $8 million to complete the shelter.
Jeffrey said if there is one quality that is a must for the executive director, it's compassion.
"How can you do this job if you're not compassionate?" she said.
In Kootenai County, most are, at least when it comes to animals.
"This is such an area that so, so loves their pets," she said.
It's one of the factors that motivates Jeffrey and her staff.
"That's why we do what we do," she said. "People love their pets up here, and it shows."
---