Rocker rises from near-death crash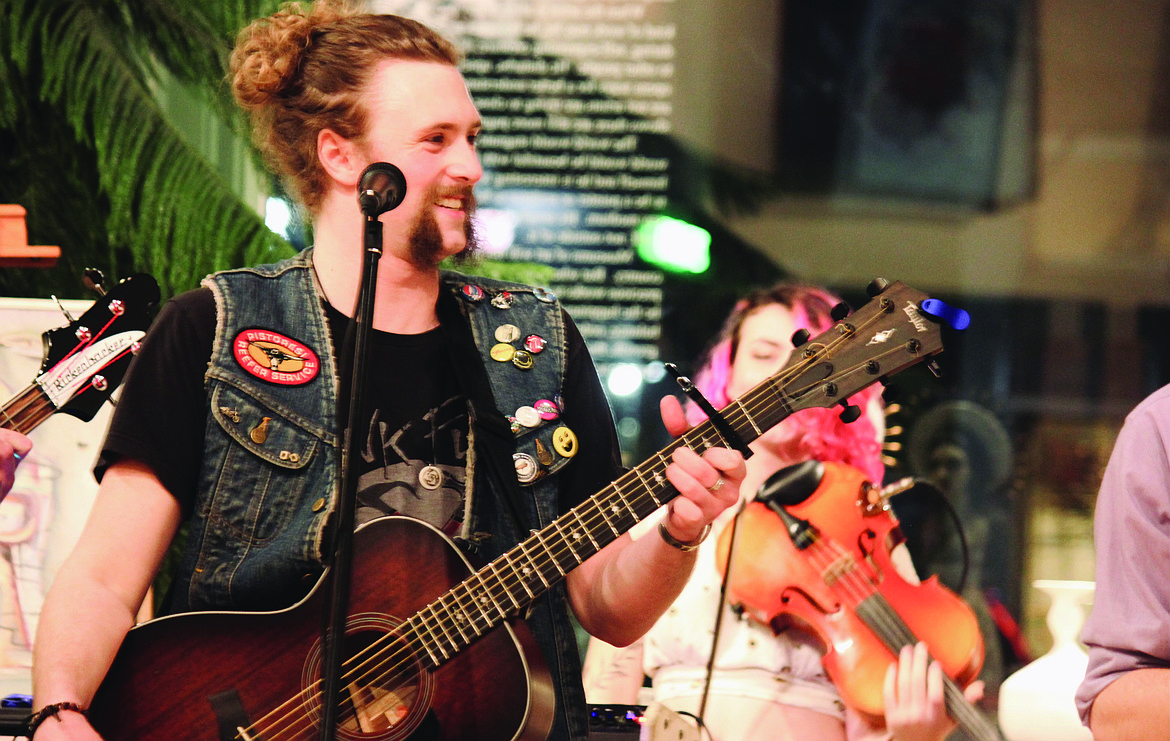 Oskar Owens and his bandmates in The Red Books play a concert at Art Spirit on Thursday night.
by
GRANT PURDUM/Staff Writer
|
January 15, 2022 1:06 AM
Oskar Owens swipes his guitar strings and sings with authority, channeling his passion for music into the microphone.
Switching back and forth between synthesizer and a guitar/vocals frontman role, the 23-year-old exudes confidence and derives obvious joy from jamming with his newfound bandmates in The Red Books. He also plays with a classic-rock outfit, The Dog Squad.
What most in the audience at his concerts don't know is that after about 45 minutes of straight guitar-playing, his fingers are so numb he can't rightly tell whether he's hitting his parts, note for note, or not.
"I have to just trust my fingers to do what they're gonna do," Owens said Thursday night after performing at The Art Spirit in Coeur d'Alene. "It's completely gone. ... My hand was really twitching. So there's still just so much muscle and things that are coming back."
If he had to put a number on it, he'd say he's about "75%" recuperated eight months after a motorcycle accident that easily could have killed him. He's also got a scar stretching from his upper shoulder down to his left wrist.
So why does he feel so damn lucky?
"Well, I just recently, within the last month, month-and-a-half at most, started playing instruments again," he said with a grin.
Thankful? Yes, but months of partial paralysis will do that to you, if you're fortunate enough to come back from it.
Oskar still remembers lifting his left pinky for the first time after months of total inaction.
You'd have thought he won the lottery.
"I picked a finger up off the table, you know, like, maybe an eighth of an inch, it came up off the table. And I was like, 'Oh my god, like, it's HAPPENED.'"
Small victories. And when they start to pile up, the momentum builds.
But let's back up a minute.
THE ACCIDENT
Owens has been playing piano his whole life, guitar for the last seven years. Last April, he and his best friend set off for a motorcycle trip down the Pacific Coast Highway and back. Before they were even able to warm up their wheels, on the first day of their coastal quest, a drunken driver hit Owens at 60 mph.

He was life-flighted to an OHSU (Operational Health Support Unit).

"I ended up breaking both of my arms," Owens said. "Broke my upper humerus on my left arm, which tore my distal radial nerve so I lost all of the function in my left hand. It was completely limp."
The other side wasn't much better.
"My right hand, the break was so bad in my wrist, it was shattered ... I couldn't open the hand to play chords, nothing."
At that point, Owens would have done anything for even the ability to move his pinky finger.
"The surgeon who did my operation, he was like, 'Yeah, you may or may not regain function.'"
THE RECOVERY
The surgeon told Oskar there were a few ways to approach fixing the arm. Oskar was resolute.
"I said, 'I don't care how you fix it. I don't care about the scar. I don't care about any of that, just make sure I can use my hand again.'"
There is now a plate in his left arm, stretching from the top part of his shoulder to the elbow.
With the surgeries behind him came the toughest part: adjusting to a life of not just inconvenience, but outright frustration.
Everything he had taken for granted up to that point, from brushing his teeth to feeding himself, was in doubt.
He knew he couldn't dwell on the challenges he faced, nor the odds of a complete recovery. It was time to plow ahead. He started a regimen at River City Physical Therapy in Post Falls and tried several homeopathic therapies.
Eventually, a pinky wiggle led to the opening and closing of a hand, which eventually initiated the burning sensation of nerve pain; not fun, yet a sign that feeling was coming back. The dexterity slowly returned to his digits, and so on and so on until, at the present moment, he evinces few outward signs of injury.
Especially when he's rocking the heck out.
Owens is more excited for the future than ever before. He wants to continue to jam like a champ, but he's also got an ace in the hole: A mean case of the acting bug.
The Ben Affleck dimple in his chin suggests he's got a shot, but he's never been one to leave his future to chance. Having attended Circle In the Square acting conservatory in New York from 2016-20, he's itching to get back to his true passion, perhaps landing a role on Broadway, TV or in a movie.
Even more importantly, he's signed a new lease on life.
"I could have died," he said. "So that means anything else that happens from that moment forward of not dying is the best thing that's ever happened. You know what I mean? I wake up every single morning, and I look outside, and I'm like, WOW; imagine not being able to wake up and see this. Right?"
Right, Oskar, and right on.
Long may you strum.
Recent Headlines
---