NIC sends nursing 'COVID cohort' into workforce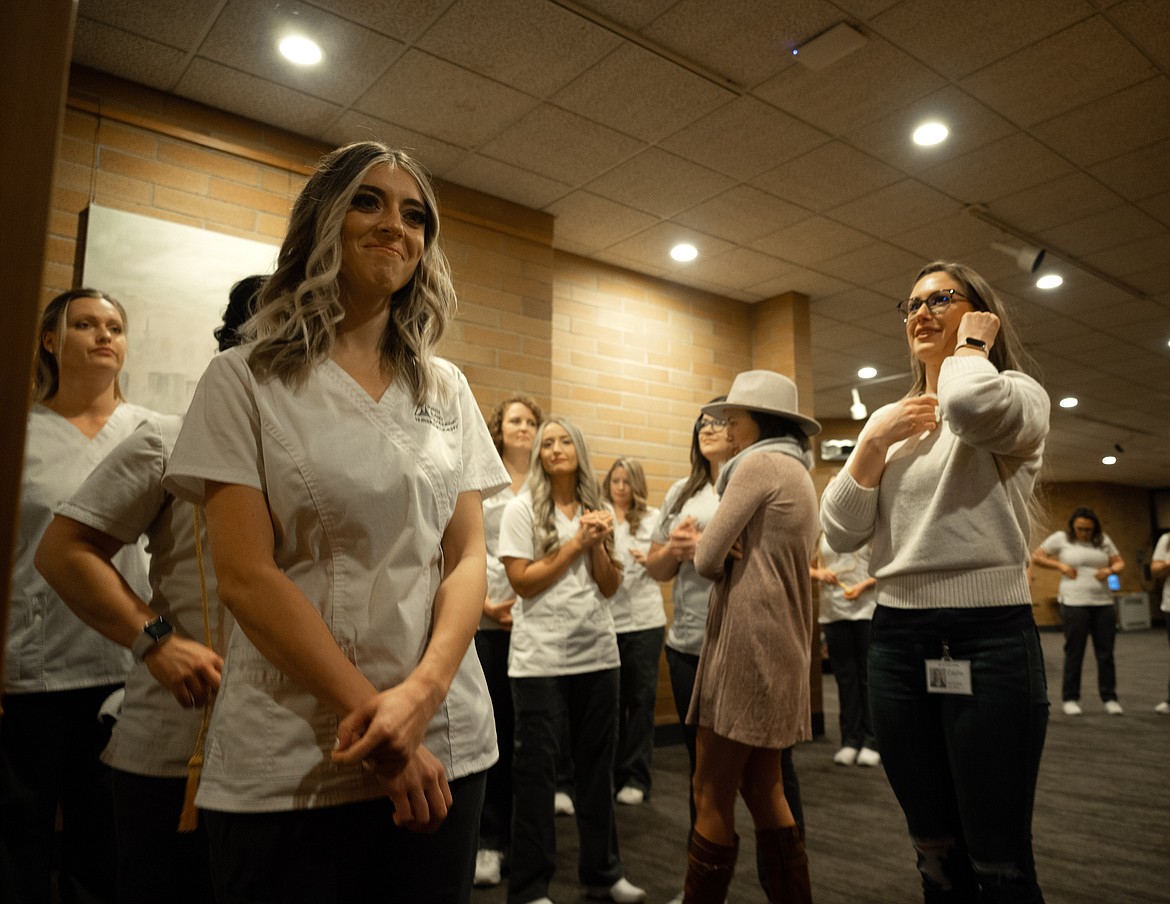 Photo courtesy NIC NIC graduate Liliyana Cavalin waits backstage with her fellow nursing graduates before a pinning ceremony on Dec. 16 at Boswell Hall Schuler Performing Arts Center.
|
January 14, 2022 1:00 AM
A group of 43 North Idaho College students known as "the COVID cohort" were congratulated by friends, family and NIC faculty and staff during a Dec. 16 pinning ceremony in the Boswell Hall Schuler Performing Arts Center.
NIC Director of Nursing Erlene Pickett said when this group of 43 students began the program, "None of us had any idea of the increased challenges that would be faced as the result of the pandemic," including adjusting schedules and venues during lockdown, struggling to find working nurses to act as mentors and adding vaccination and monoclonal antibody clinics in the program experience.
"You all stepped up to and met the challenges head on," Pickett said. "… There were probably minutes where you thought, 'Is this really worth the struggle?' But you know what, you lifted each other up, your families lifted you up and you persevered."
The graduates received NIC nursing pins in what Pickett called a "time-honored tradition" dating back to the 1860s, when modern nursing pioneer Florence Nightingale presented similar items to her students.
The NIC nursing pin features a lamp representing comfort, goodwill, warmth and steadfast devotion to duty; hands representing the specialized skills learned through nurse training; and a book representing the scientific knowledge gained during their studies.
"With this pin also comes a commitment and responsibility to practice the skill and art of nursing to the best of your ability," Pickett said.
Stephany Montgomery — a 30-year health care worker, emergency and intensive care nurse and mentor to the class — spoke to the graduates and audience during the pinning ceremony and shared her experience being on the receiving end of a nurse's care while her late husband was critically ill.

"Knowing the humanity and passion (nurses) had for my husband and me, the tears coming out of their eyes for my husband, made me trust them, love them," Montgomery said.
Montgomery spoke of the importance and impact of a nurse's positive attitude and urged the graduates to focus on humanity and compassion throughout their careers.

"You check their pupils (during initial patient assessment) and afterwards, look past the pupils and into their eyes — who they are as humans and as people," Montgomery said.

Graduate Jacqueline Essig said before the ceremony she felt "pure excitement" to complete the program and receive her nursing pin.

"Not that the journey is done, but I mean it kind of feels like the hard part is over," Essig said.
Retired NIC Vice President for Instruction Lita Burns — a University of Wyoming graduate who started her career in education administration at NIC — received an honorary NIC nursing pin.
"Lita has always been a strong advocate for the nursing program, both on campus and in our community," Pickett said during the ceremony.
Recent Headlines
---