'It was ready to lay down and die'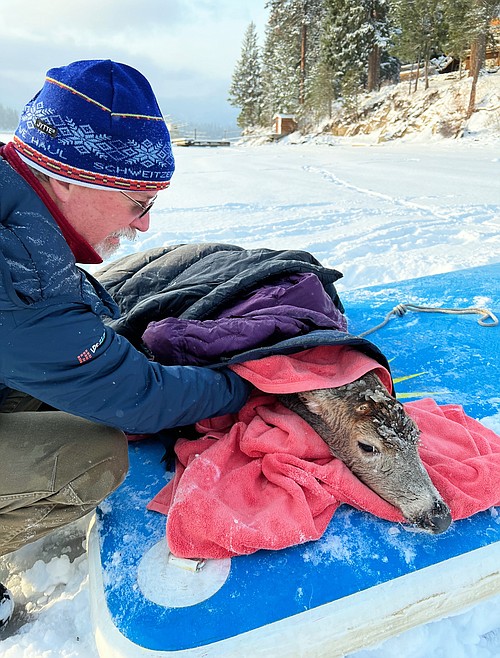 Photos by Brendon and Kelli Bauer Mark Bauer covers a deer after pulling it from Hayden Lake Friday morning.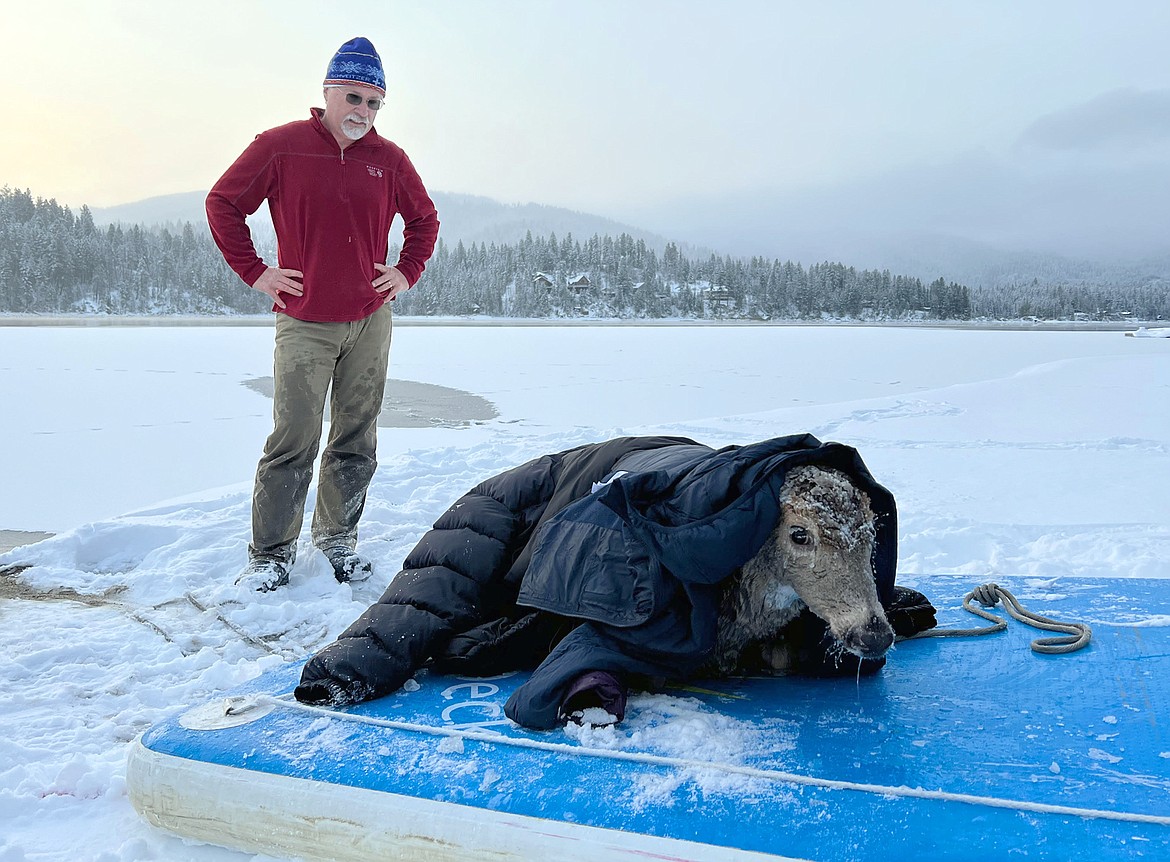 Mark Bauer watches over a deer after pulling it from Hayden Lake Friday morning.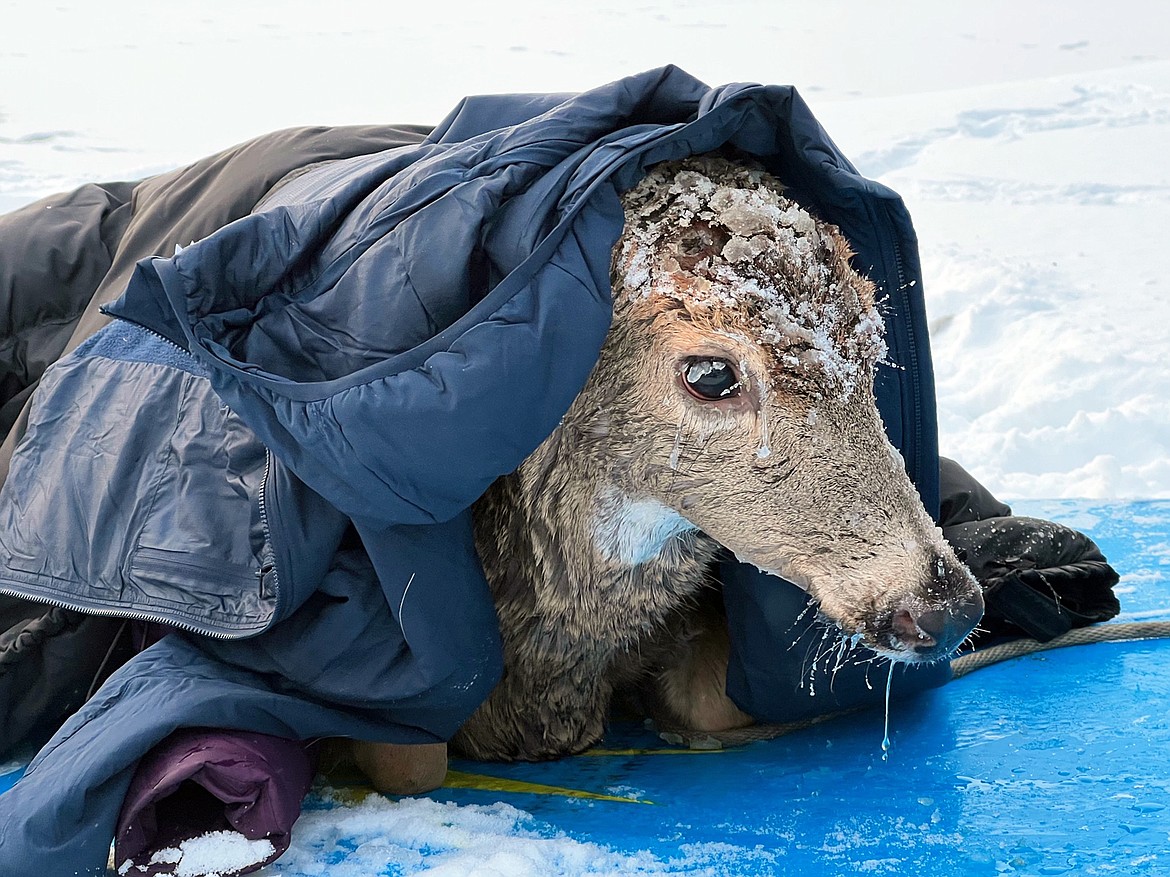 A deer recovers on shore with the help of the Bauer family after breaking through the ice at Hayden Lake on Friday morning.
Mark Bauer paddles out to rescue a deer at Hayden Lake Friday morning.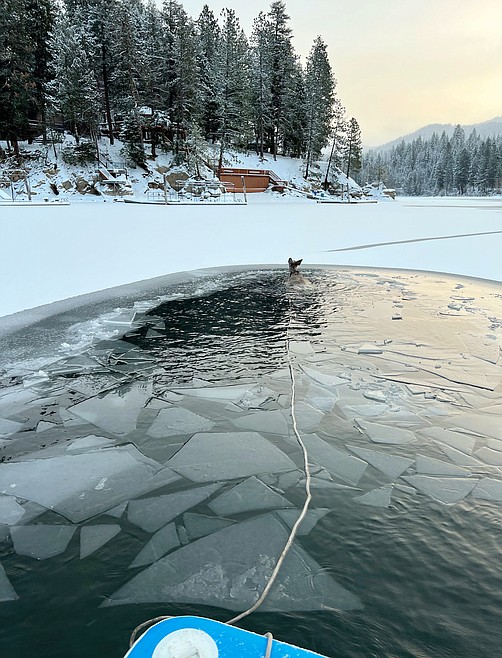 A deer stays afloat in Hayden Lake after breaking through the ice Friday morning.
Previous
Next
by
BILL BULEY
Staff Writer
|
January 2, 2022 1:08 AM
HAYDEN LAKE — When Mark Bauer saw a drowning deer in Hayden Lake Friday morning, he had to help.
That's what doctors do.
"It's pretty hard to sit there and watch an animal drown," he said.
Bauer, joined by son Brendon Bauer and his wife Kelli, rescued the deer in an operation that called for a rope, raft, towels and coats, along with patience and compassion — and a sense of humor.
"I'm just glad it wasn't an elk or a moose because I don't know what we could have done," he said, laughing, in a phone interview with The Press Saturday.
Bauer was in his Hayden Lake home about 8 a.m. Friday when he heard the neighbor's dog, Calamity, barking. Since it doesn't typically bark much, and it wasn't stopping, he thought something might be wrong and went to check.
It was then he spotted a deer that had fallen through fresh, thin ice near his neighbor's dock.
The Bauers responded in 10-degree conditions. The sun hadn't crested over the mountains yet.
After debating the best way to reach the tiring deer, Bauer retrieved a summer float pad, about five feet by 15 feet, and a rope. He and Brendon dragged it down to the ice, maneuvered it to open water, and paddled to the deer, about 20 yards from shore.
They tied a slip knot, got close enough to loop it over the deer's head, and retreated to shore. From there, they slowly reeled the deer in, using a shovel at times to break a path for it through the ice.
The deer didn't put up a fight.
"That deer was just totally spent at that point," Bauer said.
On the shore, they pulled the deer onto the float pad and spent nearly an hour warming it, taking off their coats and putting them around the deer. It had ice on its head, around its eyes and mouth, and wasn't moving.
"It was ready to lay down and die," Bauer said.
But not on this day.
They decided to put towels around it, leave it alone and return to the house, where they kept an eye on it.
As it gradually warmed up, it began shivering. Slowly, it thawed and showed signs of life. Its ears wiggled.
"About an hour later it stumbled up and walked away and was fine," Bauer said.
An emergency room doctor at the Spokane veterans hospital, Bauer has seen plenty of wildlife in the past 20 years from his Hayden Lake home. But that was a first for a deer breaking through ice nearly in front of it.
Bauer understands the ways of the wild and these things happen.
"Winter is tough. Mother Nature is cruel," he said.
But still, he wanted to try and save that deer. He was pleased they were able to give it at least one more day — or longer.
"I'm sure it will be back this summer eating my flowers," he said, laughing.
Recent Headlines
---