Kathleen Marie Paris, 70
|
January 1, 2022 1:00 AM
Beloved friend, grandmother, and mother, Kathleen Marie Paris, 70, of Hayden, Idaho, passed away on Nov. 27, 2021, due to unforeseen complications following an outpatient surgery at a local hospital. Kathleen (Kathy) was surrounded by friends she considered family at her time of passing.
Kathy was born to Raymond and Yvonne Coakley on Aug. 11, 1951. Her father Raymond spent 28 years in the Army as a civil engineer and her mother Yvonne was a fashion coordinator at Orbachs until an unfortunate accident in 1973 disabled her. Kathy graduated from La Habra High School in La Habra, California in 1969.
Kathy was married twice. Her first marriage was to Dennis Barnett with whom she had her only child, Brenda Barnett. Her second marriage was to Alfred Paris in 1984 and they divorced in 1991. Kathy was preceded in death by both of her parents and survived by her daughter Brenda Barnett, her grandsons Justyn Campos and Joseph Liverman, and two great-grandsons, Riott Campos and Kaleb Liverman. She also left behind two black labs, Coal and CJ, as well as a community of neighbors that will miss her terribly.
Kathy moved to Hayden, Idaho, after retiring from the California Highway Patrol (CHP). Kathy received her school bus driver certificate in 1973 and worked for the Taylor Bus Service from 1976 until 1989. Kathy then became a dispatcher for the CHP in 1989 where she worked for a year. She then took the School Bus Coordinator position with the CHP in 1990 in Central Los Angeles (where the original CHiPs was filmed). In this new position, Kathy was responsible for over 3000 drivers, making sure they were safe and prepared to bus young children to and from school and sporting events. Kathy finally retired in 2007 and moved to Hayden, Idaho, in 2013.
Kathy desired to be away from the crowds, traffic and busyness of Los Angeles, so she brought her beloved Toby (yellow lab) to live out his last years on her property. Kathy loved the thought of having four seasons and was very excited to own her little piece of heaven here in Hayden.
Some fun facts about Kathy are, she loved the color yellow, not bright school bus yellow, but a nice pale yellow. Anyone that knew Kathy knew she loved the Los Angeles Dodgers! If she was watching a game, you knew not to interrupt her. She was also an avid car enthusiast. She was a wonderful neighbor willing to help anyone at any time. From going to let your dogs out during the day so that they could get some exercise to helping you overturn a dog kennel in the dark in the middle of a wind storm. You could always count on Kathy to be there for you.
Kathy was about her community. She strived to connect everyone around the neighborhood. She loved her neighbors and the sense of family they brought to her and her dogs. Kathy's pride and joy were her dogs and the land she lived on. You can't help but think about her every time you drive by her house and see her Dodgers flag attached to her porch. Rest in peace our dear friend, you are missed more than you know.
There will be a small celebration of life at her home in Hayden in the spring. Her daughter Brenda will be planting a maple tree on her property with her ashes.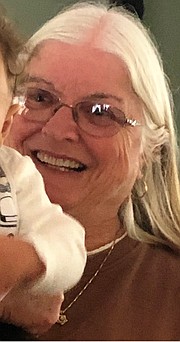 Recent Headlines
---