Library board declines to remove, sequester books
by
BILL BULEY
Staff Writer
|
February 27, 2022 1:06 AM
COEUR d'ALENE — Coeur d'Alene Public Library trustees recently denied a request to remove or at least separate two books from the children's library.
Trustee Steve McCrea made it clear why.
"Our function is to provide everybody with access to these books," he said Thursday. "And it's the parents' responsibility to limit their children, not our responsibility."
"There are parents that like these books in the library, believe it or not. They want these books in the library; they want access to them for their children," McCrea continued.
He said he reviewed the challenged books, "Prince & Knight" by Daniel Haack and "The Hips on the Drag Queen Go Swish, Swish, Swish," by Lil Miss Hot Mess.
"In my opinion, they're very benign, there's no sexualization. There's no pornography. There's nothing explicit in either of those two books," he said.
Parents who spoke to the board, both in person in the Library Community Room and online, said they found the books — and others at the library — inappropriate for young children.
Wendy Smith said she felt she had to speak up for her and other children who deserve protection from books with an agenda of a sexual nature. She said "some books are designed to entice young people to the LGBTQ lifestyle."
Heather DeHay mentioned other books, "Auntie Uncle: Drag Queen Hero," "Diary of a Drag Queen" and "My Fairy GodMother is a Drag Queen."
"Aside from the brainwashing of young minds into the LGBTQ agenda, we should be deeply concerned with a growing movement to normalize the sexualization of our children," she said.
Their concerns are part of a growing movement, according to a Feb. 8 article in The New York Times.
"Parents, activists, school board officials and lawmakers around the country are challenging books at a pace not seen in decades," the article stated.
The American Library Association said in a preliminary report that it received an "unprecedented" 330 reports of book challenges, each of which can include multiple books, last fall, according to the article.
Kara Claridge of Coeur d'Alene filed the challenge of the two books, which was rejected by the library's Material Review Committee, according to a Dec. 8 letter from the committee to Claridge.
She had asked that the books be made available by parent request only, rather than on the shelves of the children's library.
"These two books are part of a much larger collection including transgender books that are liberally sprinkled in our children's library," she said.
The committee's letter read, in part: "It is not disputed that discussion of sexual identify or gender are important topics for parents to discuss with their children. If a child wishes to discuss with a parent the contents of one of the books in question, it is the parents responsibility to determine whether their child is ready for such information, but only their child. Some parents would find the books to be a welcome gateway into discussion of gender identity and the reality of same sex attraction, which has existed since time immemorial."
The letter went on to say that there is a danger in "segregating" books to be made available upon request only.
"If one's religion prohibits same sex marriage then the library may be asked to curtain religious books which are not consonant with the requester's faith. Then, the library is being asked to determine that other subjects are to be curtained off," it read. "That is not the function of the library. The library has no say over how one raises one's child but must make resources available to those of all different persuasions, paths and beliefs."
Claridge told the board that there are many books in the Coeur d'Alene Public Library pertaining to LBGTQ lifestyle, including in the children's library.
She mentioned "Lawn Boy," in which a young boy reflects on the sexual encounter he had with another boy when he was in fourth grade.
That book is among those most targeted by parents as inappropriate for children, the Times reported.
"The explicit sexual language and depravity of this book can not be overstated," Claridge said.
She asked the board, "What sort of environment do you think these sexually graphic books create for children? Why would you as trustee hold back from protecting children?"
Claridge pointed to Idaho statute 18-1513, regarding obscene materials and dissemination to minors.
It states: "It is hereby declared to be the policy of the legislature to restrain the distribution, promotion, or dissemination of obscene material, or of material harmful to minors, or the performance of obscene performances, or performances harmful to minors. It is found that such materials and performances are a contributing factor to crime, to juvenile crime, and also a basic factor in impairing the ethical and moral development of our youth."
She asked that the board at least place the books in the adult section of the library, or in a section of the children's library with a clearly marked title, such as "LGBTQ/Transgender."
She said that would be a "common sense solution."
Another parent, Nina Beasley, said the state defines marriage as between a man and a woman. She said the majority of Idahoans don't want transgender issues promoted to their children.
"So essentially, you're ignoring the voices of the masses," she said.
Beasley said as a mom, putting that material before children is "morally wrong."
"It is not developmentally appropriate. Those are adult decisions. It should be in the adult section of the library," she said. "And I would ask that you would take these things seriously because it does cause harm to minors."
The board voted unanimously to accept the committee's report recommending denial of the request to remove or sequester "Prince & Knight" and "The Hips on the Drag Queen Go Swish, Swish."
Trustee Ann Smart said she has a "legal responsibility" to go by their policies.
"We all have our views and our values and our responsibilities to follow," she said.
Trustee Jim Windisch said he supports the policies, as well.
"We are providing a collection that appeals to all avenues of our community," he said.
McCrea spoke for several minutes as he looked at parents who objected to the books being available to children.
"It's a fact that there are gay people in this community, or gay families in this community.," he said. "There are people throughout the United States in the world who are gay. Some believe it is a lifestyle that is taught, while others say it's innate.
"There's a divergence of opinion," he said. "And I'm not going to convince you otherwise and you're not going to convince me otherwise. It's just a fact of life."
He said many people want access to materials on that subject and it is the library's duty to provide it.
"You do not have to let your children see these materials. That's your choice. That's not the library's function to be the parents for those children," McCrea said.
He said they are using taxpayer dollars "to present all points of view" and said he "rejected the claims that it's brainwashing children.
"You don't have to allow your children to read these books. If you think it's brainwashing, don't let them read them. You are the parent. You don't have to check the book out of the library," McCrea said.
He said he does not have a problem with creating a separate section labeled LGBTQ in the children's section "so the parents can direct their kids away from that."
Claridge said the board was basically saying that library policy overrides state law.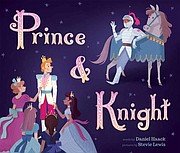 Recent Headlines
---