ARYAN VISIT RESISTED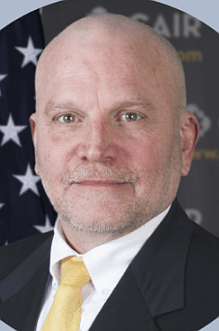 by
BILL BULEY
Staff Writer
|
February 12, 2022 1:08 AM
COEUR d'ALENE — A Muslim civil rights and advocacy organization on Friday called on elected officials in Idaho to offer a "strong rejection" of a planned white supremacist rally scheduled next month at Hayden Lake.
The Council on American-Islamic Relations based in Washington, D.C., also called for a stepped-up police presence at the site of the rally.
"Because of the growing bigotry targeting minority communities nationwide, groups promoting white supremacy and racism can no longer be ignored as a fringe minority of extremists," said CAIR National Communications Director Ibrahim Hooper.
The Aryan Freedom Network, a white supremacist group, has scheduled a March 12 gathering at Hayden Lake.
A man named Hank, a spokesman for AFN in Texas who would not give his last name, told The Press on Friday via a phone interview that it's a new organization with a few hundred members and a small chapter in North Idaho.
"We're taking baby steps in everything," he said.
He said it owns 5 acres in Hayden Lake, which is where the private, indoor event will be held.
He referred to it as "like-minded people coming together, talking about issues, things we can do to make our communities a little better."
It will not involve a parade or rally.
"We don't do stuff like that anymore," he said. "We just stay to ourselves."
The event is being held at Hayden Lake, Hank said, because it has "a lot of sentimental value to a lot of us."
The group hopes to buy more land there.
Hank said he was a member of the Aryan Nations in the '90s and knew Richard Butler, its founder and leader in the '80s and '90s. Butler died in 2004 at the age of 86.
"He was a good man," Hank said.
North Idaho had a reputation as a haven for white supremacy groups due primarily to the Aryan Nations, which had a compound at Hayden Lake dating back to the 1970s.
The site was host to rallies and conferences and some members lived there. It was demolished in 2000 following a judgment that bankrupted the neo-Nazi group.
Hank said AFN is not a hate group. Instead, he said, it opposes reverse discrimination and "anti-white policies from the left and no one is confronting them on it."
He said he believes that's a reason AFN already has so many members, especially in the South, and more are getting involved "in what we call the white nationalist movement."
"How many organizations are actually out there looking out for the interests of white people?" he said. "Not many."
Hank said he believes more people are moving to Idaho because they oppose loss of personal freedoms and the rise of socialism and communism in other areas of the country.
"That's the stuff we've been warning people about for so long," he said.
The AFN is also planning a Midwest gathering on April 23 and a "White Unity Conference" in Dallas on Oct. 22, according to its website, white-power.org.
Jeanette Laster, executive director of the Human Rights Education Institute in Coeur d'Alene, said Thursday it will prepare to counter the AFN gathering.
The Kootenai County Sheriff's Office told The Press on Thursday that if the AFN meets at Hayden Lake next month, it could be monitored and some patrols could be assigned to the area.
Hooper said CAIR urges local and state elected officials to offer a strong rejection of "this planned hate-fest.
"We also ask law enforcement authorities to offer a stepped-up presence at the site of the white supremacist gathering to ensure public safety," he said.
Recent Headlines
---