Kindness delivered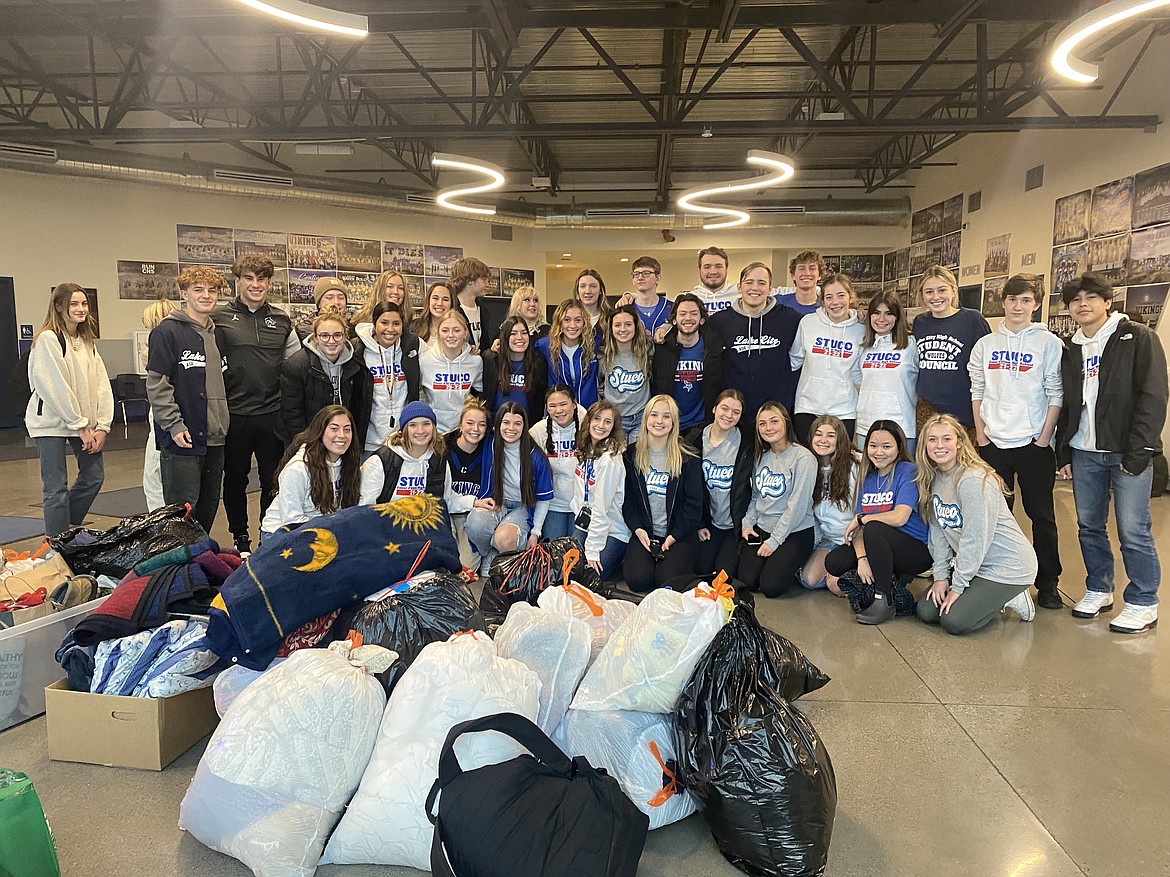 Coeur d'Alene and Lake City high school associated student body officers and class representatives pose proudly with the clothing, blankets, hygiene and monetary donations they gathered during January, for the All for AWL (All With Love) charity campaign.
ELLI GOLDMAN HILBERT/Press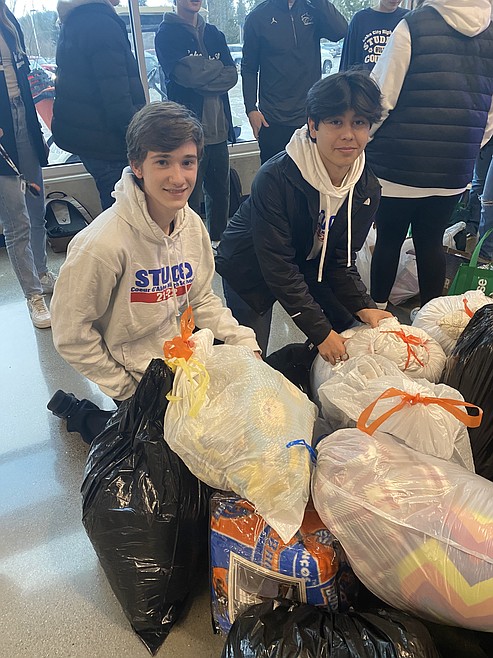 From left: CHS Student Council representatives Andrew Overland and Chief Allan are part of the All with AWL (All With Love) charity campaign run by the Coeur d'Alene and Lake City high schools. For the month of January, both student bodies collected needed items for clients of St. Vincent DePaul North Idaho, Safe Passage Violence Prevention Center, Union Gospel Mission and the Kootenai Humane Society.
Previous
Next
by
ELLI GOLDMAN HILBERT
Staff Writer
|
February 9, 2022 1:00 AM
COEUR d'ALENE — When Coeur d'Alene and Lake City high schools were unable to celebrate Fight for the Fish in 2021 because of the COVID-19 pandemic, a new tradition was born.
Rather than compete against each other for a wooden fish, the high-schoolers banded together to help those in need in their community through the All for AWL — All With Love, charity campaign.
On Friday, about 50 students and staff gathered at CHS to organize and distribute goods collected by both high schools in lieu of the beloved Fight for the Fish spirit competition.
"We didn't have that grouping of community members being there at Fight for the Fish, so we wanted to create something that would unite our community," CHS Associated Student Body Secretary Gracie Shawver said.
A different cause or organization was supported each week in January.
Freshman representatives from both high schools focused on a blanket drive. Sophomores collected winter clothing. Juniors collected toiletries and items requested for client families and seniors collected hygiene items. The entire group also made a push to collect cash donations for the Kootenai Humane Society.
About 15 bags of hats, gloves, jackets and winter apparel were delivered to St. Vincent DePaul. 25 bags of requested "family need" items were delivered to Safe Passage, including toiletries and toys, CHS Student Council adviser Tara Nelson said.
Union Gospel Mission received about 10 bags and boxes of items. Council members designed a sticker in support of the Kootenai Humane Society, and sold them to the student body during the month of January, donating about $160 in cash to KHS, Nelson said.
"It was a big undertaking. It's wonderful to see young people coming together to do things for other people," Nelson said.
CHS freshmen Andrew Overland and Chief Allan said it was really fun to be a part of the project. The young men put effort into spreading the word about the charity event, Allan said.
"We made flyers and posters, and social media posts," Allan said. "And we also went to different classrooms to talk to the students."
Laura Tolzmann, an adviser for the LCHS Student Council, said the students were excited and motivated to help.
"It was good to be able to give back," said CHS ASB President Myah Rietz. "I think we were really successful with it."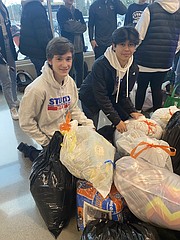 Recent Headlines
---