Rathdrum council funds student-led projects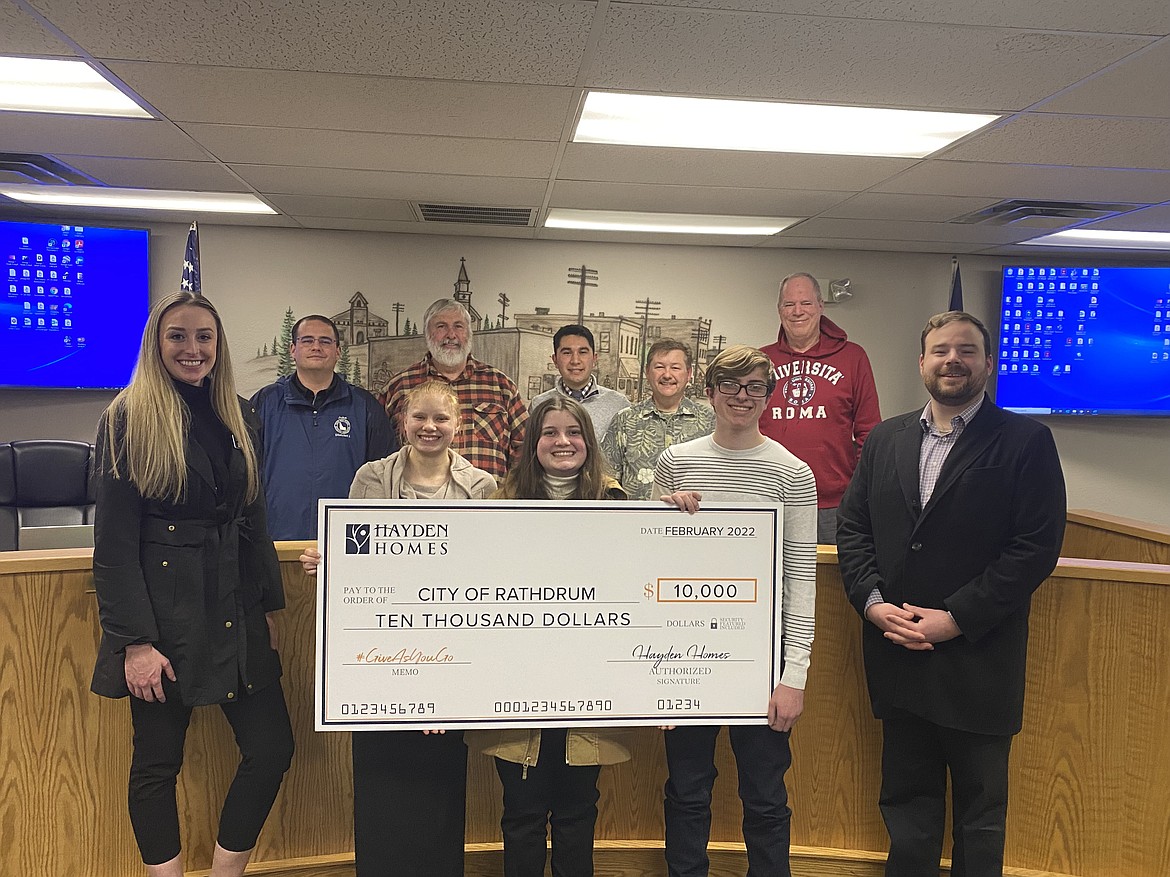 Back row from left: Councilman John Hodgkins, Mayor Vic Holmes, Jake Garringer from Governor Brad Little's office, and councilmen Neil Oliver and Steven Adams. Front row from left: Tori Morgan with Hayden Homes, winning students Izzy McCaslin, Catherine Roco, Riley Foutz and Russ Dowell with Hayden Homes. The city of Rathdrum student-led civic project presentations were heard Wednesday at Rathdrum City Hall. Two winning teams were chosen, both representing North Idaho STEM Charter Academy. With grants made possible by the city and Hayden Homes, each team has a $10,000 budget to bring their ...
ELLI GOLDMAN HILBERT/Press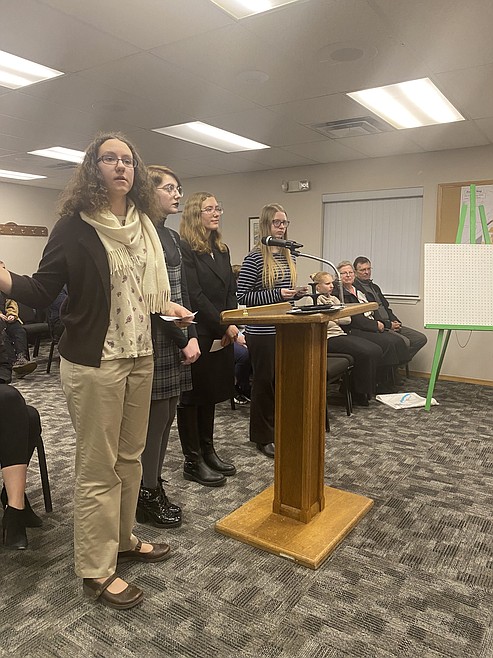 Presenting their Fountain Beautification plan, are four ambitious students from North Idaho STEM Charter Academy. From left: Audrey Fourroux, Sam Sexton, Kerensa McCrea and Sarah Wakelin. The presentation included a detailed blueprint of the fountain, done by McCrea, and a three dimensional model of the design. The project wasn't ultimately chosen, but the student presentation was a success.
Previous
Next
by
ELLI GOLDMAN HILBERT
Staff Writer
|
February 4, 2022 1:00 AM
RATHDRUM — Rathdrum's City Council members had a tough decision to make at the student civic project presentation Wednesday night.
Six groups of students presented entries from North Idaho STEM Charter Academy and Mountain View Alternative High School.
Part of a project initiated last year by the city, all high school students were invited to design a community project that they would like to complete for the benefit of all Rathdrum residents.
"I don't envy the council in having to make the choice," Mayor Vic Holmes said. "These are some terrific presentations."
The city initially offered a $10,000 budget. Students were tasked with researching material costs, planning the design, operating within the budget and working out all of the details required to bring the project to fruition.
A builder in Rathdrum since 2014, Hayden Homes learned about the project and stepped up to offer another $10,000, allowing two projects to be funded.
"We really like giving back to the community," said Tori Morgan, on behalf of Hayden Homes.
Ideas ranged from public park beautification to basketball courts, murals and statues. Students stepped up to the podium and confidently described their designs in great detail. Many used slideshows and punctuated their presentations with artistic renderings of their vision.
At the end of careful deliberation, two projects were chosen by the council: Izzy McCaslin and Tori Bauer's Rathdrum City Park Beautification proposal, and the Rathdrum Mountain Disc Golf Course project, created by a team of 13, led by Riley Foutz and Catherine Roco. Both winning projects represent students from the North Idaho STEM Charter Academy.
"We made a specific plan to get our disc golf course under the budget," Foutz said. "This includes baskets, extra basket pins to keep the baskets in place, locks to secure them, a measuring wheel, our 18 rubber tee pads which we'll use throughout the course, the entry sign, bark for around the baskets and concrete. This comes out to a total of $8,300, which gives us a $1,700 cushion."
That "cushion" will be set aside for anticipated labor and construction costs, Foutz said.
Foutz and Roco worked with fellow students Micah Collins, Ethan Harrel, Landon Orchard, Keenan Cole, Hudson Drake, Karalie Potter, Marley Bilski, Hailey Young, Talan McCarthy, Ryan Wood, Alijah Freeman and Ben Simmons, on their redesign and expansion of the 9-hole disc golf course currently on Rathdrum Mountain.
When the project is completed, the course will feature 18 holes.
The disc golf team designed a "Rathdrum Frisbee Golf Course" sign that will be flanked by two brick pillars and will feature a "wooden arch with laser-cut metal letters," according to the packets presented to each council member. The team collaborated with Eric Singer at Rathdrum Parks and Recreation on the design, as well as contacting local companies for the signage and concrete work that will be needed.
"I've actually been in all phases of disc golf course design in the past," said new Councilman John Hodgkins. "I think you guys did a good job."
For presenter Izzy McCaslin, Rathdrum City Park is a favored place to visit.
"I've spent some time at the park, and I've noticed that during the summer and spring there's a lot of green colors but not a lot of other bright colors," McCaslin said. "Then the park becomes hardly distinguishable from any of the other parks in town other than the beautiful river running through it."
McCaslin's design includes adding blooming perennial foliage to the foot bridge, Lions Club Pavilion and the gazebo. Drip lines will be installed for easy maintenance. The total project budget comes to about $8,700, and includes the purchase of plants, planters and irrigation equipment.
"I want to make Rathdrum City Park a more colorful and characteristic park that brings people to the park and to Rathdrum," McCaslin said.
Council members were deeply appreciative of the efforts put forth by all students.
"My two favorites are really the basketball court without a mural, and the disc golf course which I think are wonderful," said Councilman Mike Hill. "The city park beautification I think is probably one of the most practical and achievable tasks to accomplish."
Following the meeting, Roco and Foutz expressed pride in the work of their team, which had used a divide and conquer method to tackle all aspects, they said.
"I'm really excited. I feel good," said Roco. "But now the really tough part begins."
Students have until Aug. 31 to facilitate completion of the winning projects, with the help of city officials.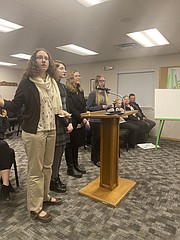 Recent Headlines
---