North Idaho College investigating false alarms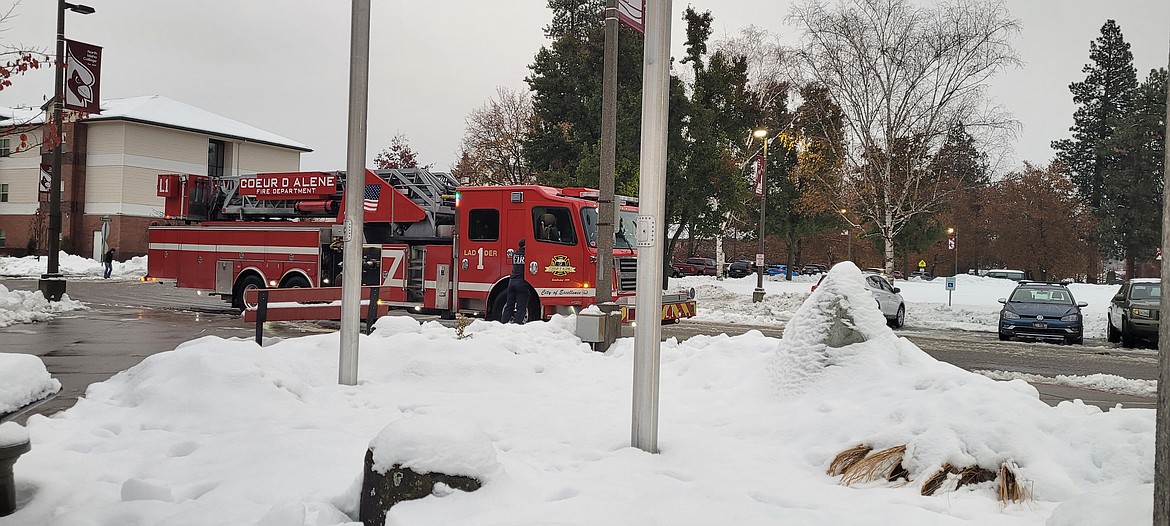 After an unidentified person intentionally pulled a fire alarm Saturday at North Idaho College, Coeur d'Alene Fire responded and gave an all-clear. KAYE THORNBRUGH/Press
by
KAYE THORNBRUGH
Staff Writer
|
December 13, 2022 1:09 AM
COEUR d'ALENE — Just one of two fire alarms that sounded Saturday during a chaotic meeting of the North Idaho College board of trustees was intentional, officials said Monday.
Laura Rumpler, the college's chief communications officer, confirmed that an unidentified person intentionally pulled the first alarm, while the second alarm was sounded by mistake when an employee tried to reset it.
The college is investigating the intentional alarm. Rumpler could not confirm Monday whether a suspect had been identified or if security footage showed the event.
The alarms disrupted an already raucous three-hour meeting, forcing trustees, staff and around 100 members of the public to clear the building.
Coeur d'Alene Police Capt. Jeff Walther said the college notified local law enforcement that the meeting was well-attended and that some people were speaking out of turn and raising their voices — all actions that are protected by the First Amendment, though they may violate the rules of a meeting.
"We are not in the business of suppressing people's First Amendment rights," Walther said.
Neither Coeur d'Alene police nor the Kootenai County Sheriff's Office received any other calls related to the NIC meeting, officials confirmed Monday.
Because officers were responding to emergencies elsewhere, police did not respond immediately to campus. Coeur d'Alene police eventually sent two patrol cars to the college, where officers met with security staff outside.
"It was not a police emergency," he said. "Although people were being loud and voicing their opinions, there was no criminal act."
In Idaho, making a false alarm that could or does result in the response of emergency services is a misdemeanor punishable by up to a year in jail and a $1,000 fine.
Walther said the act would also qualify as disturbing the peace in Coeur d'Alene.
"That is beyond unacceptable," he said.
After NIC completes the investigation into the pulled fire alarm, Walther said Coeur d'Alene police may take up the matter.
The college usually gives local police advance notice about public meetings. But Walther said Coeur d'Alene police received no heads-up about Saturday's special meeting at NIC, which was noticed just 24 hours before it happened.
Rumpler said two NIC security officers were present for the meeting.
"Several times throughout the meeting our security supervisor advised the board chair to call a brief recess to allow folks to settle down and reset," Rumpler told The Press. "This was deemed the best strategy for the situation."
Despite shouting and heckling from the crowd, nobody was removed from the meeting.
"There was a disruption prior to the meeting, but our security supervisor de-escalated the situation and the community member involved agreed to comply and stayed for the meeting," Rumpler said.
Asking people who are disruptive to leave a public meeting is done on a case-by-case basis, depending on the direction of the college president or the board chair.
"Our security officers are empowered to make decisions and act accordingly if there is an immediate concern for safety," Rumpler said.
In the crowd Saturday were multiple current and former local elected officials, including Coeur d'Alene City Councilman Dan Gookin.
He said he believes so many people showed up because they wanted to show support for Trustees Tarie Zimmerman and Brad Corkill, as well as for NIC President Nick Swayne, who trustees placed on leave last week, pending an investigation into a detail of his contract.
"This community cares deeply for NIC," he said. "We want to see sanity, accountability and transparency restored to our community college."
When people become angry or shout during public meetings, Gookin said, it's often because they feel they haven't been heard.
"I think it's very American to be boisterous and to protest when you're upset," he said.
Frustration with the board's actions and with a lack of transparency contributed to the heightened emotions, he said.
Dan English, who is on the Coeur d'Alene City Council and works in NIC's Molstead Library, said many college employees feel "totally demoralized" after the board's decisions last week.
Community members, English included, also have "legitimate questions" about possible violations of Idaho's open meeting laws.
"I think people were really on edge," he said. "They turned out en masse."
English said he was astounded by the lack of leadership demonstrated by the board amid outbursts and heckling from the crowd.
"You've got to have control of the meeting," he said. "Otherwise it does an incredible disservice to the public and the process."
Some people, like Sharon Gilman of Post Falls, were upset by the behavior of the community members in attendance at the meeting.
"The outrageous disruption of the NIC BOT meeting on Saturday, Dec. 10 should NEVER have been allowed," Gilman wrote, in a letter to the editor of this newspaper. "This is a business meeting of the Board! They are working to address leadership and the future of the college."
Another letter writer, Leslie Wilde, of Hayden, shared another perspective.
"The behavior of some community members attending the December 10 meeting was disruptive and probably unproductive to their goals," Wilde wrote. "It seems obvious these citizens feel unrepresented, 'shut out,' powerless and frustrated. They need opportunities to voice their concerns."
As community members lined up behind a podium during Saturday's meeting and asked to address the board, Zimmerman asked if her fellow trustees could "find it in their hearts" to allow just 10 minutes of public testimony.
"I've never seen anything like this," she said.
Chair Greg McKenzie refused, calling the crowd's request "bullying."
Because the board made major decisions last week without notifying the public in advance or giving them an opportunity to share input, English said trustees should've anticipated that people would want to speak Saturday.
Permitting even limited public comment would've likely helped the meeting run more smoothly, he said.
"The crowd wouldn't have been nearly as frustrated," English said.
He said he hopes the board allows the public to speak at the next meeting, which the trustees decided Saturday to schedule for Thursday night.
"Ordinarily there would be the automatic expectation of public comment," he said. "But I am worried, because they've turned the spigot off on public comment before."
Former NIC trustee and current Coeur d'Alene City Council member Christie Wood said she believed the lack of public comment contributed to the intensity of the crowd's outcry.
"That was the community," she said. "They've had enough."
The ongoing turmoil on the board affects students, staff and the community as a whole, Wood said. When the board meets again, she said she hopes to see trustees act with transparency.
"There's a feeling of a loss of hope," she said. "The community needs to bring that hope back by demanding accountability."
Recent Headlines
---