Mental health incidents challenge jail staff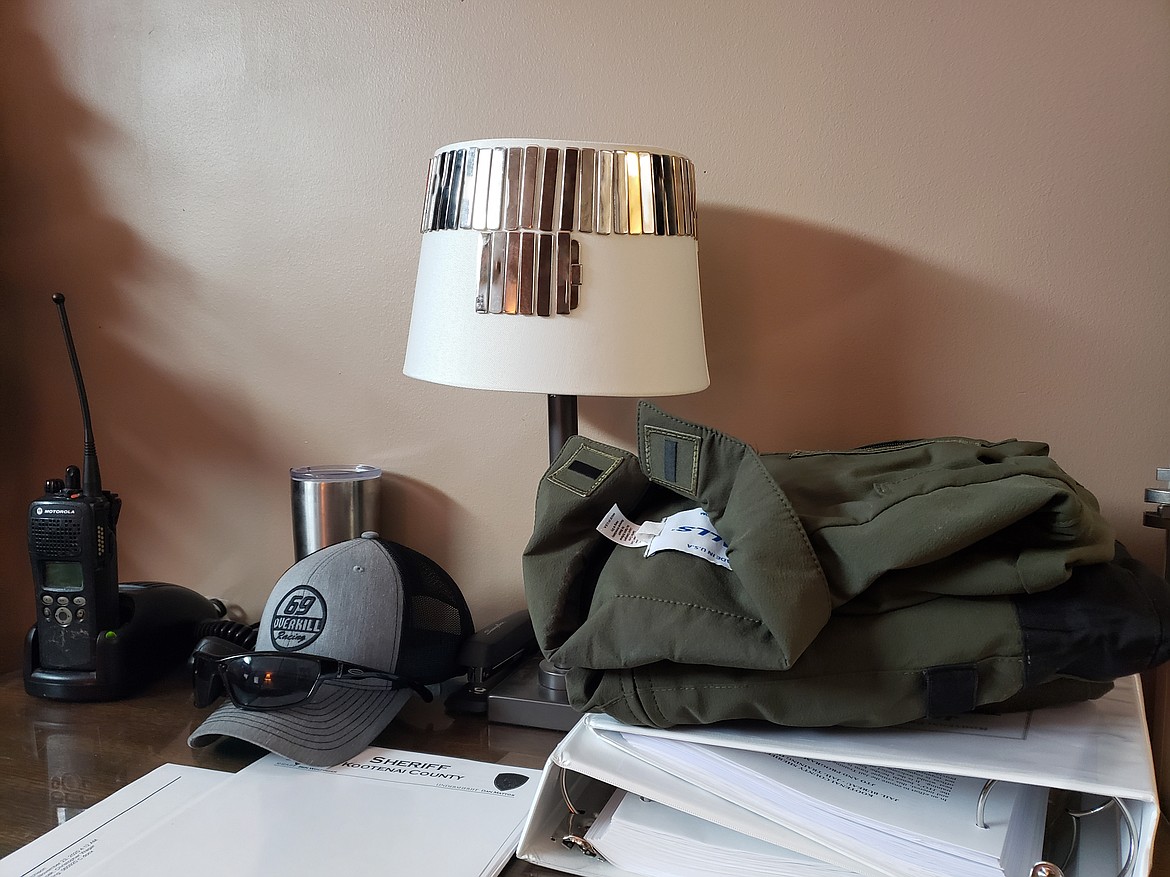 Lt. Kyle Hutchison collects the name tags of people who have left the Kootenai County Jail staff and pins them to what he calls "the most expensive lampshade ever." Staffing and retention is a challenge in the jails, where a lack of deputies and the high volume of inmates exacerbate challenges when mental health episodes occur.
JOSA SNOW/Press
by
JOSA SNOW
Staff Writer
|
December 10, 2022 1:08 AM
Resources are strained at the Kootenai County jail as staff deal with inmates experiencing mental health episodes that are often accelerated by drug use.
"Someone who is mentally ill, who is violent, aggressive or trying to hurt themselves, takes almost half my staff several hours a day to try to control," said Kootenai County Sheriff's Office Lt. Kyle Hutchison, who oversees inmate custody. "So one person who is very violent — and not violent because they're mean, violent because they're mentally unwell — takes a lot of staff time to keep safe."
Just Wednesday, deputies rescued an inmate during an attempted suicide, illustrating challenges with mental health inside the jail.
Jail deputies prioritize de-escalation if an inmate goes into a mental health crisis.
"The very first thing is we try to talk to them," Deputy Jonathan Morton said. "Communication is always the first step of de-escalation. There are some things I'm not comfortable with where I'd rather have Chris (Koch) help deal with them. Our training is very limited on mental health."
Morton has worked in the jails since December 2007 and often relies on Chris Koch, the jail's mental health clinician, to work through incidents with mentally ill patients.
"I've managed Canyon County Jail in Caldwell," Koch said, adding that the prevalence of incidents is higher in Kootenai County, likely, in his opinion, due to fentanyl and meth use.
Working with inmates is Koch's passion. He has been employed in several jails and prisons across multiple states.
"I've never seen anything like this," Koch said. "I don't know what the neurotransmitters do when these chemicals mix together, but it does something. It does something super wacky. I'd rather see them on PCP. I'd rather deal with angel dust than this."
People who are melting down have nowhere to go in Kootenai County, Koch said.
"People with significant mental health issues end up in jails," Hutchison said. "They probably have committed crimes. But they are a difficult population to manage. We're not trained to manage those people, we're not equipped to manage those people. Kootenai County has a mental health problem, and the jails unfortunately become the dumping grounds for people with mental health issues. And it is very frustrating not to have the tools to properly deal with them."
Staffing shortages combined with overcrowding contribute to what Hutchison sees as one of his biggest problems of managing mentally ill inmates.
"We do have a contracted mental health provider, 40 hours a week," Hutchison said, adding it's been a great addition, but it's not quite enough.
"I have approval for a second one, which we've been working on hiring," he said. "We haven't been able to yet."
With new staff members and what Morton calls "shotgun mental health training," the jail struggles with managing the ongoing mental health needs of its inmates. The goal is to be proactive to prevent crises, but jail deputies may only spend an hour and 20 minutes with any one inmate per day.
"One thing that the Kootenai County Sheriff's Office and local police do really well is train their officers to the best of their ability," said Donna Brundage, community outreach advocate for the National Alliance on Mental Illness (NAMI) Coeur d'Alene.
NAMI offers advocacy, education, support groups and activities for people with mental health challenges.
"The law enforcement's hands are so tied," Brundage said. "What do you do if someone commits a crime because of a mental health crisis? They still committed a crime. Even someone in long-term treatment may still have episodes. And people don't always want the health help they need."
The resources in place to prevent people from entering the jails because of mental health or behavioral issues are strained, Brundage said.
"The goal is to get it on the front end," she said. "Kootenai Health is 700 staff down right now. There's staffing shortages on the front end and that snowballs into staffing shortages in the jails. They still have a backlog. Everyone has a backlog."
Recent Headlines
---