Doris Maxine Peterson, 93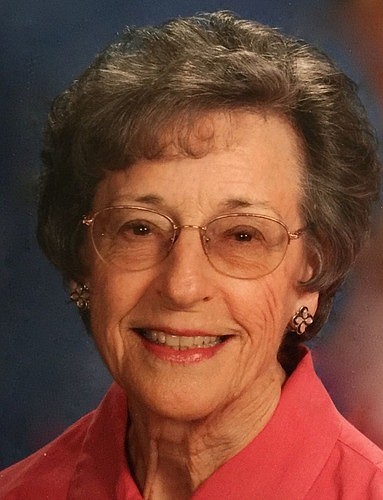 |
December 6, 2022 1:00 AM
Doris Maxine Peterson, age 93, died peacefully Nov. 25, 2022, at Hospice of North Idaho Mannie Gladys Schneidmiller House. She was born in Cheney, Wsh., on Tuesday, Oct. 8, 1929, to Frances (Frank) Aloisious and Delma Blossom Spuler.
Doris graduated Valedictorian in 1947 from St. Joseph Academy in Sprague, Wash., and from The Dental Nurses Training School on March 26, 1948, in San Francisco, Calif. Upon returning to Spokane, Wash., she was employed in a double-dentist office in the Paulson Building.
On Nov. 11, 1948, Doris married Norman Leo Peterson in St. Thomas Church in Coeur d'Alene, Idaho. In 2015, the couple celebrated 67 years of marriage. Doris and Norm had three children: Danny, Sherrill and Susan. Norm was employed 40 years by Kaiser Aluminum while Doris was a "Jill" of trades ... bookkeeper at North Idaho College for 12 years; seasonal Forest Service Nursery worker grading, wrapping and packaging seedlings. Prior to these positions, Doris was St. Pius X Catholic Church's first parish secretary for many years, undertaking all the necessary and demanding tasks of a newly forming parish. Along with others, Doris and Norm were instrumental in the initial construction of the brick-and-mortar of the church in 1962. They were wonderful signs of God's love to all around, an inspiration by the gift of themselves to their family, other young couples raising families and to the community of St. Pius X. Doris was also active as the church's choir director; supporter of religious education programs within the church; an active member of St. Tereasa's Guild; volunteer to bake for or host to an untold number of funeral receptions at St. Pius.
In her 1947 Senior Handbook, Doris noted several things in her graceful handwriting: She was class President; Class motto: "Life Is What You Make It"; graduation gifts were listed identifying the gift and the gift giver; her favorite things included Movie Actress: Jane Powell; Radio Program: Fibber McGee; Song "Guilty"; Orchestra: Tommy Dorsey; Sport: Basketball and Dancing; Subject: Typing; Food: Lemon Pie; Slang Expression: "Jeepers"; Color: Blue; Hobby: Playing the piano; Holiday: Christmas.
Doris had a deep love and devotion to faith and family. These intertwined with a passion for travel, basketball and square dancing. The makings of a hodophile (a lover of roads; one who loves to travel) came into play during Doris' infancy as she traveled with her parents around Washington and Idaho. Later, Doris and Norm would journey to Mexico several times, Alaska, Scotland, New Zealand to mention just a few destinations. Doris would journal the details of their trips with accompanying photos and copious notes.
The Coeurly Q's Square Dance Club was formed in 1960, deriving its name from the city of Coeur d'Alene and the old square dance maneuver called the Curly Q. Doris and Norm were active charter members until 2015. Mica Grange was the club's first home where square dancing, waltzes, two-steps, schottisches, varsouviannes and polkas were performed. Doris and Norm held various officer positions within the club and as membership grew, travel dances emerged and the CQ's Do-Si-Doed and Promenaded around the local dance halls, fair grounds, across the Canadian border and x-country to Branson, Mo. For Doris and Norm, square dancing was fun, good exercise, and inexpensive. But the best reason of all was it was a wonderful opportunity to meet new people and form long-time friendships.
Doris' love of basketball took root in high school. Sister Rita of the Sacred Heart coached the team under the women's modified rules at that time. Doris played the forward position. In spite of the limitations of movement on the court, or perhaps because of them, under the tutelage of Sister Rita and through dedicated practice, Doris developed into a skilled shooter and could score points from half court fairly consistently. The love of the game remained with Doris throughout her life. She was an avid fan of the Gonzaga Bulldogs, knew every player by name, what position they played and rarely missed a game. Who let the dawgs out?! Doris did.
Few people were aware of Doris' hidden talent. On rare occasions, she'd gift family and friends with news flashes and Christmas greetings in a rhyming correspondence. In 2008, Doris submitted a poem to The International Library of Poetry. The "Gift of Spring" was awarded The Editor's Choice Award for Outstanding Achievement in Poetry for the qualities most found in exceptional poetry — unique perspective and original creativity. "Gift of Spring" was published and can be found within a distinctive, hardbound volume of poems entitled Collected Whispers. And because Doris's verse was so wonderfully expressive, it was suggested by the managing editor that her artistry be recorded professionally as a special part of a new CD poetry collection, The Sound of Poetry. Doris had achieved published poet status. Quite a delightful accomplishment.
Doris is preceded in death by her husband, Norm; parents, Frank and Delma Spuler; brother, Sonny; sister, Shirley Jean. She is survived by her children; Danny (Jan) Peterson, Cd'A, Idaho, Sherrill Peterson, Sonoma, Calif., Susan (Terry) Hammock, Dalton Gardens, Idaho; several nieces and nephews.

The family is deeply grateful to the wonderfully skilled and caring staffs of Kootenai Health, Ivy Court and Hospice of North Idaho Schneidmiller House. All extend the heart of Christ to help those in need.
The funeral service will be 9 a.m. Saturday, Dec. 10, 2022, at Pope St. Pius X Catholic Church, 625 Haycraft Ave., Coeur d'Alene, Idaho, with burial at Coeur d'Alene Memorial Gardens. A reception will follow in the Great Room at the church.
Memorial donations may be made to Kootenai Health Foundation, 2003 Kootenai Health Way, Coeur d'Alene, Idaho 83814; Ivy Court, 2200 Ironwood Place, Coeur d'Alene, Idaho 83814; Hospice of North Idaho Mannie Gladys Schneidmiller House, 2290 W Prairie Ave., Coeur d'Alene, Idaho 83815; Pope St. Pius X Catholic Church, 625 Haycraft Ave., Coeur d'Alene, Idaho 83815.
Yates Funeral Home has been entrusted with the care of arrangements. Please visit Doris' memorial and sign her online guest book at www.yatesfuneralhomes.com
Recent Headlines
---