Huckleberries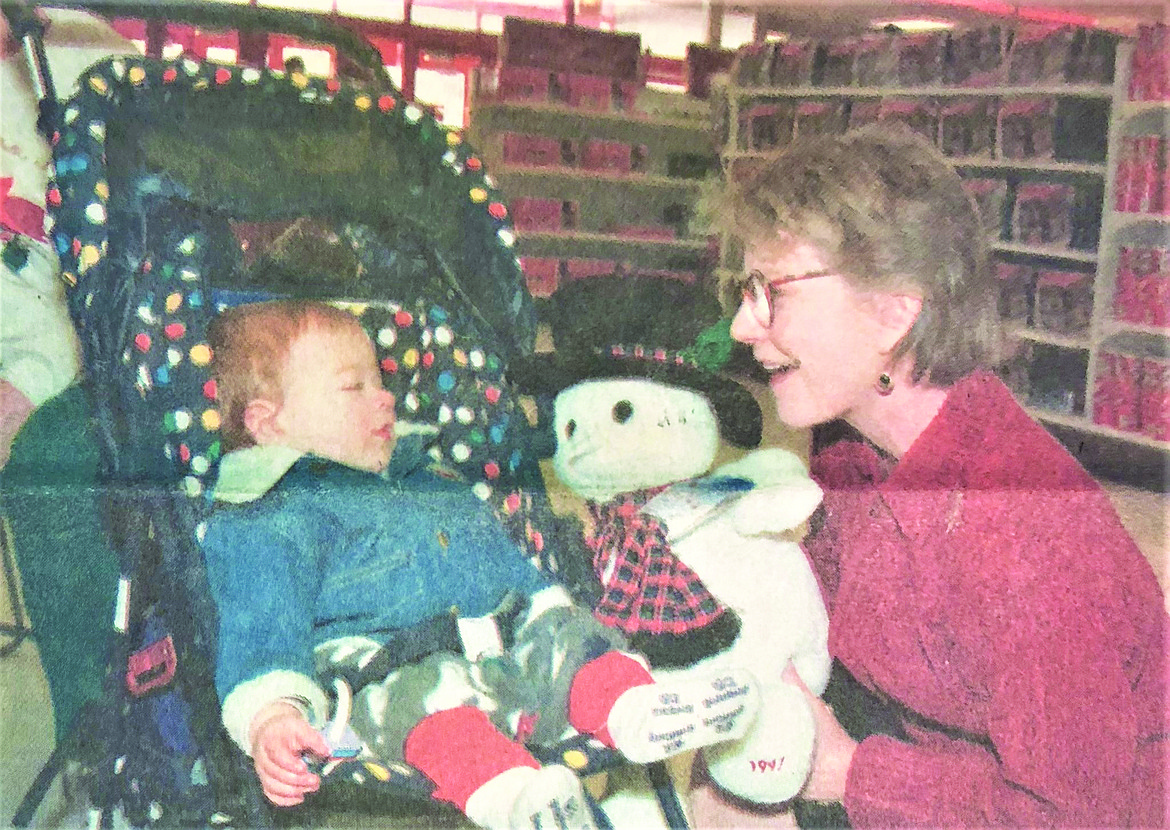 Baby Trey Bartoo, 8 months, and actress Patty Duke.
|
December 4, 2022 1:00 AM
Trey Bartoo, 25, is making his way in the world after graduating with a degree in exercise science from Montana State.
He's living in Boise and working as an associate sales rep for DePuy Mitek Sports Medicine.
But 25 years ago, Trey was an 8-month-old baby when he and his grandmother, Silda Pollard, encountered greatness at a Target sale.
Grandma was pushing Trey in a stroller during Target's Senior Holiday Shopping Party when actress Patty Duke approached, with a stuffed snowman. The little Frosty wore a top hat and plaid scarf. But no corn cob pipe or button nose.
Trey couldn't take his eyes off Frosty Jr.
A Press photo from Dec. 4, 1997, shows Trey staring at the cuddly toy, while ignoring the famous actress holding him. Patty (Anna Pearce) made the baby's first Christmas brighter by handing over the snowman.
Grandma Pollard, who passed away at age 98 in March 2021, never forgot that encounter with the Academy Award-winning actress. Nor has Trey's mother, Amy. She still has the stuffed snowman.
And, last week, to celebrate the 25th anniversary of Trey's close encounter with the star, Amy laminated the old Page 1 clipping of the Press photo – and called her son.
Trey thought it was "cool" that the long-ago photo had been posted on Facebook. And one more thing.
He asked his mother: "Who's Patty Duke?"
Mistaking Lois
Coeur d'Alene has had three superb city clerks in my almost 40 years in town: Lois Lawson, Susan Weathers, and Renata McLeod.
Lois was something – the only girl among nine children who homesteaded on Coeur d'Alene Mountain and a welder during World War II, an original "Rosie the Riveter."
Later, she was a dental assistant and an Albertson's cashier before beginning work with the city on Nov. 22, 1963, the day JFK was shot. She retired 35 years ago (Nov. 30, 1987).
Why am I telling you all this?
Lois passed away at age 92 in January 2017 – four-plus years after Councilman Ron Edinger showed up for her funeral. In December 2012, I encountered Ron in the lobby of Candlelight Christian Fellowship, where he had come to pay his respects to the former city clerk.
Ron had the right place. But the wrong Lois Lawson. The Dearly Departed Lois of 2012 was the 80-year-old mother of Bub Larson, now pastor of Northern Lakes Bible Church in Rathdrum.
"Are you sure?" Ron asked, after I pointed out his error.
I was. I knew both Loises. They were salt-of-the-earth women. And Ron was classy for showing up for the funeral, albeit the wrong one, for a former city employee who had retired decades earlier.
A shot in the arm
As Christmas 1962 approached, Coeur d'Alene boosters were singing the "Hallelujah Chorus" after a big announcement by J. C. Penney. In the Press (Dec. 3, 1962), Penney's revealed plans to build a two-story, $300,000 building on the south side of Sherman Avenue, between Second and Third streets. A.L. Gridley, who represented various parties in the negotiations, said the "multi-modern" structure would be a "shot-in-the-arm" for the local economy and would clean up "a poor part of Coeur d'Alene's downtown shopping area." Harley Hudson, who had owned the property since 1921, agreed to a long-term lease with Penney's and to move his popular Missouri Kitchen burger joint to another site. Also, Art Gridley announced plans to buy the adjacent Dream Theatre and remodel it to "harmonize" with the proposed Penney's architecture. Later, Penney's would relocate the downtown store to the Silver Lake Mall until May 2021 when the chain closed it. Today, the Coeur d'Alene Resort Plaza Shops operates at the old Penney's site.
Huckleberries
· Poet's Corner: "They could hike the prices/but people might holler,/so instead they just made/the content much smaller" – The Bard of Sherman Avenue ("Breakfast Cereal").
· Dedication: Fifty years ago (Dec. 1, 1972), the Hydromaniacs decorated a 35-foot spruce at 4th & Front to prepare it for dedication as the state's first Freedom Tree. The tree reminded the community of POWs and MIAs, including Coeur d'Alene's Fred McMurray, who'd been captured earlier that fall by the North Vietnamese. McMurray was later released and still lives in Hayden. The Freedom Tree was felled during reconstruction of McEuen Park and replaced elsewhere.
· Ice It: Quipster Anna Heisey of Coeur d'Alene knew she had Facebook material when she saw that subhead on Nils Rosdahl's business column last Sunday – you know, the one that read: "Cd'A Foot & Ankle doubling in size." Says Anna: "Better put some ice on that!"
· We're No. 1: Forty years ago (Nov. 27, 1982), Coeur d'Alene High, under Coach Herb Criner, won its first state football title to finish the season 12-0 by clobbering Twin Falls 55-13. The Viks piled up 526 yards in total offense. The state title, according to the Press, was the first one won by any Vik team in almost 10 years.
· Retired librarian David Townsend may be recuperating after open-heart surgery, but his humor remains intact. David Facebooks: "I find the easiest way to avoid Black Friday is eat poorly for over 60 years and then go into hospital a week before Thanksgiving. It has also reduced my motivation to participate in marathons and polar plunges." On a serious note, to Huckleberries readers, David said: "Tell people to listen to their bodies and trust their instincts."
Parting Shot
We don't respect our butts enough. No less of an authority on human anatomy than the late Dr. Ted Fox said that 30 years ago (Nov. 29, 1992) in a Press column that set the record straight about our rears. The column was inspired by Ted's 10-year-old grandson, Billy, who had referred to a playmate as "butt-head." Said Ted: "I have resented the denigration of a most important part of our anatomy – the "buttocks" – when scathingly referred to as butts, rumps, hunkers, keisters, tush." Where would we be without a butt to back through doors with or to sit on hard chairs, wondered Ted. Added he: "It's time for us to give our buns a little more scientific and philosophic consideration." And with that, I'll butt out.
D.F. "Dave" Oliveria can be contacted at dfo@cdapress.com.
Recent Headlines
---