Conservatory ushers in Christmas season with 'Messiah' concert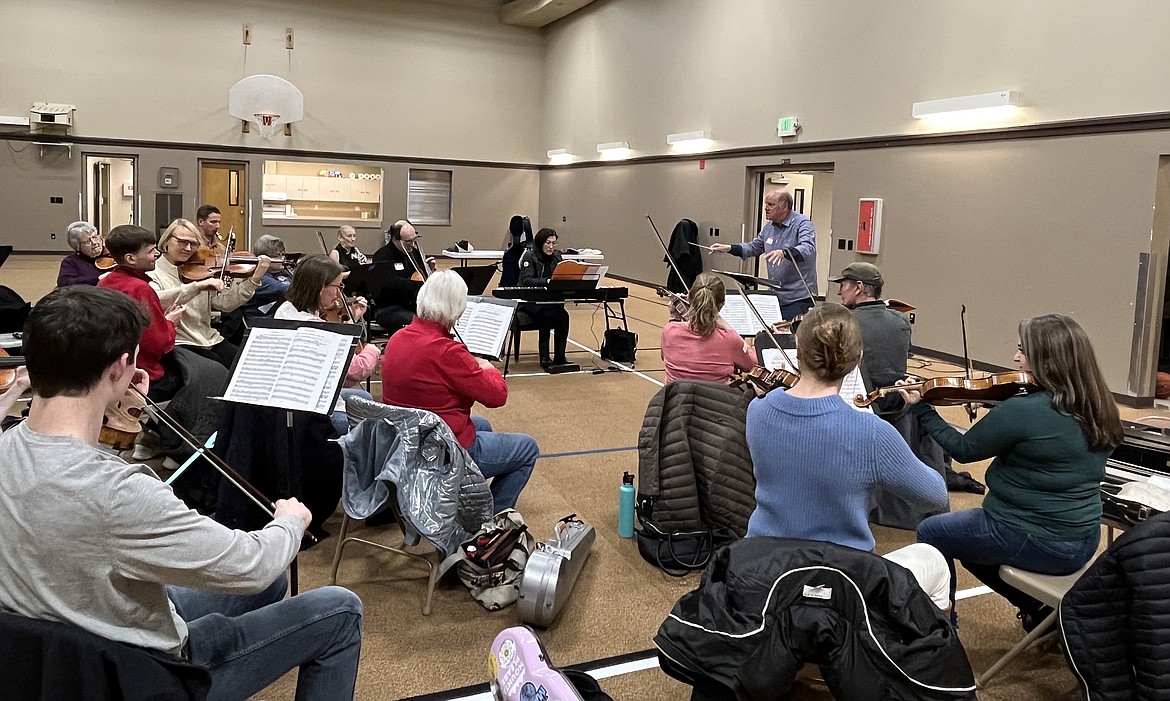 Kent Kimball conducting "The Trumpet Shall Sound" from Handel's Messiah in rehearsal with the professional orchestra for the Music Conservatory's sing-along production this Sunday, Dec. 4.
Lorilee Kimball
by
CHANSE WATSON
Hagadone News Network
|
December 2, 2022 1:00 AM
COEUR d'ALENE — For many, the Christmas season isn't complete without some sort of tradition. Some just need the Hallmark Christmas morning with presents under the tree. Others may look forward to a family dinner, fun in the snow or a Christmas movie marathon. For those who are more musically or religiously inclined though, a Christmas production of some sort is what is needed.
The Music Conservatory of Coeur d'Alene is hoping to start its own Christmas tradition this weekend with a free performance of the renowned oratorio, "Messiah."
Held this Sunday at 3 p.m. in the North Idaho College Schuler Performing Arts Center, conservatory director Julienne Dance and board president Kent Kimball have planned for this day for quite some time now.
Roughly six to eight months ago, Dance asked Kimball if he had ever thought about the conservatory producing the Messiah.
When he replied with an emphatic, yet brief "yes," the wheels began turning.
"Over a period of three to four months, we got more serious and more serious and our true interest level went over the top," Kimball said.
The conservatory began raising funds to put on the iconic production and the support was overflowing.
"People have been very generous and it is obvious that after a long, long, long period of time — 10 years, 15 years, nobody knows how long it's been since Messiah was produced in Coeur d'Alene — We needed to do it here," Kimball said.
Kimball, who is also conducting the performance, has been a part of 20-25 different Messiah concerts across the country and some even in different countries. After learning the entire score at a young age, he has both sung as a soloist and performed in the orchestra over the years.
In the months after the funds were raised, Kimball held numerous auditions for musicians and vocalists.
"I personally auditioned over 100 people and it's great when you can pick the best from the best."
Once the auditions wrapped up, Kimball and Dance were blown away with the talent that had been assembled. This was evident following the first time they got everyone together to practice.
"I went to the first rehearsal and it just brought tears to my eyes," Dance said. "The musicians that had come far and wide to participate in this brought that element of excellence."
When George Frideric Handel, known as one of the greatest opera composers in all of Europe, first debuted Messiah, the year was 1742.
"Messiah is all about life, the prophecies before he was born, the Messiah — Jesus Christ," Kimball said. "All of the text was compiled by a friend of Handel … he chose the words and the scriptures from 15 different books of the Bible."
Once Handel received this collection, it took him 25 days to write Messiah.
Jonathan Kandell with Smithsonian Magazine said the audience for that first show on April 13, 1742, at the Musick Hall in Dublin "swelled to a record 700, as ladies had heeded pleas by management to wear dresses 'without hoops' in order to make 'room for more company.'"
Fast forward 280 years and now Messiah is considered by many to be a staple of the holiday season.
"The Christmas season is not really complete unless they go to a Messiah concert or even a sing-along Messiah concert, which ours is," Kimball said. "Some would say that it is one of the greatest pieces of western music composition ever created. Some would even say the greatest …"
With the concert being a sing-along, the conservatory is offering 150 extra vocal scores that will be checked out early before the show. Those who wish to sing are asked to arrive at 1:30 p.m. to go through a brief rehearsal from 2 to 2:30 p.m.
The show itself is set to begin at 3 p.m. and Dance recommends attendees arrive an hour to 45 minutes early to ensure seating is available.
"I think when people hear it, they'll want to hear it again next year," Dance said.
"We want to create a tradition for the Messiah every year."
To hear the full interview with Kimball and Dance, check out the North Idaho Now Podcast Episode 187 at www.nin.buzzsprout.com or on your favorite music application.

Recent Headlines
---