Cutting her teeth at NIC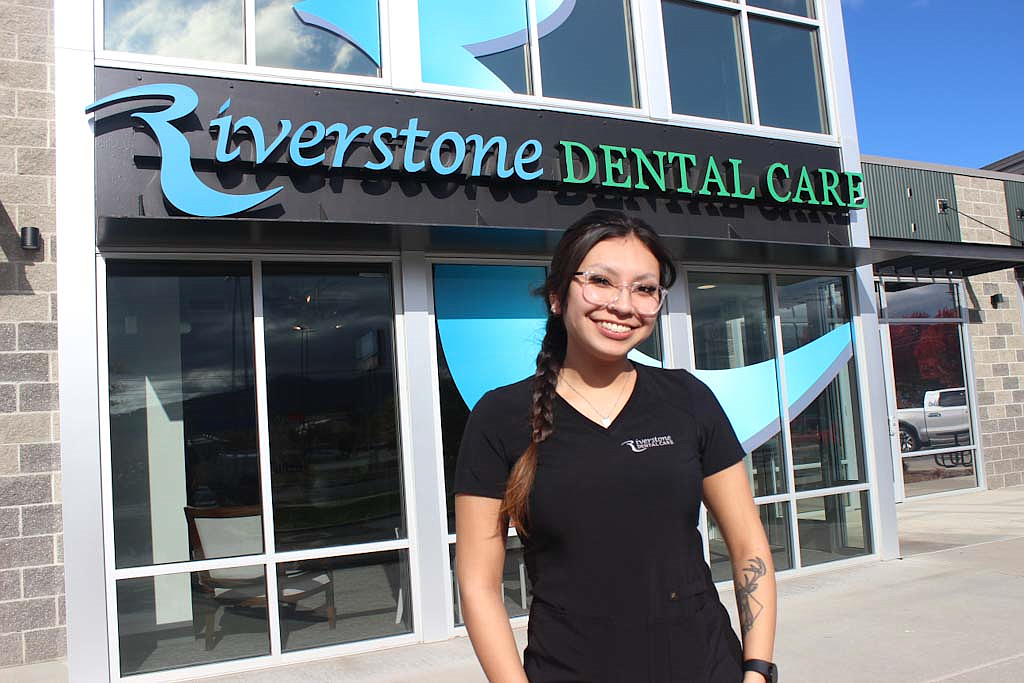 Mariah Aripa, 20, stands in front of her new workplace at Riverstone Dental Care in Post Falls. Aripa is the first graduate of the North Idaho College Workforce Training Center's new dental assistant apprenticeship program.
Photo courtesy of North Idaho College Workforce Training Center
Graduating from Lakeside High School in Plummer in 2020 wasn't ideal.
Because of the COVID-19 pandemic, graduation was a drive-through ceremony on the football field. Worse still, Mariah Aripa had broken her ankle in a dirt-biking accident. The Colville Tribe member said she couldn't decide between going to the University of Idaho, where she had been accepted, or joining the military.
"Some people don't understand, but that was a tough time. Having the broken ankle didn't help," Aripa said. "I was just bouncing around then. I didn't know what I wanted to do."
The answer came to her in a dental chair.
Aripa was having her braces adjusted when she asked the dental assistant if she enjoyed what she did for a living.
"She said she loved her job," Aripa said. "She was always so kind. She was basically my inspiration for going into dental."
Her "inspiration" had graduated from the dental assistant program at the North Idaho College Workforce Training Center. Aripa looked into the program and discovered a new apprenticeship version of dental assistant was just coming online. She already had a job working at Marimn Health and Wellness Center in Plummer, which partners with the NIC Workforce Training Center for several apprenticeship programs.
"I was working before taking classes so I already had a lot of knowledge ahead of time," Aripa said. "I was ready."
NIC's Workforce Training Center offers health-related apprenticeships in medical assistant, dental assistant and certified nursing assistant (CNA). Other apprenticeships offered are in HVAC, plumbing, electrical, construction and heavy equipment.
All apprenticeships, along with many other NIC Workforce Training Center courses, are eligible for Idaho Launch funding. The statewide funding covers up to $7,500 and is available to anyone who intends to work for an employer in Idaho. Each apprenticeship is different. Some are four-year programs, while dental assistant is a four-and-a-half-month program that partners with employers to offer apprenticeship and externship opportunities.
"Or, if they choose, they don't have to be apprentices," said Marty Matney, NIC Workforce Training Center Health Careers manager. "They can go through the dental assistant program and then attend an externship after the class is completed. Both are covered by Launch."
In October, NIC held a grand opening for a dental clinic on its main campus that houses a full dental hygiene program. It is a fully functioning dental clinic that includes eight dental chairs, a cone beam and panoramic X-ray room, staff station, dental materials lab, faculty offices, classrooms and a reception and waiting room.
"The Workforce Training Center's dental assistant program opens the door to pursue further dental education with NIC's dental hygiene program," Matney said. "Dental jobs are in super high demand. There are 96 dental assistant jobs open in this area right now."
Aripa said she likes the security of knowing her job will always be in demand. She also enjoys giving people their smiles back.
"It's just nice to make people happy — make them feel better," Aripa said.
For information about other apprenticeships and programs offered through the NIC Workforce Training Center, visit www.nic.edu/wtc or call 208-769-3333.
Visit www.nic.edu/IdahoLaunch for information about the Idaho Launch program.
Recent Headlines
---