THE CHEAP SEATS with STEVE CAMERON: There's good news in Seattle — then there's 'The Geno Problem'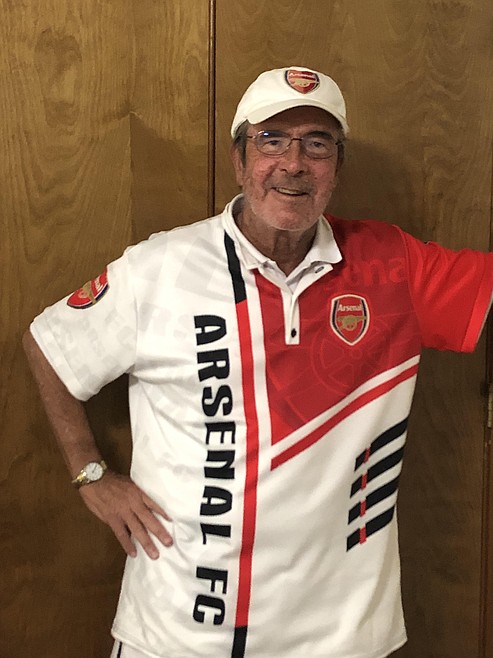 |
August 28, 2022 1:25 AM
To be honest, I care a whole lot more about Julio than I do about Geno.
Since we can't change it, though, the Seahawks WILL have to play a 17-game schedule this season — not to be confused with their winless three-game exhibition tour — and unless there is something like divine intervention, um …
Geno Smith is going to be the quarterback.
See, I told you I'd rather chat about the Mariners' rookie star Julio Rodriguez (and the monstrous new contract only an accountant can untangle).
Now that is something genuinely thrilling, the notion that J-Rod will almost certainly play his entire career in Seattle — and that his million-watt smile, along with power, dash and what Statcast claims is the fastest bat speed in MLB are going to be fixtures at T-Mobile Park.
It's enough to give you goosebumps, and Julio's $15 million signing bonus is getting paid out in the middle of a battle to reach the playoffs, just to top things off.
Compared to Julio and the M's postseason chase, I'm sorry, but …
GENO BEING handed the role of QB1 comes across like a spilled can of beige paint.
Yeah, we all knew that Pete Carroll was conning us, that there wasn't truly a head-to-head competition for the starting job between Smith — Russell Wilson's caddy for the past three seasons — and ex-Bronco Drew Lock.
Geno had the job months ago.
Pete actually DOES want to play a lot of 13-9 games.
Win a few, lose plenty, and use the draft to rebuild a sturdy roster — including (hopefully) a franchise QB somewhere in next year's draft.
This season, though, will be the sleepy version of vintage Pete.
Run the ball, run it some more, run it again …
Then, maybe use the punting of Michael Dickson and the field goals of Jason Myers to steal something before the crowd has finished filing out.
The Seahawks won't be very good, but at least they'll be dull.
Seattle's formula during the previous decade of very good football was pretty simple.
Run the ball (what else?), and when everyone was expecting more thudding among giant humans at the line of scrimmage …
Let DangeRuss heave the ball deep — most recently to Tyler Lockett and DK Metcalf.
It's a potent formula when you have a great defense, something like the Legion of Boom, but there are a couple of holes in the plan at the moment.
The defense is going to be good eventually, I think, but it's definitely a work in progress.
Oh, and Russ is now in Denver (although, yes, he'll be at Lumen Field and hoping to torture the Seahawks in the season's first Monday night game).
That leaves us with "The Geno Problem."
Smith is a 31-year-old journeyman whose last full-time starting gig was with the 2014 Jets, and he cannot throw deep.
Not like Wilson.
Not like almost all other quarterbacks in the league.
Prepare yourself for stacked defenses with entire rosters and assistant ball boys twitching and panting in the box — all braced to stop the Seahawks from running, and daring them to try throwing over the top.
It's not likely to be a pretty sight, and I'm guessing we'll see Rashaad Penny back on the injured list (where he's spent most of his short career) before the leaves have finishing changing colors.
IRONICALLY, Seattle's new clipboard-carrier CAN throw long.
Lock has far, far more athletic and arm talent than Smith.
Yep, there's an issue.
Left to his own gunslinger devices, Lock will make some of the mistakes you saw in his two exhibition appearances.
But, seriously …
If Pete wants to run the ball brutally and endlessly while waiting for those deep shots to Lockett and Metcalf, I'm sort of puzzled why Lock can't manage the hand-offs and quick throws until it's time to heave a bomb.
With Geno running the show, there will be fewer bombs than you'd see at a peace rally.
Third-and-12?
Lock is perhaps a little scary in a spot like that, since he's liable to use that cannon arm to try a sideways bullet into traffic.
Carroll cringes at the thought.
It's a puzzle, though, why he doesn't just let O-coordinator Shane Waldron stick with draws and screens in those spots — eliminating Lock's errors until they can truly teach him ball security.
I mean, hell, it's not like they're going to let Geno try lighting it up on third-and-12, either.
LOOK, IF you want to play it safe and win with defense, field position and special teams, why not stick with the Russell Wilson method?
Keep the ball on the ground, and when the situation is finally right, go for the ballistic missile.
Boom!
Lock could do that.
Smith cannot.
If you fear turnovers, prevent them through play calls, or …
Sign Jimmy Garoppolo if the 49ers release him, as everyone expects.
Just, please, don't bore us to death with Geno Smith — clearly a great guy who is respected in the locker room, but also a man ranked dead last among veteran QBs in polling of NFL scouts, executives and personnel folk.
There already are suggestions that the Seahawks are tanking this season.
If they stick with Geno all year, I'd say that indictment has been sealed.
Yawn.
Email: scameron@cdapress.com
Steve Cameron's "Cheap Seats" columns appear in The Press three times each week. He also writes Zags Tracker, a commentary on Gonzaga basketball which is published weekly during the regular season.
Steve suggests you take his opinions in the spirit of a Jimmy Buffett song: "Breathe In, Breathe Out, Move On."
Recent Headlines
---