Seeing the 'Daylight'
by
BILL BULEY
Staff Writer
|
August 22, 2022 1:06 AM
HAYDEN — The 2021 Tails at Daylight raised just over $100,000 for the Kootenai Humane Society. That was a record and helped the nonprofit find homes for 1,539 animals.
KHS hopes to reach new heights with the 2022 version of the signature event set for Sept. 17 at StanCraft Jet Center.
The theme, appropriately, is "Destination: A New Home."
"I always tell people we're keeping our fingers crossed we can have our Christmas party there," said Vicky Nelson, KHS director of development.
But before they move to their new digs under construction on Atlas Road, KHS has plenty of work to do finding homes for about 100 dogs and cats under its care now.
This annual fundraiser will go toward KHS's general operations based out of its current 43-year-old home at the north end of Ramsey Road.
"It's a big part of our annual budget," Nelson said.
It is selling 300 tickets, $125 each, for Tails at Daylight, and has about 100 left. It's always a festive affair with lots of laughter and smiles. It will include a salmon dinner, music, a live auction and prize drawings from 3 to 6 p.m.
Wings of Rescue may drop in with a flight of dogs.
An item up for bid includes tickets to a Gonzaga mens' basketball game, an invite to pre-, halftime and post-game activities, and a meet-and-greet with players.
Drawing prizes include a ride for five with Brooke's Seaplane Service and a wine pole with bottles ranging in value from $10 to $100.
Nelson and crew expect a great turnout.
"People are coming out here all the time," she said.
KHS's $8 million capital campaign continues, with $2.5 million still to go.
It broke ground on its new home in November, which could be finished by October. KHS may move in by year's end. The 24,000-square-foot structure that is going up will include a veterinarian clinic, updated and modern facilities, additional kennel space and the ability to expand for future growth on the 10-acre site. Most important, it will be KHS the ability to provide even better care for thousands of animals.
Nelson said if the $8 million goal comes up short, KHS will take out a bank loan, which it would rather avoid.
Even with the fundraising seeming a bit stalled, the vibes are good at KHS. Its spade and neuter clinic and vaccine clinic are booked out well in advance and adoptions are strong.
So far this year, adoptions total 884 at the no-kill shelter, which includes three birds, 391 felines, 458 canines, 12 guinea pigs, 12 rabbits and eight rodents.
After two years of limited access due to COVID-19, it is offering public walk-throughs to view animals from 1 to 4 p.m. Tuesday and Thursday.
There are currently 67 cats, with 36 available for adoption, and 32 dogs, with 14 available for adoption.
It is also phasing in a new name, Companions Animal Center, "that will convey the purpose, relevance and what the mission is all about — caring for our community's animals."
"Things are going well," Nelson said.
For tickets to Tails at Daylight: companionsanimalcenter.org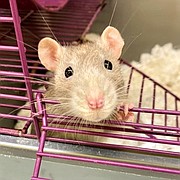 Recent Headlines
---