Roots in real estate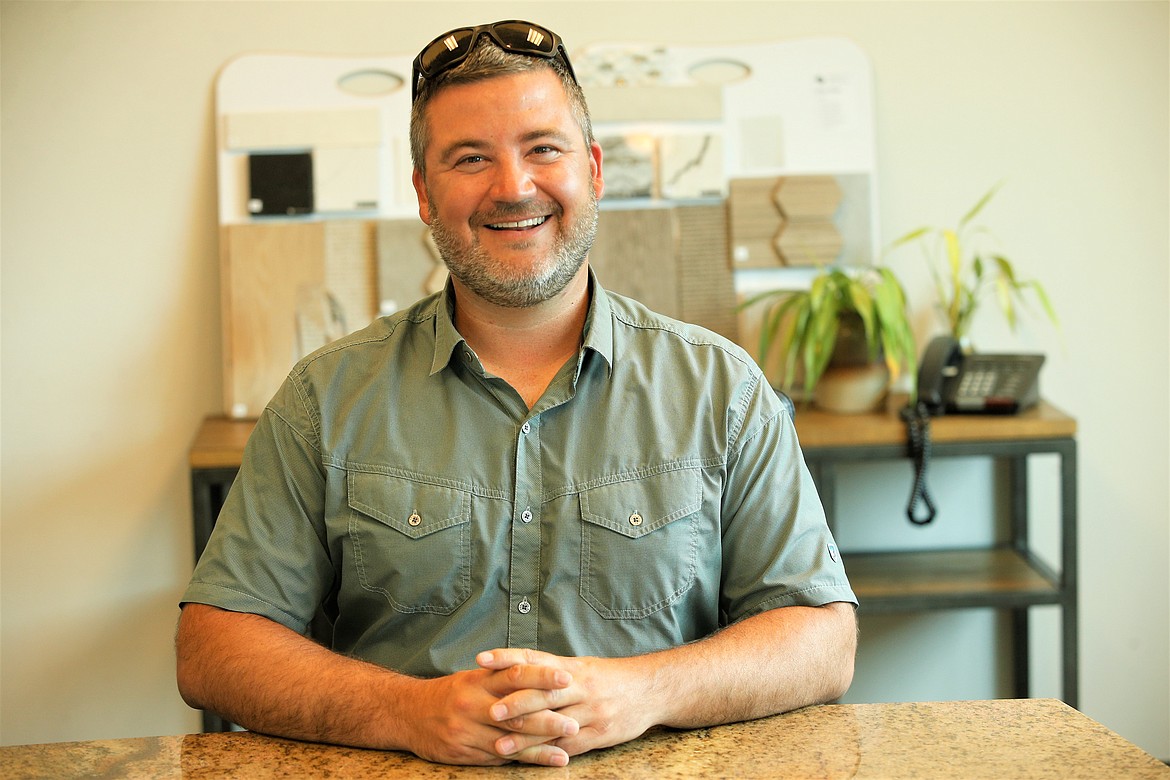 Jared McFarland of Century 21 Beutler and Associates was named the Coeur d'Alene Regional Realtors Realtor of the Year.
BILL BULEY/Press
by
BILL BULEY
Staff Writer
|
August 15, 2022 1:08 AM
COEUR d'ALENE — Problems are not something most people welcome.
But Jared McFarland does.
"I love the problem-solving," said the real estate agent with Century 21 Beutler and Associates. "That's a big part of it. Every transaction has its own unique problems."
McFarland has been solving problems for his clients since he started his real estate career in 2006.
Since then, he's handled around 400 to 500 transactions, and many came with their own set of challenges.
"There's always something new that you're working on," McFarland said. "You've never seen it all."
It could be finding out an older septic system is no longer allowed on a property. It could be getting emotional buyers and sellers on the same page. It could be making sure a buyer has the loan program that's best for them.
The goal is to work toward solutions for all involved, which McFarland has been doing for more than 15 years.
It's one of the reasons why the 39-year-old was named the Realtor of the Year by the Coeur d'Alene Regional Realtors.
"There's always lots of awards in real estate that you win throughout the years," he said. "But the Realtor of the Year has always been special. It's nice to be recognized by your peers. That's probably the biggest thing for me."
McFarland's family roots in the area date back to 1894. He was born and raised in Coeur d'Alene and graduated from Lake City High School in 2001.
He earned a degree in marketing from the University of Idaho but was not entirely sure about his next step.
Real estate, though, was always on his mind. He grew up around it. His uncle and aunt are John and Ann Beutler of Century 21 Beutler and Associates. Another uncle is longtime real estate agent Tom Torgerson, also with Century 21 Beutler and Associates.
At family gatherings, real estate was often a topic of discussion and McFarland recalled that one Thanksgiving dinner, when he was talking about career options, Ann asked, "Why don't you come work for us?"
"Will you hire me?" McFarland asked.
Yes, was the answer.
And so it began.
"I did well and had some good success out of the gates and just loved it," he said.
There's no secret as to why he has done well: Hard work and dedication to his craft.
"Even with newer agents coming into the office, I can almost always tell who's going to be successful because they're here, they come in, in the morning," McFarland said. "No one's telling you to come to work. It's all self motivation. Put in the time, put in the calls."
And don't be shy.
"You have to constantly be connecting with people, letting them know what you do and know that you'd be interested in helping them," he said.
Most of his business is repeat business or referrals from past clients.
"As a newer agent, there was a lot of focus on building that up and going out, trying to find new people and trying to get my name out there. Now it's more focused on my past clients," he said. "I'm not creating as many new relationships but really working on all the relationships that I have."
McFarland says while the housing market has cooled considerably with higher mortgage interest rates, inflation and recession fears, it is still good.
"In the last week, we've actually seen it pick up a little bit more," he said. "Some of that fear is dissipated a little bit and people are getting back into buying real estate."
Following an "abnormal" market the past few years, he said things are getting more toward normal. Some home prices are coming down and listings are taking longer to sell, but there are plenty of buyers still out there.
"Now, it's more like it has been historically. You got to make sure you price your home competitively. You've got to make sure it's marketed well. You've got to make sure you're following up and staying in touch with your clients," McFarland said.
While knowing his field is important for McFarland, so is setting goals.
"I've always been very goal-oriented. I write them down and put them where I can see them," he said. "It's amazing how you can reach your goals when you write them down and tell people about them and put them out there."
He has served in different roles with real estate organizations, and is the current treasurer and incoming president-elect for the Coeur d'Alene Regional Realtors board of directors.
"I try to give back to the industry that has given a lot to me," he said.
McFarland also volunteers with nonprofits like the American Cancer Society's Relay for Life, St. Vincent de Paul and food banks, and is involved with community fundraisers.
"I've always volunteered a lot. That's been a big part of what I do," he said.
McFarland and his wife Amy love to travel, but feel best when they return to Coeur d'Alene.
"Every time we get home, I'm always thankful where we live," he said.
Recent Headlines
---